Keto Christmas Desserts just might be the best part of the holiday season! Enjoying low-carb sweets and treats while celebrating the holiday season is always a good idea! I've gathered up some of my favorite keto desserts that are perfect for any holiday table.
What you'll find from this list of low carb desserts is that you really can't go wrong. From keto Christmas cookies to homemade candy, my mouth is watering just thinking about all the keto friendly desserts!
P.S. The title of each candy is a clickable link to the recipe.
Keto Christmas Candies
Yes, you read that right! Keto-friendly candies that all can enjoy. Forget about the holiday guilt, and get to snacking. All of these candy recipes are approved for a keto diet.
The ultimate indulgence is Keto Caramel Pecan Bark. It tastes just like the best caramel pecan turtle from a candy store. It takes a classic cracker toffee (aka Christmas Crack) and makes it gluten-free and keto.
It's like making your own Girl Scout Cookies right at home! (but they're low carb and keto-approved!)
This melt-in-your-mouth fudge is so much better than anything you'll buy at the store. Made with low carb ingredients and full of rich and creamy flavor.
If you're a fan of peanut butter, get ready to love this recipe. It's made with simple ingredients and just might have you putting a few back for yourself to indulge in after the kids have gone to bed.
Fast and simple to make with only four ingredients!
The texture and crunch of this brittle recipe are unlike most. It's perfectly balanced with crunchy and sweet and literally takes just a few supplies to make. This would also be a great homemade gift idea, too.
Candied walnuts are an easy treat and the perfect addition to a Keto Charcuterie Board or just to grab a few bites from the dessert table.
Try and grab just a few of these tasty treats and tell me what happens. If you're like me, it's a handful every time you walk by the dish!
This simple sugar free treat has a sweet flavor with a tiny bit of crunch. Perfect for making and sitting out on the counter for snacking.
Use those pecans and add a little protein and healthy fats to your holiday diet. Fast and simple and the perfect holiday tradition.
Salted Chocolate Almond Brittle Bark
If you're a fan of sweet and salty, this bark recipe is for you. Check out the simple steps - and then enjoy every bite. An easy way to get everyone's tastebuds in the holiday spirit.
The holidays mean that it's time for caramel - and these caramel cups are loaded. Pair with your favorite dark chocolate and enjoy.
Keto Christmas Cookies
One of the most popular keto holiday desserts is cookies! From tender bites to crisp and chewy, you'll find a variety of cookie recipes listed below.
Jam Thumbprint Cookies are very easy to bake, attractive, and tasty. They have been a holiday staple for many years. This simple recipe is sugar-free, low-carb, sugarless, gluten-free, eggless, grain-free, and Trim Healthy Mama approved.
Sugar Free Keto White Chocolate Cookies
These holiday cookies are perfection! With each cookie only having 3 grams of net carbs, you can indulge without any worry or guilt.
What I love about these sweet treats is that they're simple to grab and pop in your mouth. Perfect for a holiday party.
All you need is 5 minutes of time to whip up these tasty treats. Excellent for a last minute holiday snack.
Keto Peanut Butter Cup Cookies
These look just like they were made from a bakery - and you'll get to take all the delicious credit. One of my son's favorite keto Christmas desserts.
These cookies have a slightly sweet side to them, with a great chew.
Raspberry and White Chocolate Cookies
If you love soft cookies, these literally will melt in your mouth. The white chocolate and raspberry flavors are perfection.
If you love the flavor of Cinnamon rolls, then you can't miss these low carb treats! Gluten-free, too!
With just 1 net gram per serving, get ready to have a new favorite holiday cookie!
Starbucks fans will love the flavor of these cookies. So much mocha goodness.
The taste and flavor of these cookies scream holidays, and they're also low carb, keto, gluten-free, grain-free, sugar-free, and Trim Healthy Mama friendly as well.
Peppermint Fudge Sandwich Cookies
Forget about it. These cookies literally take over my brain during the holiday season.
Chocolate Chip Shortbread Cookies
The chocolate flavor paired with the crisp cookies makes a truly enjoyable bite every time.
Soft and chewy, these cookies are also gluten-free and sugar-free as well! Grab and enjoy!
Find out why everyone is raving about these cookies - and why they're a holiday staple at my house!
Everyone will love the flavor and taste - and you'll love the fact that you can make these cookies from start to finish in under an hour!
Flourless Peanut Butter Cookies
No flour is needed, and just four ingredients! You can't top a cookie recipe this easy!
You'll love that these cookies use real molasses and are still keto-friendly and grain-free!
Eggless Chocolate Chip Cookies
Out of eggs and no time to run to the store? This simple low-carb cookie recipe is just what you can make.
Keto Peanut Butter Chocolate Chip Cookies
These keto chocolate chip cookies with peanut butter take just 5 ingredients! The easiest peanut butter cookie recipe ever!
Almond Crunch Chocolate Thumbprint Cookies
The crunch of the almonds and the sweetness of the chocolate create an amazingly delicious bite every time.
The added lemon zest makes these cookies really have a POW of flavor!
Everyone in the family is going to agree that these are better than anything you can buy at the store.
Pair these with your favorite tea or a piping hot cup of coffee. I think that these are perfectly acceptable for breakfast or brunch as well.
You need 11 easy ingredients to whip up a batch of chewy oatmeal cookies. Talk about simple!
If you're a fan of gooey butter cake, whip up these cookies! They taste like the real deal!
Fast, simple, and literally melt in your mouth cookies for the win!
The crunch of the nuts and the sweet cinnamon filling is what these are all about.
Perfectly sweet and crunchy. (and super simple to make!)
The filling of these cookies gets me every time! With just five ingredients, you will be amazed at the outcome.
I love these Girl Scout copycats! Having this recipe means that you can get that flavor and taste all year long!
Keto Almond Flour Chocolate Chip Cookies
Ready in less than 20 minutes, you can't go wrong making a batch or two of these chewy cookies.
Keto Almond Shortbread Cookies
Hello, buttery goodness! Talk about a treat to your tastebuds! Having the chocolate dip adds the perfect balance.
If you're a fan of mint during the holidays, these little cookies are jam-packed with mint flavor.
Give the oven a break this holiday season, and try this simple cookie recipe!
Everyone will love the crisp texture and the subtle hint of vanilla flavor.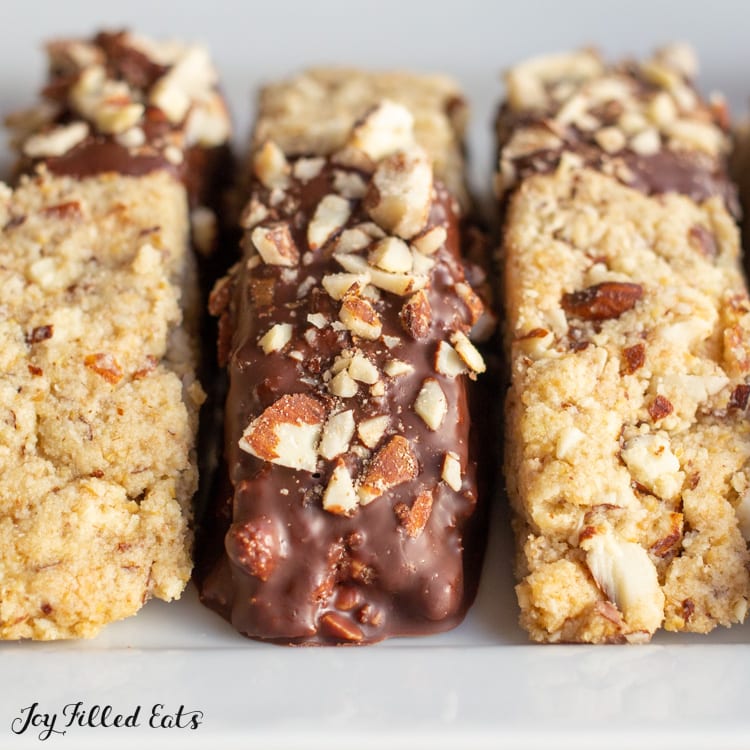 Speaking of early-morning cookies, these low carb biscotti cookies are a great way to start the day.
These have the taste of brownies and cookies - both! It's the best of both worlds!
These are my favorite cookies to gift to others during the holiday season.
Lemon Drizzle Cranberry Cookies
Holy moly - you have to make these and check out this flavor! Who knew sugar-free cookies could be this amazing?!
Chocolate and chocolate and chocolate? Yes, please!
Keto Christmas Cakes & Cheesecakes
Don't forget about the cakes and cheesecakes! Some holiday desserts are meant to be savored and enjoyed, and these are the ones to have your eye on.
Peppermint Cookies and Cream Bars
These are kind of like a combination of cheesecake meets cake - and they're divine. Perfect for Oreo fans.
The topping of cranberry paired with the light sweetness of the cake is what makes this dessert shine. This needs to be on every dessert table!
For a handheld treat, these homemade cupcakes are perfect! They're gluten-free and sugar-free, too!
Keto Christmas Beverages
Last but not least, let's not forget about all the fun holiday drinks and drinkable options for keto Christmas desserts! Perfect for a sweet sipping dessert!
Peppermint White Hot Chocolate
An excellent way to warm up on a chilly day. Snuggle up with a good book, and you're set.
Forget storebought and make your own. You just need four simple ingredients!
A good idea to have on hand - because you never know when the craving will strike!
Just four simple ingredients and four net carbs! It doesn't get any better than that!
This one is for adults only, cheers! Perfect for entertaining without packing on carbs.
Two of my favorite flavors come together to make one incredible drink.

FREE Cookie Cheat Sheet!
Make Five Delicious Low Carb Keto Cookie Recipes from one EASY dough!