My Almond Biscotti Cookies recipe is a perfect nightcap to a busy day. Sip a cappuccino and indulge in this sweet low carb keto biscotti cookie. This easy recipe is low carb, keto, gluten-free, grain-free, sugar-free, and Trim Healthy Mama friendly.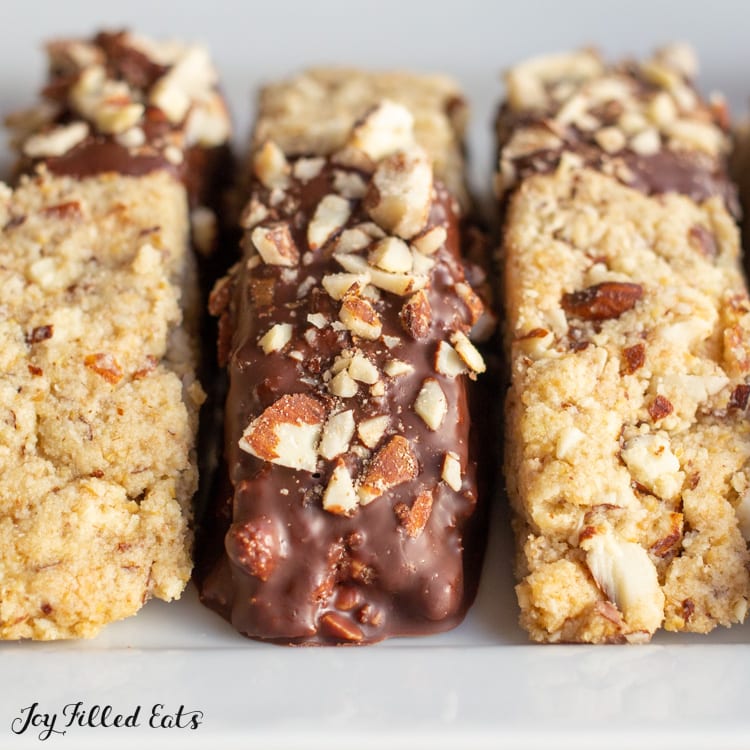 My mother-in-law loves biscotti. So when we were headed out for her birthday dinner the other night, and my husband said he was not buying a cake, I knew what I had to do. I wanted to take a classic almond biscotti cookies recipe and transform it into a healthier yet indulgent treat.
We weren't going to complain because when you bite into one of these keto biscotti cookies, it's hard not to fall in love with them. So, if someone we know wants some cookies, I am more than happy to help out and whip up a batch.
Keto Biscotti vs Traditional Biscotti
These almond biscotti cookies are a little softer than a traditional biscotti, but with the classic shape and almond flavor, they are close enough for me.
Classic biscotti recipes are typically made with all-purpose flour, sugar, and nuts. As you can imagine, the number of carbs really begins to add up when using regular flour and lots of sugar.
I made my keto biscotti healthier by using my sweetener to give them the perfect sweetness without the guilt. Plus, I use a combination of almond flour and ground golden flax. They turn out so yummy and beautiful every time. You can absolutely enjoy amazing treats without worrying about loading up on carbs. You will be thanking yourself once you try them.
Ingredients
Almond flour - My go-to for keto baking. It has a mild flavor and it is a standard pantry staple on a keto diet.
Ground golden flax - If you prefer you can sub in more almond flour.
Sweetener - I use this blend of sweeteners in my recipes.
Coconut flour - Just a little balances the natural oils from the almonds.
Gelatin - Gelatin acts as a binder since this recipe only uses a small amount of egg.
Baking powder - Helps the keto biscotti rise. Always make sure yours is in date.
Coconut oil - Use refined or butter-flavored to avoid a coconutty taste
Egg yolk - The egg helps hold the cookies together.
Almond extract - You can sub in vanilla extract if you prefer.
Chopped almonds - Using these in the dough gives the keto biscotti a little added crunch.
Optional Topping
Sugar free chocolate - You can use any variety of chocolate you like. If it doesn't melt smoothly try adding a little coconut oil.
Chopped almonds - I like how using skin-on almonds look on the cookies but chopped slivered almonds or blanched almonds are also fine.
How To Make Keto Biscotti
There are just a few steps to make this keto biscotti recipe. You don't have to make a big fuss or anything to make them because the steps are easy. I didn't mind how fragile they are because they are delicious.
First Step: Heat up the oven to 325 degrees.
Second Step: Mix the flax, both kinds of flour, sweetener, gelatin, baking powder, and salt in a food processor. You will need to pulse to combine. Slowly add in the coconut oil, egg yolk, and almond extract to the food processor while it's slowly running. Mix until dough ball forms. Then scrape down the sides of the bowl and add in the ½ cup of chopped almonds. Pulse to get the almonds incorporated into the batter.
Third Step: Line a baking sheet with parchment paper and place the dough mixture on it. Shape the dough into a rectangular log that is around 4 x 10 inches. Bake it for 20 minutes.
Fourth Step: Take the dough out of the oven and cut it into 10 slices. Take a large knife and press down. Be sure to wiggle the knife back and forth until a gap forms between the cookies. Lower the heat to 225 degrees and place the biscotti in the oven. Bake for 40 minutes and let them cool completely.
Fifth Step: After the cookies have cooled, turn them on their side and drizzle with chocolate. Spread the chocolate on the bottom of the biscotti. Then flip the cookies upright and add the chopped almonds.
Variations
Maple Walnut - Add maple extract to the cookie dough and then coat with white chocolate and chopped walnuts. Walnuts pair wonderfully with maple.
Chocolate Chip - Swap out the almonds for chocolate chips for a chocolate low-carb biscotti.
Cranberry - Add sugar free dried cranberries to the dough instead of the chopped almonds.
Spices - Feel free to play around with adding spices to the dough. Blends like pumpkin pie spice and apple pie spice are nice choices in keto biscotti. Or use your own favorites like ginger, nutmeg, cardamon, and even lavender.
Nuts - Try out some other nuts like hazelnuts, walnuts, or pecans. Make sure they are crushed well. Pistachios would be another tasty option as well.
Shape - This dough can also be used to make simple round cookies like shortbread. Just drop spoonfuls on the parchment paper and press the dough into circles.
Tips
These gluten free biscotti are more fragile than traditional biscotti. I worked around this by not picking them up. I thought and trying to change the recipe to make them sturdier, but I was afraid I would lose the delicate flavor and texture. That is more important to me than a crispy cookie. Simple press down a large knife to cut them and then wiggle the knife back and forth to make a space between them.
Using very fine almond flour is going to give you better results, so they stick together well. You will have better luck when using blanched almond flour and stay away from a coarse almond meal.
Don't rush to add the toppings because the keto biscotti cookies need plenty of time to cool off. If you rush and try to add the melted chocolate before the cookies are cooled, they are more likely to fall apart.
It's important not to dip the cookies into the chocolate. Drizzling is the way to go because they are pretty fragile.
Use a Food Processor - Using a food processor to prepare these almond biscotti cookies is a true game-changer. They blend everything perfectly and give you such an awesome texture. I can't think of a better appliance to use when preparing these cookies. My Cuisinart food processor is my favorite kitchen gadget. It is ideal for slicing lots of vegetables, grating cheese, and making doughs. Out of all my small appliances, I use this the most. I have this 11-cup model, which had served me faithfully for 10 years, but I have my eyes on the 14-cup. Maybe I'll buy myself an early Christmas present.
Common Questions
What Type of Chocolate Should I Use?
Make sure to use chocolate you love because you can really taste it in this keto biscotti recipe. If 85% dark chocolate is too bitter for your taste buds, sub in sugar-free milk chocolate instead. I've been getting my chocolate from ChocZero and you can save 10% with code 'joyfilledeats'.
The chocolate and nut topping is optional, but it is so pretty I recommend it. It also helps hold together these fragile but delicious, cookies. If you love chocolate, go ahead and drizzle it on the entire cookie and not just half. Chocolate dipped biscotti are the best type, in my opinion.
How Do You Store Homemade Biscotti?
You can store the almond biscotti cookies in an airtight container for up to 7 days. They will last at room temperature or can be refrigerated if you'd rather.
Another option is to flash freeze the keto biscotti for 1-2 hours on a baking sheet. Once frozen, remove them from the pan and place them in a freezer safe container. They last 2-3 months in the freezer too. Thaw before eating and enjoy!
NOTE: I recommend wrapping the cookies in plastic wrap since they are delicate. This will give them an added layer of protection.
Like what you see? Follow me on Facebook! Love this recipe? Leave a comment & 5-star rating right here! Make sure you don't miss new recipes by getting email updates!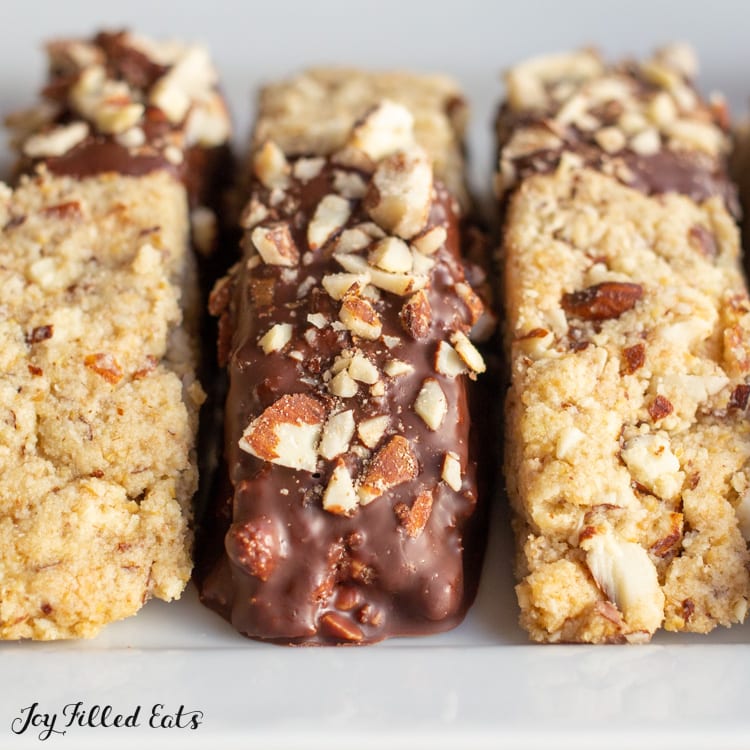 Instructions
Preheat oven to 325.

Combine the almond flour, flax, sweetener, coconut flour, gelatin, baking powder, and salt in a food processor. Pulse to combine. With the machine running slowly pour in the coconut oil, egg yolk, and almond extract. The dough will come together in a ball. Scrape down the sides of the food processor and add the ½ cup chopped almonds. Pulse just enough to incorporate the almonds into the batter.

On a parchment-lined baking sheet form the dough into a long rectangular log, about 4 x 10 inches. Bake for 20 minutes.

Remove the dough from the oven and cut the log into 10 pieces. Use a big knife and press down. Wiggle the knife back and forth between the pieces so that there is a gap between them. Return to the oven, reduce the heat to 225 degrees and bake for an additional 40 minutes. Cool completely.

To coat the biscotti in chocolate simply turn on the side and drizzle and spread the chocolate on the bottom. Then flip upright again to coat the top and sides. Sprinkle with the additional chopped almonds.
Notes
Nutrition: This recipe makes 12 biscotti. There are 3.2 NET carbs per cookie.
Chocolate: These are a little too fragile to dip into the melted chocolate. It works better to spread the chocolate on them. They firm up more when chilled.
To Store:
keep the leftover biscotti in a container that's airtight and has a tight-fitting lid. Keep them at room temperature for up to 7 days.
To Freeze:
lay the cookies on a baking sheet and freeze until they are frozen. Once frozen, place the cookies in a freezer bag or container. They will last 2-3 months.
Substitutions:
you can swap the almond extract for vanilla if you'd rather.
Prep Time: prepare the dough ahead of time and refrigerate up to 1 day before baking. Let it warm for 30 minutes or so on the counter before baking.
Notes on Sweeteners:
Nutrition
Serving:
1
cookie
|
Calories:
206.3
|
Carbohydrates:
7.5
g
|
Protein:
6.4
g
|
Fat:
18.8
g
|
Saturated Fat:
6.6
g
|
Polyunsaturated Fat:
1.9
g
|
Monounsaturated Fat:
3.2
g
|
Trans Fat:
0.1
g
|
Cholesterol:
16.3
mg
|
Sodium:
104
mg
|
Potassium:
143.3
mg
|
Fiber:
4.3
g
|
Sugar:
0.9
g
|
Vitamin A:
21.7
IU
|
Vitamin C:
0.1
mg
|
Calcium:
74.8
mg
|
Iron:
1.9
mg
Originally Published March 17, 2018. Revised and Republished August 13, 2021.

FREE Cookie Cheat Sheet!
Make Five Delicious Low Carb Keto Cookie Recipes from one EASY dough!