As a busy mom of 6, I try to keep ingredient lists short for dinner time. Many of these Easy Keto Meals with 5 Ingredients or less are staples in my house. If you are looking for recipes for some easy keto recipes for dinners or an easy keto lunch this is a great place to start!
If you are running out of low carb recipes to try and keto dinner recipe ideas I have you covered! I put together and extensive list of recipes from my own test kitchen and those of some blogger friends.
Here are my favorite easy keto recipes for beginners:
1. Stuffed Chicken with Asparagus & Bacon
My Stuffed Chicken with Asparagus & Bacon has only 3 ingredients and a 5-minute preparation but it will impress your dinner company time after time. Out of all these easy keto dinners, this may be my favorite. You can't beat 3 ingredients!
This one has only 3 ingredients but tons of flavor! Serve with a side of zucchini noodles for a keto perfect meal.
3. 5 Minute Low Carb Chicken Nuggets
My Keto Chicken Nuggets have only 5 ingredients and take about 5 minutes to prepare. They freeze well, are great for meal prep, travel well, and taste delicious!
4. Spinach & Ricotta Stuffed Chicken
This Spinach and Ricotta Stuffed Chicken is an excellent option for a simple weeknight meal. The taste of the chicken is sure to get your family coming back for seconds.
5. White Lasagna Stuffed Peppers
These White Lasagna Stuffed Peppers take an easy dinner staple to a whole new level. With only 5 ingredients and a straightforward preparation, they are a great easy keto meal for a busy night.
Italian Herb Chicken is the perfect way to make a low-carb, keto, and gluten-free meal for the family. Only a handful of simple ingredients but full of flavor!
If you are looking for an easy ketogenic diet dinner idea my Creamy Basil Baked Sausage should be on the menu. With only five ingredients and a five-minute prep time, it is perfect when you are crunched for time. One of my best easy keto recipes for beginners.
8. Smoked Paprika Pork Tenderloin
If you'd like to elevate the flavor of a simple cut of pork with four ingredients, this Smoked Paprika Pork Tenderloin is your best option.
9. Keto Pesto Chicken Casserole
This keto friendly Easy Mozzarella & Pesto Chicken Casserole has only 5 ingredients and mixes up in 5 minutes. It is a great weeknight dinner. I used chicken I had cooked, cubed, and frozen and no one could even tell.
10. Keto Maple Mustard Chicken
I love incorporating sweet sauces and marinades even when eating keto foods. This maple flavored sauce is a fave.
Tacos are one of our all time favorite easy keto recipes in my house. With only 5 ingredients and a 5 minute prep time, it is an easy keto dinner lifesaver on busy weeknights. You can use ground turkey or ground beef as the base in this. Serve with your favorite toppings like avocados and sour cream. And I even had a friend make this for us after my last baby! Great fit in a keto lifestyle. This is one of my favorite Keto Ground Turkey Recipes.
12. Garlic Parmesan Chicken Tenders
Craving keto fried chicken but don't want to spend hours making it? These easy Garlic Parmesan Chicken Tenders are a nice alternative and only take a few simple ingredients like chicken, mayo, and parmesan cheese. My kids love them!
13. Keto Egg Loaf
This Broccoli & Cheddar Keto Bread Recipe is a great breakfast, lunch, side dish, or snack. It mixes up in 5 minutes and has only 5 ingredients plus salt. It is nut free, grain free, gluten-free, and a THM S. It also reheats well on busy mornings.
Even More Easy Keto Recipes
14. Bacon Wrapped Chicken Tenders with Ranch Dip
This is one of my favorite easy ketosis friendly meals. The main part of it, the bacon wrapped chicken tenders, have just two ingredients. They take less than 5 minutes to prep and making the dip also takes less than 5 minutes. A perfect easy keto recipes for beginners.
15. Barbecue Chicken
Who can resist a tender, juicy piece of bbq chicken? Not me! One of my standard last-minute keto dinner ideas is to dump some chicken thighs into the Instant Pot with seasonings. My kids gobble it up every time.
16. Chicken al Forno with Vodka Sauce & Fresh Mozzarella
Chicken al Forno with Vodka Sauce & Fresh Mozzarella has only 5 ingredients and a 5 minute prep time. And this delicious keto dinner can be on the table in about thirty minutes. Can't beat that!
17. Cast Iron Chicken Thighs with Bacon
These are a great source of protein that balances protein on a high-fat diet with the fattier skin-on chicken thighs plus bacon.
Stuffed pork chops with only 5 ingredients and a 5 minute prep time that taste delicious? You've come to the right place! These garlic rubbed pork chops stuffed with spinach and provolone were a winner with my family and one the easiest keto dinner recipes ever.
Tired of chicken? Make this sheet pan baked shrimp for a nice change of pace! And then try my Keto Shrimp Scampi.
What does a girl do when her Costco sized bag of fresh broccoli half freezes in the fridge? Make low carb keto broccoli soup! This came out so well that I needed to share it with you.
21. Pomodoro Chicken
Pomodoro Chicken is deliciously tender, juicy, and tangy. Chicken Pomodoro is a simple five-ingredient recipe that is full of fresh tomatoes and garlic.
22. Low Carb Tomato Basil Soup
This beautiful creamy Tomato Basil Soup uses garden fresh tomatoes and only four other ingredients. The taste is restaurant quality but it is as easy as using a blender.
This is one of our favorite marinades for grilled chicken. My Ranch Yogurt Marinade has only 5 ingredients and gives the chicken a ton of flavor. I love to add these to my meal plan for lunches. I just double the recipe so I have plenty of leftovers.
24. Keto Bacon Wrapped Chicken
Bacon smells like Heaven. I love the smell of it wafting through the house. I've made this keto-friendly Bacon Wrapped Chicken twice for company in the last month to rave reviews so I thought I should share the love. With only 5 ingredients and a 5-minute preparation, you will feel the bacon love in no time!
Pesto sauce is one of my favorite condiments. It is perfect for quick meals like my 5 Minute 5 Ingredient Baked Pesto Chicken. Pesto packs a lot of flavor in a small package. At the end of the summer, I'll make a batch but normally I just buy it. This is excellent on top of cauliflower rice.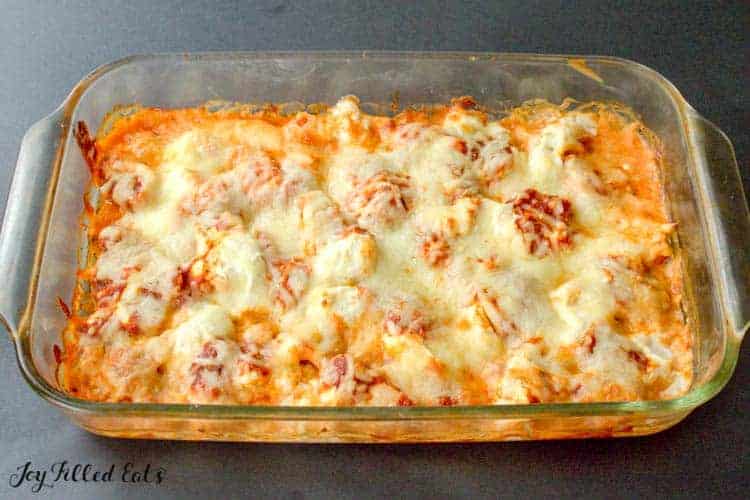 I know you are thinking, "What is pizza chicken? Who puts chicken on pizza?" But… pizza chicken is what my kids call chicken parmesan. This combines the flavors of cream cheese with the flavors of chicken parmesan. It is one of our favorite Easy Keto Meals with 5 Ingredients or Less. Give my keto Pizza Chicken Casserole a try. I'm sure your family will love it too whether they are on a keto diet or not!
This easy slow cooker meal has only a handful of ingredients but infinite flavor! You can serve in a bowl on top of cauli-rice, in lettuce leaves, or as taco salads.
28. Garlic Herb Butter Roast Chicken
I've been able to enjoy many roast chickens, and this Garlic Herb Butter Roast Chicken happens to be my favorite. The crunchy garlic bits are splendid.
With only 5 simple ingredients and only 30 minutes of preparation time, these Air Fryer Baby Back Ribs will surely enthrall your family!
Check out this vegetarian version of my popular keto chicken parmesan. It is a great meatless choice for dinner!
With just four simple ingredients and less than 1 hour of cooking time, this tender and juicy Air Fryer Pork Roast will be ready and waiting!
32. Air Fryer Salmon
Cook salmon from frozen in the air fryer in minutes! Great last-minute weeknight meal. One of my fave lazy keto meals when I don't want to cook. Just add the salmon to the air fryer and let it do its magic.
Make sure to come back and let me know which Easy Keto Meals with 5 Ingredients or Less is your favorite!
For some other easy dinner with just a few more ingredients try my Keto Chili and Paleo Stuffed Peppers.
Originally Published