This easy low carb Keto Pizza Casserole requires five simple ingredients for one incredible casserole dish. See below how to make this pizza casserole recipe, no crust needed for a tasty flavor. Tender chicken, marinara sauce, and tons of ooey-gooey cheese. My chicken low carb pizza casserole will win over your family.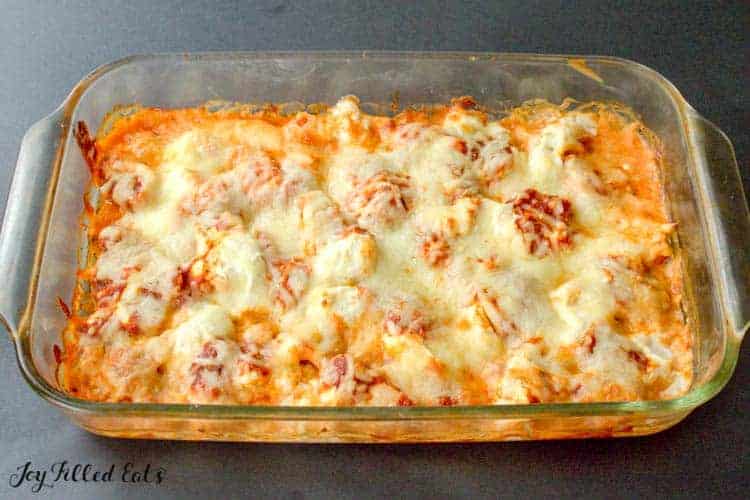 I know you are thinking, "What is pizza chicken? Who puts chicken on pizza?" But… pizza chicken is what my kids call chicken parmesan. This combines the flavors of creamy casseroles with the flavors of chicken parmesan. It is one of our favorite easy dinners. Give my Keto Pizza Casserole a try. I'm sure your family will love it too!
I've been on a roll. A casserole. Hahaha. Sorry, no more bad jokes, I promise. Anyway, I decided to piggyback on the success of my Bacon Ranch Chicken, Bacon Chicken Caesar, Chicken Fajita, and Barbecue Chicken casseroles and make you a pizza chicken casserole.
My family loves casseroles, and they are so easy. When we ate this for dinner I got a couple "Mom, this is good!" and "Can I have seconds?"
How To Make Keto Pizza Casserole
Start by laying your pre-cooked chicken in the bottom of a casserole dish. Then in a bowl mix your cream cheese and garlic. Add dollops of the mixture over the chicken and spread it around. Then add on a layer of marinara followed my mozzarella cheese. Bake until golden and bubbly, then slice and serve.
How to Save Time Making Pizza Casserole
Literally, this recipe takes like five minutes of prep time. It is a go-to recipe for the summer months where my family and I want to be outdoors enjoying the warm sunshine instead of being inside.
Pre-Cooked Chicken for Keto Pizza Casserole
If you have precooked chicken already this has a 5 minute prep time. It is perfect for busy weeks when you don't have time for spending hours in the kitchen. I served it with frozen steam in bag broccoli.
What If I Don't Have Pre-Cooked Chicken On Hand
Feel free to cook up boneless chicken how you like. I have done the Instant Pot Shredded Chicken and just saved some back to use for this recipe later. Or hit up your local store for a rotisserie chicken that you can shred and use.
Can I Swap Ground Turkey for the Chicken in Pizza Casserole
Yes. You can do ground turkey, ground chicken, or even ground beef. Just cook up the meat until all the way cooked, lay in the bottom of the dish, then add in your layers and bake. I would season the ground meat with a little salt and pepper for added flavor.
Low Carb Marinara Sauce
You can use any of your favorite brands of marinara sauce. Just look for a sauce that doesn't add in sugar. You could even buy a Vodka sauce to use in replace of marinara sauce.
I generally buy what is on sale for the week. So feel free to purchase your favorite low carb marinara sauce.
Can I Make Pizza Casserole Ahead of Time
Yes! You can prep your low carb pizza casserole the morning of the day you want to bake it. Just prep in the morning, cover and place in the fridge until you are ready to cook it. Only allow a bit more time during the cooking process as the pan will be chilled from the refrigerator.
Craving More Low Carb Pizza Recipes
Pizza Casserole Tweaks
I really wanted to keep this basic and simple but of course, you can add your favorite pizza toppings!
Add Veggies: If you want to add in some diced onions, peppers, mushrooms, or olives just lay it over the chicken. Then follow up with the cream cheese layer and marinara. Then bake like normal.
Add Pepperoni: I like to put the pepperoni on top and then sprinkle a tiny bit of the cheese over it to hold it on.
Add Sausage: Just add some browned ground Italian sausage on top of the chicken before add the sauce and cheese.
Will Pizza Chicken Casserole Freeze Well
Because of the cream cheese layer, it could curdle during the thawing of the dish. If you do freeze this casserole note that it most likely will change in texture.
If you do opt to freeze it, place in a freezer-friendly container and store up to three months. Thaw in the fridge the night before and then warm up in the oven until warmed all the way through.
What to Serve With Keto Pizza Casserole
Most of the time I pair this with a chopped salad or green vegetables. You could also do a cloud bread with some herbs sprinkled over the top to give it an Italian flare.
Best Way to Reheat Pizza Casserole
I will either toss in the microwave for a quick reheat or if we are doing this for leftovers the night, I will take the leftovers and wrap with aluminum foil and heat in the oven. That way it tastes like the first night.
This also is great for prepping meals for the week. Whether you take your lunch each day to work or want quick dinners to reheat this low carb casserole heats nicely. I use this often for ready reheat meals on busy weekdays when I don't have time to cook a full lunch.
This recipe is so simple to make, and I think you all will enjoy it if you like the ingredients used. Next time you are craving something a bit different for dinner, give this casserole a try!
Like what you see? Follow me on Facebook! Love this recipe? Leave a comment & 5-star rating right here! Make sure you don't miss new recipes by getting email updates!
📖 Recipe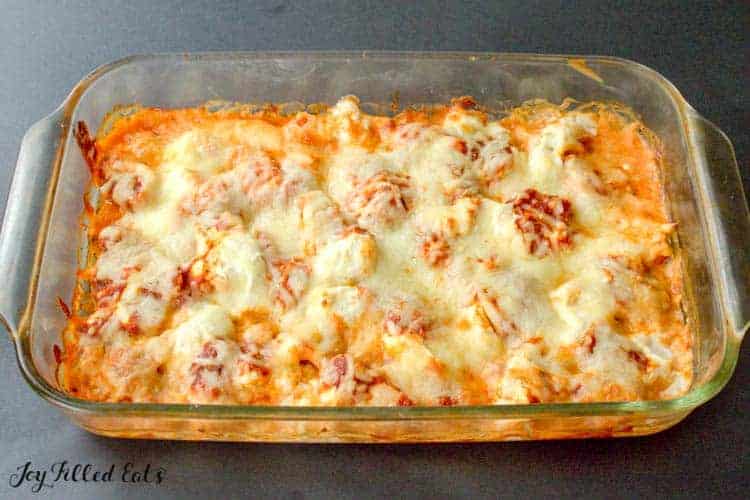 Instructions
Preheat oven to 350.

Put chicken in the bottom of a 9x13 baking dish.

Combine cream cheese and garlic. Drop small spoonfuls onto the chicken. Pour the sauce on top. Sprinkle with the shredded mozzarella.

Bake for 30 min or until the cheese is melted and bubbly.
Notes
Check out the VIDEO right above this recipe!
Nutrition
Calories:
383
|
Carbohydrates:
4
g
|
Protein:
35
g
|
Fat:
24
g
|
Saturated Fat:
12
g
|
Cholesterol:
144
mg
|
Sodium:
704
mg
|
Potassium:
641
mg
|
Fiber:
0
g
|
Sugar:
3
g
|
Vitamin A:
975
IU
|
Vitamin C:
4.2
mg
|
Calcium:
239
mg
|
Iron:
1.2
mg
Originally Published March 16, 2016. Revised and Republished April 30, 2019