For a simple dinner, this easy Keto Pesto Chicken hits the spot. It is one of my top chicken recipes. With only 5 ingredients, a 5 minute prep time, and the approval of my own kids this delicious oven-baked low carb pesto chicken is bound to be a hit in your house too!
Pesto sauce is one of my favorite condiments. It is perfect for quick meals like this gluten free recipe for easy keto pesto chicken. Pesto packs a lot of flavor in a small package. At the end of the summer I make a batch of pesto from the basil in my garden and freeze it but the rest of the year I just buy it.
I know you are wondering how something with only 5 ingredients and a 5 minute prep time can taste good. This pesto baked chicken really does!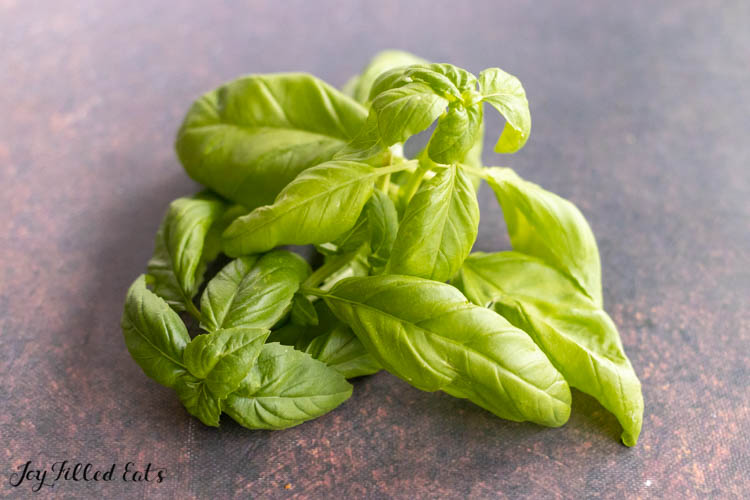 Ingredients
Just five ingredients until you have a delicious dinner! Or three ingredients really. In most cookbooks salt and pepper don't count in the number of ingredients listed.
Chicken Breasts - I use boneless skinless chicken breasts in this recipe. You can use chicken tenderloins if you prefer.
Basil Pesto - This is the star of the show. Most pestos have a pretty strong flavor so they work well to make dishes flavorful. I like to use homemade pesto but jarred pesto is totally fine as well.
Mozzarella Cheese - I use whole milk shredded mozzarella. But slices of mozzarella or other cheeses like provolone cheese work well too.
Kosher Salt - You can always add salt to taste or omit it entirely.
Black Pepper - Pepper can also be added to your preference.
How to Make Keto Pesto Chicken
All I did was thaw a couple of cubes of nut free pesto I had in the freezer, cut the boneless skinless chicken breasts in half, and top with the cheese in a baking dish. This pesto chicken casserole recipe is my kind of weeknight dinner.
Step 1: Grease a large casserole dish with olive oil or cooking spray. Preheat the oven to 350. Put the chicken breasts into the baking dish. Drop on some small dollops of pesto.

Step 2: Spread the pesto over the chicken. You want to make sure you completely cover the chicken for a vibrant pesto flavor in every bite.
Step 3: Top with sliced or shredded mozzarella cheese. Bake until the chicken is fully cooked and the cheese is melted. Enjoy!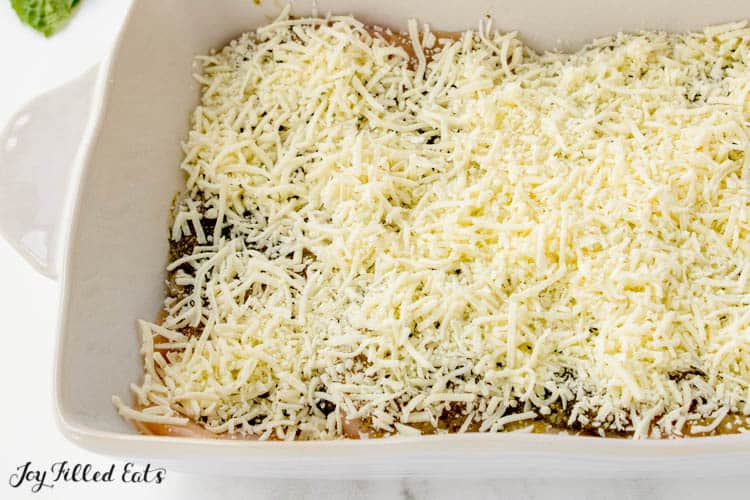 Tips
Browning Cheese: You can pop this under the broiler for 2-3 minutes to brown the cheese.
Cooking Temp: Always make sure chicken is 160 degrees when checked with a meat thermometer.
Thicker Sauce: If you want a nice thick sauce to serve with your baked chicken simply mix in ½ teaspoon of xanthan gum to ¼ cup heavy whipping cream before adding that to the chicken.
Variations
Fresh Sliced Tomatoes - Put tomato slices on top of the pesto before adding the cheese. Or sprinkle some cherry tomatoes or grape tomatoes on top of the chicken breast before topping with the mozzarella.
Heavy Cream - For a creamy pesto chicken mix a few tablespoons of heavy cream and a pinch of xanthan gum into the pesto before spreading it on the chicken breasts.
Cream Cheese - An alternative to using heavy cream would be mixing your pesto into softened cream cheese before adding that on top of the raw chicken. We like this both ways.
Cooked Vegetables - If you'd like to turn this into a casserole or complete meal just add some lightly steamed or sauteed vegetables under the cheese. Good options are broccoli florets, cauliflower, sliced zucchini, or even caramelized onions and peppers.
Garlic - Love garlic? Most pesto does contain garlic but if you like things extra garlicky or the pesto you choose does not have garlic just mix some chopped garlic into the pesto before spreading it. Chopped shallots are also a delicious addition.
Parmesan Cheese - Pesto also normally has parmesan cheese or another hard cheese like pecorino romano but feel free to sprinkle some extra on top before baking or when serving this easy baked pesto chicken.
Common Questions
Can I use fresh mozzarella?
You can, but just be aware that it releases a lot more liquid than regular mozzarella. Just serve the gluten-free pesto chicken bake with a slotted spoon and you are good!
This is a recipe in that I prefer the pre-shredded reduced moisture mozzarella cheese so that I don't end up with a thin sauce.
Do I have to use basil pesto?
Nope! Any flavor of pesto will work in keto pesto chicken. I love sundried tomato pesto in this baked pesto chicken recipe. Other good choices are kale pesto, oregano pesto, spinach pesto, almond pesto, or even an olive tapenade.
In July, August, and September when I am harvesting my basil from the garden, I just love using a super fresh basil pesto in this recipe.
Can I use chicken thighs?
Of course! If you prefer to keto pesto chicken thighs just sub in boneless skinless chicken thighs for the boneless skinless chicken breasts.
Can I cook this in the Instant Pot? Or the air fryer?
Yes and yes. My preference of those two would be the air fryer so the cheese browns. You can cook it in the instant pot but the result won't be as good.
How should I store leftovers?
Store leftovers in the refrigerator for 3-4 days. You can reheat the chicken in a baking dish in the oven covered with foil or in the microwave.
You can also freeze this for 3-4 months when tightly wrapped with plastic wrap.
What should I serve with pesto chicken?
This is such a simple keto chicken recipe that I have a little extra time to spend on yummy side dishes to go along with it. My favorites are Oven-Roasted Green Beans, Grilled Vegetable Salad, or in the summer this Keto Zucchini Salad.
You can really serve this low-carb chicken casserole recipe with almost anything. We like it with a keto pasta sub like hearts of palm noodles, Keto Mashed Cauliflower, any roasted vegetables, cauliflower rice, or a green salad of your choice.
To really highlight the flavor of this dish serve it along with my Pesto Cauliflower!
Or for more keto pesto recipes try my Keto Pesto Chicken Casserole!
Like what you see? Follow me on Facebook! Love this recipe? Leave a comment & 5-star rating right here! Make sure you don't miss new recipes by getting email updates!
Ingredients
4

chicken breasts

about 1.5 lb, sliced in half widthwise to make 8 pieces

3

tablespoon

basil pesto

8

oz

mozzarella

thinly sliced or shredded

½

teaspoon

salt

¼

teaspoon

black pepper
Instructions
Spray baking dish with cooking spray. Place chicken in the bottom in a single layer and sprinkle with the salt and pepper. Spread the pesto on the chicken. Put the mozzarella on top.

Bake for 35-45 minutes until the chicken is 160 degrees and the cheese is golden and bubbly. You can broil it for a few minutes at the end to brown the cheese if you want.
Notes
Substitutions:
Pesto - Feel free to sub in any flavor pesto for the basil pesto in this recipe.
Cheese - You can also use any type of cheese. Using a milder flavored cheese helps the flavor of the pesto to star in this dish.
Prep: Chicken tenderloins save the step of cutting the chicken in half. Using store bought pesto can also save time if you don't have homemade on hand.
Nutrition
Calories:
407.9
|
Carbohydrates:
2.2
g
|
Protein:
49.2
g
|
Fat:
21.2
g
|
Saturated Fat:
9.1
g
|
Polyunsaturated Fat:
1.1
g
|
Monounsaturated Fat:
5
g
|
Trans Fat:
0.02
g
|
Cholesterol:
154.6
mg
|
Sodium:
948.7
mg
|
Potassium:
674.2
mg
|
Fiber:
0.2
g
|
Sugar:
0.9
g
|
Vitamin A:
661.8
IU
|
Vitamin C:
2
mg
|
Calcium:
313.7
mg
|
Iron:
1
mg
Make sure to check out the rest of my 5 Minute 5 Ingredients dinners. This Pizza Chicken Casserole is a real winner with my kids! I'm always glad when they willingly eat healthy meals.
Originally Published April 4, 2016. Revised and Republished February 13, 2023.