For an easy weeknight dinner, this Baked Pesto Chicken hits the spot. It is one of my top chicken recipes. With only 5 ingredients, a 5 minute prep time, and the approval of my own kids this delicious oven-baked chicken is bound to be a hit in your house too! It is Low Carb, Keto, Gluten-Free, Grain-Free, and THM S.
Why this recipe is a must!
Pesto sauce is one of my favorite condiments. It is perfect for quick meals like this gluten free recipe for Pesto Chicken. Pesto packs a lot of flavor in a small package. At the end of the summer I make a batch of pesto from the basil in my garden and freeze it but the rest of the year I just buy it.
I know you are wondering how something with only 5 ingredients and a 5 minute prep time can taste good. This pesto chicken bake really does!
All I did was thaw a couple of cubes of homemade pesto I had in the freezer, cut the chicken breasts in half, and top with the cheese it in a baking dish. That is my kind of weeknight dinner.
Make sure to check out the rest of my 5 Minute 5 Ingredients dinners. This Pizza Chicken Casserole is a real winner with my kids! I'm always glad when they willingly eat healthy meals.
How to Make Baked Pesto Chicken
Step 1: Put some chicken breasts into a casserole dish. Drop on some small dollops of pesto.

Step 2: Spread the pesto over the chicken.
Step 3: Top with sliced or shredded mozzarella cheese. Bake. Enjoy!
Tips for Baked Pesto Chicken:
You can pop this under the broiler for 2-3 minutes to brown the cheese.
Always make sure chicken is 160 degrees when checked with a meat thermometer.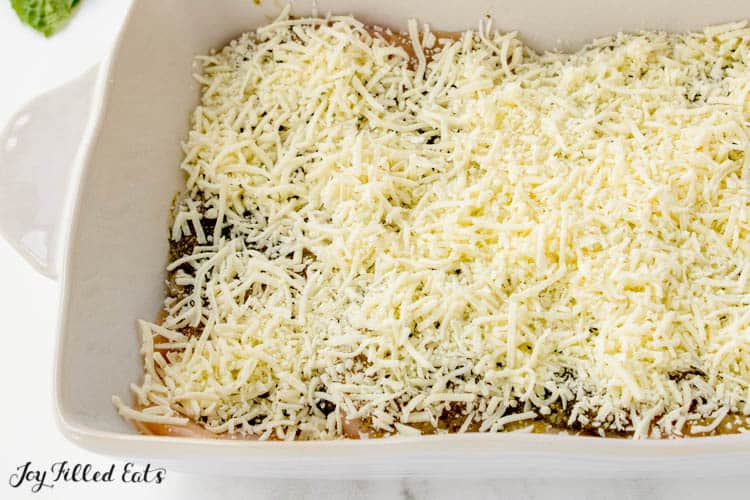 Can I use fresh mozzarella?
You can, but just be aware that it releases a lot more liquid than regular mozzarella. Just serve the gluten-free pesto chicken bake with a slotted spoon and you are good!
Do I have to use basil pesto?
Nope! Any flavor of pesto will work. I love sundried tomato pesto in this chicken pesto recipe. Other good choices are kale pesto, spinach pesto, or even an olive tapenade.
Optional Additions to Baked Pesto Chicken
Fresh Sliced Tomatoes - Put these on top of the pesto before adding the cheese.
Heavy Cream - For a creamy pesto chicken mix a few tablespoons of heavy cream and a pinch of xanthan gum into the pesto before spreading it on the chicken breasts.
Cream Cheese - An alternative to using heavy cream would be mixing your pesto into softened cream cheese before adding that on top of the raw chicken.
Cooked Vegetables - If you'd like to turn this into a casserole or complete meal just add some lightly steamed or sauteed vegetables under the cheese. Good options are broccoli florets, cauliflower, sliced zucchini, or even caramelized onions and peppers.
What to serve with this Chicken Pesto Bake
This is such a simple recipe that I have a little extra time to spend on yummy side dishes to go along with it. My favorites are Oven-Roasted Green Beans, Grilled Vegetable Salad, or in the summer with this Zucchini Salad with Lemon.
You can really serve this with Keto Mashed Cauliflower, any roasted vegetables, or a green salad of your choice.
Like what you see? Follow me on Facebook! Love this recipe? Leave a comment & 5-star rating right here! Make sure you don't miss new recipes by getting email updates!
Ingredients
4

chicken breasts

about 1.5 lb, sliced in half widthwise to make 8 pieces

3

tbsp

basil pesto

8

oz

mozzarella

thinly sliced or shredded

½

tsp

salt

¼

tsp

black pepper
Instructions
Spray baking dish with cooking spray. Place chicken in the bottom in a single layer and sprinkle with the salt and pepper. Spread the pesto on the chicken. Put the mozzarella on top.

Bake for 35-45 minutes until the chicken is 160 degrees and the cheese is golden and bubbly. You can broil it for a few minutes at the end to brown the cheese if you want.
Notes
Substitutions:
Feel free to sub in any flavor pesto for the basil pesto in this recipe.
You can also use any type of cheese. Using a milder flavored cheese helps the flavor of the pesto to star in this dish.
Prep:
Chicken tenderloins save the step of cutting the chicken in half. Using store bought pesto can also save time if you don't have homemade on hand.
Nutrition
Calories:
471
|
Carbohydrates:
2
g
|
Protein:
61
g
|
Fat:
22
g
|
Saturated Fat:
9
g
|
Cholesterol:
190
mg
|
Sodium:
1013
mg
|
Potassium:
879
mg
|
Vitamin A:
680
IU
|
Vitamin C:
2.7
mg
|
Calcium:
316
mg
|
Iron:
1.2
mg
Get the Joy Filled Eats Keto eBook Bundle!
Over 100 easy recipes w/photos & nutrition info.