Sometimes you need a perfect, simple vanilla ice cream. My homemade Keto Vanilla Ice Cream goes well in sundaes, with pie, on top of a warm brownie, and right from the container with a spoon. This easy recipe is low carb, keto, gluten-free, grain-free, sugar-free, and Trim Healthy Mama friendly.
I have several recipes that use either sweet cream or vanilla ice cream, but I haven't gotten around to sharing my ice cream recipe on its own yet. If you are too adventurous for plain ole vanilla, make sure to check out my Sweet Cream Coffee Caramel Ice Cream, Vanilla Ice Cream with a Chocolate Truffle Core, Pecan Praline Ice Cream, and Peanut Butter Ice Cream with Peanutty Caramel. And the other ten or so ice cream recipes on my blog. Can you tell I like ice cream?
Besides, once you get the hang of making homemade ice cream at home, you will never want the store-bought stuff again. Yes, you can find many store-bought keto versions of ice cream on the market, and they are okay. But, they are made with all sorts of ingredients that aren't going to be common or things you can find around your home. Instead, when you bite into one of my homemade ice cream recipes, you will be given an explosion of creaminess that is truly irresistible. Yes, even regular vanilla ice cream is creamy and has a wonderful flavor.
Ingredients You Will Need
You will be happy to know that all you need is 6 ingredients to whip up a batch of this homemade vanilla ice cream. The best thing about this homemade vanilla keto ice cream recipe is you can control the ingredients. This doesn't have any weird add-ins you can't pronounce like chicory root fiber or soluble corn fiber. I do add a little vegetable glycerin to my ice creams, so they stay soft and scoopable in the freezer. That is always optional. If you are patient enough to let your ice cream temper for thirty minutes, you can omit it. Patience has never been my strongest virtue.
Heavy Cream - Heavy whipping cream is what makes ice cream creamy.
Milk - You can use either reduced-carb milk, unsweetened coconut milk (from a carton, not a can), or unsweetened almond milk. I do prefer using reduced-carb milk when I am able to find it. Most of my local grocery stores, Walmart, and Target all carry Fairlife brand.
Egg Yolks - I throw them in raw. If you don't want to do that for health reasons you can purchase pasteurized eggs or gently heat the base until bubbles form around the edge. This is called tempering.
Sweetener - I use my sweetener blend which is a blend of sugar alcohols (erythritol, xylitol or allulose, plus stevia) but I do offer subs in the recipe card for swapping out to another sugar free sweetener such as monk fruit.
Vanilla - Make sure to use a good vanilla extract when you want the vanilla flavor to be the star.
Glycerin - Glycerin is optional but recommended. It helps sugar-free ice cream not freeze too hard to scoop.
How to Make Keto Vanilla Ice Cream
Step One: All you need to do is put the heavy cream, milk, egg yolks, sweetener, vanilla, and glycerin in a bowl and whisk. Or you can add to a blender and combine that way.
Step Two: Then pour the creamy ice cream mixture into your ice cream machine and churn according to the manufacturer's instructions.
Expert Tip: With this simple recipe there is no need to make homemade sweetened condensed milk or any other recipes first.
Step Three: Transfer to freezer safe containers and freeze until firm enough to scoop.
Variations
Mint Chip - Add a teaspoon or two of peppermint extract for a mint flavor. And then add chopped chocolate for mint chocolate chunk or chocolate chips for mint chocolate chip.
Cookie Dough - Add small chunks of cookie dough after the ice cream has finished churning. I have a recipe for Keto Cookie Dough Ice Cream that includes that.
Brownie Dough - Make the crust for my Keto Chocolate Cheesecake and crumble it into small pieces. Add those to the ice cream.
Birthday Cake - I've found a combination of vanilla, butter, and almond extracts give a cake batter flavor. Mix those in along with some keto sprinkles.
Vanilla Bean - Scrape the seeds from a vanilla bean pod and add them in the first step.
Butter Pecan - I have a recipe for this variety here: Keto Butter Pecan Ice Cream
Peanut Butter Cup - Add keto-friendly chopped peanut butter cups.
Sea Salt Caramel - Add caramel extract and then swirl in some Sugar Free Caramel Sauce
Topping & Sundae Ideas
Just like any ice cream, adding toppings gives them even more flavor and texture. We love to eat a bowl of this keto diet vanilla ice cream with nothing on it, but sometimes it's fun to pack on the toppings. Just know that any additions can change the grams of net carbs. Here are a few ideas to try out:
Nuts - Add your favorite nuts to the ice cream. They are crunchy and full of flavor. Try out my Keto Candied Pecans for an explosion of sweet goodness in every bite.
Hot Fudge Sauce - Nothing better than some ice cream topped with incredible low carb sugar free hot fudge sauce. Try it and see for yourself how simple it is to make too.
Caramel Sauce - Another one of our go to ice cream toppings is Sugar Free Caramel Sauce. Seriously, it's going to taste delicious and rock your world.
Sprinkles - Use your favorite sugar-free sprinkles to add some playful color to your homemade keto friendly ice cream. It's great for birthday parties too.
Chocolate Chips - Add a few sugar-free chocolate chips to the ice cream. It's super yummy and gives you some chocolate too.
Fruit - Add all of your favorite fresh berries on top. We like to add some strawberries, blueberries, or raspberries from time to time. They are colorful and add even more natural sweetness to the ice cream.
Fresh Berry Sauce - this is delicious with my keto blueberry sauce or keto raspberry sauce.
Keto Brownie Sundae - Wondering about that fantastic low carb keto brownie, you see? That is one of my Little Debbie Fudge Brownies. For an even more fabulous sundae, drizzle on some Hot Fudge.
Apple Crisp - Or serve this on Keto Apple Crisp for a fall treat! I promise it's fine for a low carb diet and has fewer grams of carbs than you think. Check out that post to see what I use instead of apples.
Berry Desserts - Another great option is a scoop with my Keto Blueberry Cake or Keto Blueberry Pie Bars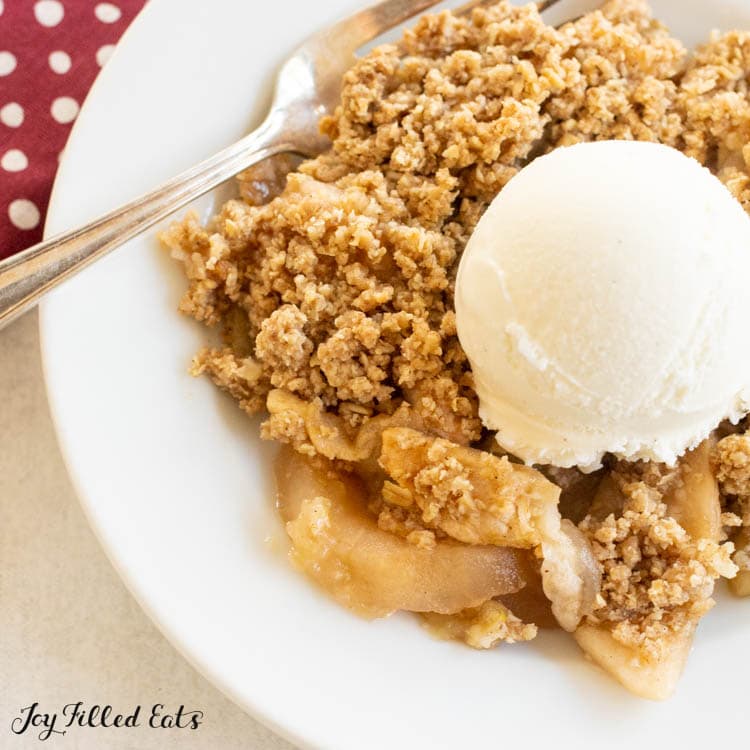 Common Questions
How can I make Dairy-free Keto Ice Cream?
You can use full fat coconut milk to replace the heavy cream. It is important to use full-fat coconut milk and not low-fat or carton coconut milk or your keto-friendly ice cream will be icy instead of creamy.
Is it safe to use Raw Egg Yolks in Ice Cream?
If you are concerned about using raw egg yolks, you can purchase pasteurized eggs, or you can temper the ice cream base. I don't do either. I guess I'm a bit of a rebel, but I've never gotten sick from raw eggs in low-carb ice creams or cookie batter.
Why do you use Glycerin in Ice Cream?
The reason for the glycerin is to keep the keto vanilla ice cream soft enough to scoop. It is optional since it does add a small number of carbs. If you prefer to leave it, you can sub in vodka or let the ice cream sit out at room temperature for 30 minutes before scooping.
What ice cream maker should I buy?
My Cuisinart ice cream maker is one of the best investments I have ever made. Those store-bought pints of keto ice cream brands like Halo Top and Enlightened add up fast, AND homemade ice cream is easy to churn at home and tastes so much better. See my favorite ice cream maker HERE.
Once you own an ice cream machine, you will find that you can make ALL sorts of different flavors. We love playing around with ice cream to see what else we can come up with.
How to store Keto Vanilla Ice Cream
I use leftover pint containers a lot. They are perfect for storing homemade ice cream. My husband went on a gelato kick a few years back and brought home half a dozen pints of traditional ice cream at once when these were on sale. And that is why I normally do the grocery shopping.
You can use any glass or plastic storage container as long as it's airtight and a freezer-safe container. You should keep the ice cream in the coldest part of your freezer to ensure it lasts the longest. Be sure to avoid sticking it in the door, or it will tend to slightly melt as the door opens and closes and will cause a lot of ice crystals to develop.
You can also just freeze it in a loaf pan if you will be eating it quickly.
Like what you see? Follow me on Facebook! Love this recipe? Leave a comment & 5-star rating right here! Make sure you don't miss new recipes by getting email updates!
Equipment
Ingredients
1 ½

cups

heavy cream

1 ½

cups

reduced carb milk or unsweetened almond milk

***

3

egg yolks

2

teaspoon

vanilla

2

teaspoon

glycerin

optional
Instructions
Put all the ingredients in a blender. Blend until smooth. Pour into an ice cream machine and freeze according to the manufacturer's instructions.
Notes
Nutrition - Most ice creams have ½ servings. I chose to have the nutrition facts show a generous 1 cup serving. One cup has 4.8 net carbs.
Milk -

I prefer the reduced carb milk in this recipe.
Egg Yolks - If you are concerned about using raw egg yolks you can purchase pasteurized eggs or you can temper the ice cream base.
Glycerin - The glycerin helps the ice cream to stay scoopable in the freezer. If you don't mind letting the ice cream sit out at room temperature for about half an hour before scooping you can omit the glycerin.
Nutrition
Serving:
1
cup
|
Calories:
253.3
|
Carbohydrates:
5
g
|
Protein:
3.4
g
|
Fat:
24.6
g
|
Saturated Fat:
14.5
g
|
Polyunsaturated Fat:
1.7
g
|
Monounsaturated Fat:
6.8
g
|
Cholesterol:
164.4
mg
|
Sodium:
103.8
mg
|
Potassium:
68.3
mg
|
Fiber:
0.2
g
|
Sugar:
4.6
g
|
Vitamin A:
1004.4
IU
|
Vitamin C:
0.4
mg
|
Calcium:
126.5
mg
|
Iron:
0.3
mg
Originally Published October 3, 2017. Revised and Republished March 2, 2023.

FREE Cookie Cheat Sheet!
Make Five Delicious Low Carb Keto Cookie Recipes from one EASY dough!