Turkey Bacon Ranch Pinwheels are a crowd-pleasing, five-minute prep appetizer. My kids gobbled these easy turkey pinwheels up when I made them for a party recently. They have a lot of flavor with only a little bit of effort. This easy turkey and cheese pinwheels recipe is low carb, keto, gluten-free, grain-free, sugar-free, and Trim Healthy Mama friendly.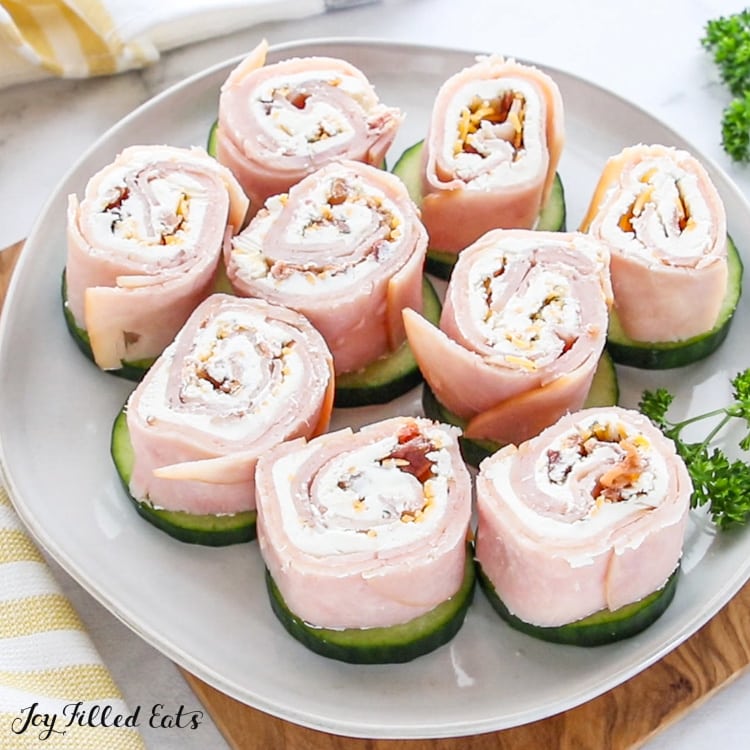 I am not a football fan. At all. I tried for a while to watch football with my husband when we were newly married but it's just not my thing. I came to realize it's ok to have different interests and hobbies. I don't need to be a super-duper Giants fan to have a good marriage.
What I will do is make plenty of snacks for the rest of my family to enjoy during football games. The kitchen is my happy place. Much more than sitting on the couch watching football.
When I saw this video floating around Facebook recently I knew I wanted to make my own version of turkey pinwheels. I'm not a big fan of salami or those jarred peppers so I went with a turkey ranch version instead. My trick for recreating ranch flavor is to use garlic, onion, and dill. I really think dill is the quintessential ranch flavor.
Ingredients
Deli Turkey - The term "deli turkey" refers to a type of turkey that is typically sold in delis. This type of turkey is usually pre-cooked and can be sliced into thin pieces. For this recipe you want thin slices of turkey.
Cream Cheese - Cream cheese has a smooth, creamy texture and a mild flavor that works really well as a binder in keto pinwheels without tortillas.
Cheddar Cheese - Cheddar cheese is made from cow's milk and has a yellowish-white color. The taste of cheddar cheese can vary depending on its age, with younger cheeses being milder and older cheeses having a stronger flavor. I generally use medium cheddar in this recipe.
Bacon Crumbles - Bacon crumbles are small pieces of bacon that have been cooked until they are crisp. Make sure to buy ones that are made from real bacon. You can also just cook a few pieces of bacon until crisp.
Dried Minced Onion - Dried Minced Onion has a strong, pungent flavor but is milder than using raw onion. It can add depth and dimension to many different types of recipes. You can also use onion powder or fresh green onions.
Garlic Powder - Garlic powder is a dried form of garlic that is commonly used as a spice or seasoning. It is made by grinding whole garlic cloves into a fine powder. Raw garlic is a bit too potent but roasted garlic is delicious in these.
Dill Weed - Dill is what gives the filling in these turkey cheese pinwheels a ranch flavor.
How to Make Keto Pinwheels
Make sure to check out the video of these turkey and cheese pinwheels in action!
First Step:
Roll cream cheese flat between 2 layers of plastic wrap. Remove the top layer. Add turkey. Flip over the whole thing onto new plastic wrap so the turkey is on the bottom and peel off the top plastic wrap from the flattened cream cheese.
Second Step:
Add seasonings. I use a homemade blend of spices to flavor this like ranch.
Expert Tip: You do not need a packet of ranch salad dressing mix. These herbs and spices give a ranch flavor without all the additives. All you need for that ranch flavor is onion, garlic, and dill!
Third Step:
Add some shredded cheddar and cooked crumbled bacon on top of the cream cheese and seasonings.
Fourth Step:
Roll up the turkey cheese pinwheels. Roll up some more. Wrap with the plastic wrap that was underneath the roll-up.
Chill for at least 2 hours. Slice with a sharp knife on a cutting board and serve!
Variations
Chipotle Turkey: Mix a little chipotle puree into the cream cheese before spreading it. Omit the dill.
Cranberry Herb: Mix a little cranberry sauce into the cream cheese before spreading it. Swap out the dill for sage and omit the garlic, bacon, and cheddar cheese.
Blue Cheese & Tomato: Sub in blue cheese crumbles for the cheddar cheese. Omit the dill.
Common Questions
Do I Need a Ranch Packet?
No, these use a homemade blend of spices.
Do I Need Ranch Dressing?
Nope, you will be using herbs and spices to get the ranch flavor.
How to Make Homemade Ranch Seasoning
Mix together dried garlic powder, minced onion, and dill weed. Depending on the recipe I will add salt, pepper, and parsley.
How to Serve Turkey Pinwheels
I sliced these about one inch thick and serve on cucumber slices. You can serve on low carb crackers if you prefer.
Can I use ham in keto pinwheels? Or salami? Or roast beef?
Yup! You can sub in any deli meat of your choice. You can also swap out the seasonings, type of cheese, and even the bacon if you want.
More Bacon Ranch Recipes
This is one of my favorite flavor combos if you haven't realized. I have just a few bacon ranch recipes already. Bacon Ranch Chicken Casserole, Bacon Ranch Cheddar Chicken Salad, Bacon Ranch Cheddar Broccoli Salad, and Bacon Wrapped Chicken Tenders with Ranch Dip. You can have an entire bacon ranch flavored meal.
Like what you see? Follow me on Facebook! Love this recipe? Leave a comment & 5-star rating right here! Make sure you don't miss new recipes by getting email updates!
📖 Recipe
Instructions
Put the cream cheese between 2 pieces of plastic wrap. Roll it out until it's about ¼ inch thick. Peel off the top piece of plastic wrap. Lay the slices of turkey on top of the cream cheese.

Cover with a new piece of plastic wrap and flip the whole thing over. Peel off the piece of plastic that is now on the top. Sprinkle the spices on top of the cream cheese. Sprinkle with the bacon and cheese.

Roll up the pinwheels so that the turkey is on the outside. Refrigerate for at least 2 hours. Slice into 12 pieces and serve on top of low carb crackers or sliced cucumber.
Notes
Substitutions
Meat - Any type of deli meat and shredded cheese work in this recipe.
Herbs - Fresh dill can be subbed in for the dried dill weed. Basil tastes great instead of dill as well!
Make sure to check out the video of this in action.
Nutrition
Serving:
2
pieces
|
Calories:
59.7
|
Carbohydrates:
3.1
g
|
Protein:
8
g
|
Fat:
1.6
g
|
Saturated Fat:
0.9
g
|
Polyunsaturated Fat:
0.1
g
|
Monounsaturated Fat:
0.3
g
|
Cholesterol:
13
mg
|
Sodium:
443.5
mg
|
Potassium:
117.5
mg
|
Fiber:
0.03
g
|
Sugar:
1.8
g
|
Vitamin A:
45.9
IU
|
Vitamin C:
0.04
mg
|
Calcium:
122.5
mg
|
Iron:
0.3
mg
More Top Keto Recipes:
Originally Published on February 9, 2017. Revised and Republished on November 22, 2022.
FREE Mug Cake Cheat Sheet!
Six delicious low carb mug cake recipes on one printable page to keep on the fridge!