If you are like my family you eat more salads in the summer than the other three seasons combined. When it's too hot to cook on anything besides the grill, summer salads are both our go-to side dishes and entrees. I wanted to make an easy to reference list of some great ideas for Healthy Summer Salads.
I have a large assortment of salads to share with you. I hope you get a chance to try them all over the next few hot months.
---
Easy Caesar Salad with Two Minute Dressing from Joy Filled Eats - Caesar salad is one of our favorite sides for dinner and with some grilled chicken on top it is also our favorite entree. This delicious salad has a homemade dressing that takes only two minutes to prepare.
Grilled Vegetable Salad with Feta from All Day I Dream About Food - You can't go wrong with grilled vegetables in the summer. We eat this Grilled Vegetable Salad with Feta all summer long.
Big Mac Salad from Wholesome Yum - This low carb Big Mac Salad will satisfy your fast food craving in a healthy and delicious way!
Curried Cucumber Salad from Northern Nester - This incredibly easy, no special ingredient cucumber salad is an inexpensive, refreshing Summer salad the whole family will love!
Bacon Ranch Cheddar Broccoli Salad from Joy Filled Eats - This easy broccoli salad is always one of the first salads to disappear at barbecues.
Southwest Steak Salad with Spicy Avocado Dressing from Low Carb Yum - Enjoy this healthy and delicious Southwest steak salad with spicy avocado dressing. It makes a very filling low carb meal.
Creamy No Mayo Coleslaw from Oh Sweet Mercy - This cool, creamy coleslaw is made without mayo. Perfect for picnics, BBQ's and potlucks or those days when it's just too hot to cook. Low in fat and carbs, it's also a healthy addition to your THM meal of any fuel style.
Nut and Berry Chicken Salad from Simply So Healthy - This delicious low-carb Nut and Berry Chicken Salad is perfect for a summer picnic!
Lemon & Feta Summer Zucchini Salad from Joy Filled Eats - This Lemon & Feta Summer Zucchini Salad is one of our favorite summer side dishes. With only 6 ingredients it comes together in a snap.
Asian Marinated Cucumber Salad from Step Away From the Carbs - This salad is made from cucumber marinated in an Asian-inspired dressing. This dish is great for a side dish, appetizer, or eaten on its own!
Blackened Salmon Cajun Cole Slaw from Nana's Little Kitchen - This zippy, Blackened Salmon Cajun Cole Slaw was adapted from a shrimp slaw popular at a Gulf Coast restaurant years ago and we still love it both ways.
Basic Wedge Salad from My Montana Kitchen - Beautiful wedge salads loaded with your favorite toppings for a delicious entree or a side to any meal.
Halloumi and Pomegranate Salad from Sugar Free Londoner - A feast for the eye and super-tasty: this halloumi and pomegranate salad is easy to prepare and packed with flavor.
Pesto Chicken Salad from Chrissy Benoit in Love - I love this huge bed of greens, amazing veg, chicken,and pesto sauce.
Broccoli Cauliflower Salad from Briana Thomas - This broccoli cauliflower salad with its creamy dressing and bacon is a healthy recreation of one of my mom's favorite potluck dishes!
Grilled Paneer Salad from Joy Filled Eats - This Grilled Paneer Salad is the perfect way to satisfy your Indian craving in warmer weather. Paneer cheese, sweet peppers, and onions are coated with a cilantro-mint chutney and grilled to perfection.
Cauliflower Broccoli Rice Salad by Low Carb Maven - An easy broccoli cauliflower salad dressed in oil and vinegar that's the perfect rice substitute for grilled, pan seared, or roasted meats.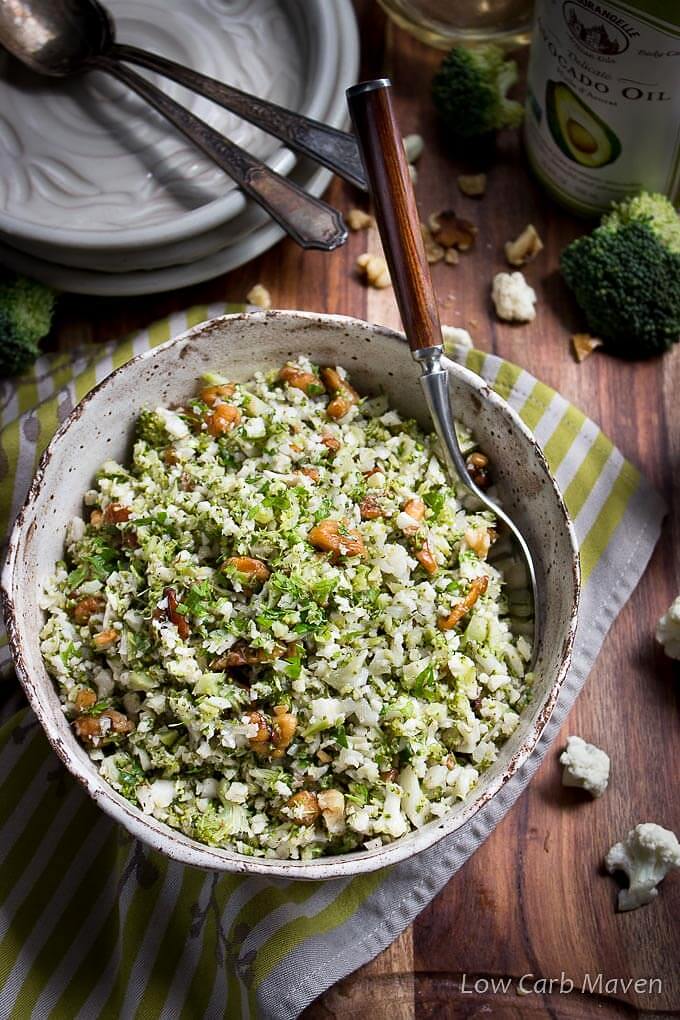 Asian Chicken Salad from Grace Filled Homemaking - This Asian Chicken Salad with Spicy Sweet Peanut Dressing is a unique way to get your veggies in! It's infused with Thai flavor and topped with an unforgettable dressing.
Simple Greek Salad from Joy Filled Eats - This Simple Greek Salad comes together in under five minutes. By using a few key flavors you can whip up a restaurant quality side in no time.
Very Berry Salad with Dijon Balsamic Vinaigrette from Darcie's Dishes - This salad tastes like summer on a plate. The refreshing berries paired with the sweet, yet tart dressing is the perfect light meal for all those hot summer days.
I have a couple extra bonus salads for you. These are Trim Healthy Mama E recipes which mean they are carb smart. They are low fat and have a good amount of healthy carbs.
High Protein Mediterranean Salad from Counting All Joy - This is a very high protein, energy giving, vegetarian Mediterranean style dish. Full of healthy veggies and lean protein from the beans and quinoa.
Easy Gluten-Free Summertime Black Bean Chicken Salad from Working at Homeschool
I hope you enjoy these perfect for summer salads!