This easy Keto Coffee Creamer recipe is perfect for both hot or iced coffee. You can easily adjust the sweetness of my keto creamer recipe to your taste buds and add extracts to customize your favorite flavors. It has just 0.6 net carbs per serving.
Store-bought sugar-free coffee creamer tends to have additives and artificial sweeteners that I try to avoid so coming up with variation that I can make at home was a priority when I switched to a low-carb diet. This keto-friendly coffee creamer has been a staple in my fridge ever since. I love making different flavors of homemade creamer and enjoying it in hot and iced coffees all year long.
Ingredients
Sweetener - My favorite sugar substitute is normally my sweetener which is a combination of erythritol, xylitol or allulose, and stevia. You can use any sweetener in this recipe and I offer suggestions for amounts to use in the recipe card.
Almond Milk - Make sure to use unsweetened almond milk. Either plain or vanilla both work.
Heavy Cream - I normally use heavy whipping cream but a light cream would also be fine.
Vanilla Extract - The vanilla is just a small amount to balance the other flavors. For a real French vanilla flavor add more to taste.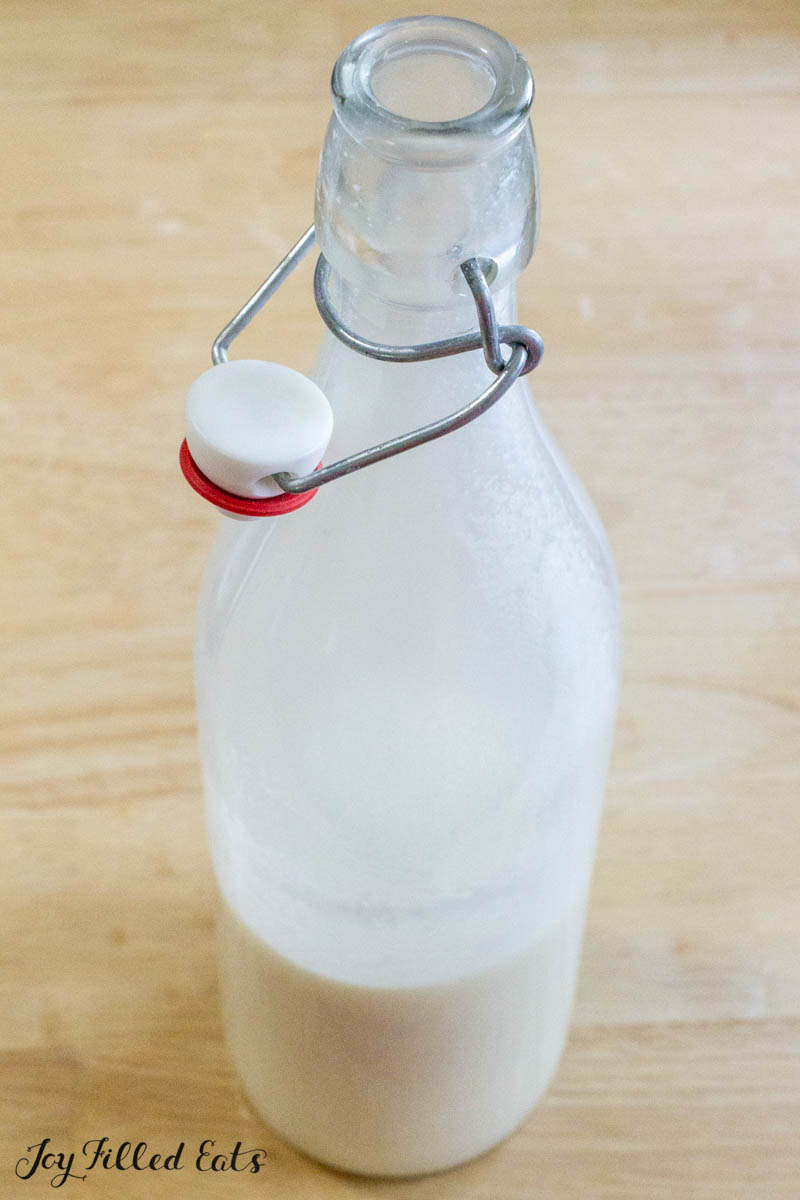 How to Make this Keto Creamer Recipe
This is naturally gluten-free with just a few simple ingredients.
Step One: Combine the sweetener and water in a small saucepan and heat over medium heat until the sweetener dissolves.
Step Two: Remove from the heat. Add the other ingredients to the pan and whisk thoroughly.
Step Three: Cool to room temperature. Transfer to a pitcher, mason jar, or glass bottle and store in the fridge. You can divide between a few different bottles or jars with lids and flavor each separately to have different varieties.
Variations
It is very easy to flavor this keto-friendly creamer in a myriad of ways. You can divide the recipe as is or double it to be able to make even more flavors depending on how many coffee drinkers there are in your home.
Vanilla - For a strong vanilla flavor you will need to add more extract than the amount listed in the recipe. I would try adding two teaspoons and then adding more if desired.
Cinnamon - This is one of my favorite additions. Start with half a teaspoon and add as much as you like.
Chocolate - For a chocolate or mocha creamer you can mix some unsweetened cocoa powder in when the sweetener is dissolving.
Caramel - Adding caramel extract is a great way to get a caramel creamer flavor. Not all extracts are equal. Some have an aftertaste so you may need to sample several to find one you enjoy.
Peppermint - Mint is another great add-in, especially around Christmas. Peppermint extract is strong so start with just a few drops and go from there.
Hazelnut - You can add hazelnut extract for a nutty flavor.
Pumpkin Spice - Add some pumpkin pie spice. It can be strong so start with just ½ teaspoon and add more to taste. This is a great way to make a keto pumpkin spice latte.
Dairy-free - Using a combination of coconut milk and coconut cream you can easily make this dairy free.
Protein - For more protein in your morning coffee add some collagen to the creamer.
Common Questions
Can I use this in hot coffee?
Absolutely. This keto diet friendly sweetener is made to replace those cartons of coffee creamer that come in dozens of different flavors. You can use it in hot or cold coffee.
Can I use this in cold brew coffee?
As soon as the weather is warm enough for flip-flops I trade in my morning hot coffee for iced. I've tried cold-brewing it before but sometimes it is easier for me to just brew a whole pot every few days and chill it in the fridge. I make it on the strong side so that it doesn't become watered down when I add ice.
I have made frozen black coffee cubes in the past but again, I think they can be more of a mess than they are worth. (Unless you want to make a frappuccino). It is simpler to just make extra strong coffee and thin it with regular ice.
What is bulletproof coffee?
Bulletproof coffee is a type of blended coffee that incorporates high-quality fats, such as grass-fed butter, grass fed ghee, mct oil, and/or coconut oil, along with brewed coffee. I've tried it myself and still prefer a regular cup of coffee with a creamy sweet creamer. But this is a way to make creamy coffee without creamer or dairy products. Bulletproof coffee is naturally creamy because of the way the oil emulsifiers into the coffee.
What sweetener should I use in keto coffee creamer?
Whichever one you enjoy.
When I was drinking coffee before this pregnancy I was just using half and half most of the time. When I started drinking it again I really wanted it a bit sweet to cut the bitterness. I love my sweetener blend of xylitol (or allulose), erythritol, and stevia. But occasionally stevia can give me a headache. So I developed this recipe using either my sweetener or a monk fruit blend such as Lakanto. It was very similar in taste to sugar and didn't have an aftertaste. I made this coffee creamer to simplify my mornings.
How long does keto creamer last?
This homemade keto coffee creamer recipe keeps in the fridge for about a week (just check the dates on your cream and almond milk) and a little goes a long way.
Try this in your favorite Low Carb Starbucks copycat recipes like my Keto Peppermint Mocha, Starbucks Sugar Free Vanilla Latte, or Snickerdoodle Latte!
Like what you see? Follow me on Facebook! Love this recipe? Leave a comment & 5-star rating right here! Make sure you don't miss new recipes by getting email updates!
Ingredients
½

cup

water

½

teaspoon

vanilla

1 ½

cups

almond milk

1 ½

cups

heavy cream
Instructions
Combine sweetener and water in a small saucepan and heat on medium just until the sweetener melts. Mix in the other ingredients.

Cool to room temperature. Store in the fridge.
Notes
Nutrition: The nutrition facts are based on 1/16th of the recipe per serving which is approximately 3 tablespoons. This amount has 0.6 net carbs.
Notes on Sweeteners:
Nutrition
Serving:
3
tablespoons
|
Calories:
79.5
|
Carbohydrates:
0.7
g
|
Protein:
0.8
g
|
Fat:
8.3
g
|
Saturated Fat:
5.1
g
|
Polyunsaturated Fat:
0.5
g
|
Monounsaturated Fat:
2.2
g
|
Cholesterol:
25.2
mg
|
Sodium:
36.9
mg
|
Potassium:
21.4
mg
|
Fiber:
0.1
g
|
Sugar:
0.7
g
|
Vitamin A:
328
IU
|
Vitamin C:
0.1
mg
|
Calcium:
43.1
mg
|
Iron:
0.02
mg
Originally Published July 8, 2017. Revised and Republished January 30, 2023.