All you need is 3 ingredients and about five minutes to make some incredible low carb Keto Cheesecake Fluff. It's creamy and is the best sweet dessert to complete your dinner table. Add your favorite berries on top and enjoy. This delicious cheesecake mousse is also sugar-free, Trim Healthy Mama friendly, gluten-free, and grain-free.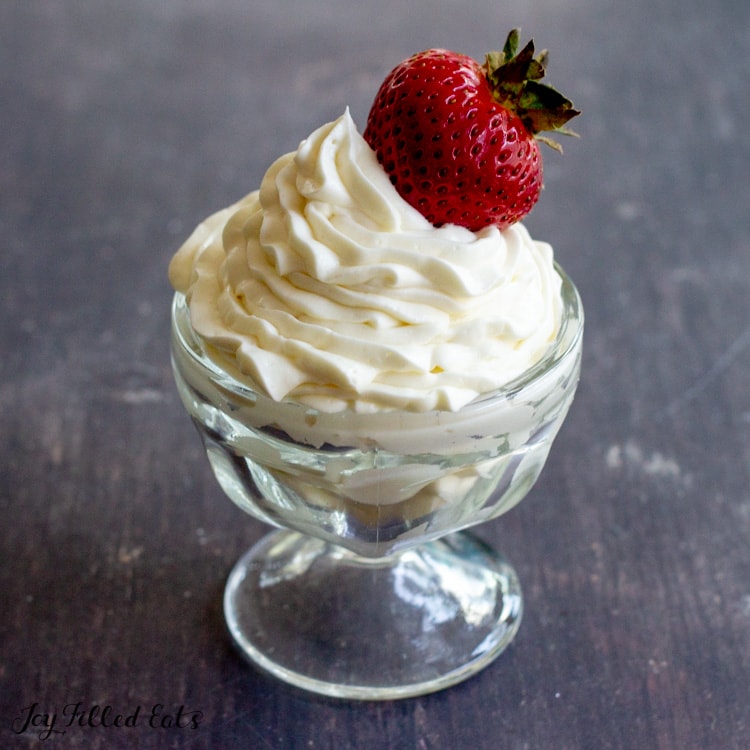 We don't always eat dessert, but most nights we want something that is sweet after dinner. When I don't plan ahead, this keto cheesecake fluff is always a great option. I don't have to plan ahead to make it, and the kids even love it too. It is one of my all-time favorite easy keto recipes. I'll even make a batch just for myself and divide it between small mason jars so I can one right out the fridge.
I spend a lot of time in my kitchen. Between keeping my family of 8 fed and working on recipes for my blog, I am always making something. I love what I do and I've been able to create some of the best foods. I am blessed to be able to share these with you!
Ingredients
Cream Cheese - I use blocks of full-fat cream cheese.
Heavy Whipping Cream - Make sure it is thoroughly chilled so it whips up easily.
Powdered Sweetener - This is important for the smoothest texture. A granular sweetener will make it gritty.
How To Make Keto Cheesecake Fluff
You really can make this in about five minutes. The only problem would be if you decide to whip your cream by hand. It is certainly possible but I recommend using an electric mixer to save on time and energy.
First Step: Mix the heavy whipping cream in a stand mixer until you see stiff peaks then transfer it into another bowl.
Second Step: Combine the cream cheese and sweetener together until they are fluffy. Pour in ⅓ of the homemade whipped cream and combine.
Optional: at this point, you can add some vanilla extract if you like.
Third Step: Fold in the rest of the whipped cream into the cheesecake fluff mixture. Once combined, put in serving bowls and enjoy. Top with your favorite berries or eat plain.
Expert Tip: To make this look fancy just put it into a piping bag with a star tip and pipe it into bowls instead of spooning it in.
What Can I Top This With?
First of all, you can totally eat the keto cheesecake fluff the way it is and with nothing on top. But if you want something a little bit "extra" go ahead and add some toppings.
Sugar Free Caramel Sauce - I love to make my own caramel sauce. I could lick the bowl without any reservations because it's so insanely good.
Chocolate - Add some sugar-free chocolate chips or crushed chocolate on top. It's pretty and cures your sweet tooth. If you have a low carb chocolate sauce, that will work too.
Fruit Flavorings - Whether you add fresh berries or you want something like my Creamy Lemon Dessert Sauce, you can't go wrong. Just add a few fresh berries or drizzle some sauce on top. For a strawberry cheesecake flavor throughout mix some strawberry puree in with the cream cheese.
Zest - I love mixing in a little fresh lemon zest or lime zest for a citrus flavor.
Nuts - Sprinkle a few of your favorite nuts on top like almonds, walnuts, or even candied pecans. That crispy texture is heavenly.
Coconut - If you are a fan of coconut, you should add some toasted coconut on top. Yum!
Peanut Butter - Mix a spoonful of peanut butter in with the cream cheese for a peanut butter cheesecake fluff!
There are plenty of ingredients that will pair nicely with this keto cheesecake fluffy. Feel free to add whatever you like or use a combination of tasty toppings to add to cheesecake fluff.
OR mix things up and make my pumpkin version of this recipe: Keto Pumpkin Mousse!
Common Questions
Do I Have To Use Powdered Erythritol?
Yes, the erythritol needs to be powdered instead of granulated. Otherwise, the texture is going to be very grainy and not as appealing. If you opt to use granulated, it may turn out okay, but I don't recommend it. I prefer my cheesecake fluff to be extra creamy and fluffy, so granulated just doesn't give me that result.
Do I Need To Chill Keto Cheesecake Fluff Before Eating?
You can eat the cheesecake fluff right away after preparing it if you want. Or you can refrigerate it for a few hours before eating. A lot of times, I will make it in advance and remove it from the fridge when we are ready to eat it. It's completely up to you, but both ways work well.
Does Keto Cheesecake Fluff Taste Like Actual Cheesecake?
Yes, basically you will be getting the cheesecake filling without the cheesecake crust with this easy fluff. It tastes like other low carb cheesecakes and is super creamy and velvety. The main difference is the sweetener. Traditional cheesecake fluff recipes are loaded with regular sugar, but we wanted something low carb, so we use powdered erythritol instead.
You can also incorporate this into other desserts like a keto trifle!
Like what you see? Follow me on Facebook! Love this recipe? Leave a comment & 5-star rating right here! Make sure you don't miss new recipes by getting email updates!
📖 Recipe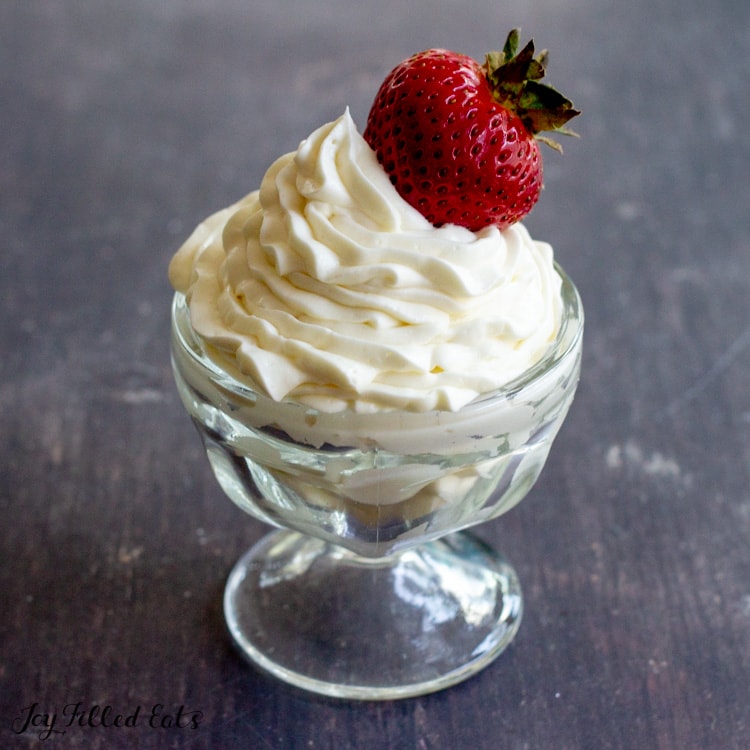 Instructions
Whip the heavy cream until stiff peaks form. Transfer to a separate bowl.

Whip the cream cheese and sweetener until light and fluffy. Add ⅓ of the whipped cream and mix well.

Slowly fold in the remaining whipped cream. Spoon or pipe into small serving bowls.
Notes
Nutrition: The nutrition facts are for one serving. This recipe makes 4 servings, with 4 net carbs per serving. To Store: Cover the fluff with plastic wrap or place in a storage container with a lid. It will last 5-7 days in the fridge. To Freeze: Keep airtight and freeze for up to three months. It is delicious partially frozen. Just thaw for about 30 minutes before serving.
Nutrition
Calories:
390
|
Carbohydrates:
4
g
|
Protein:
5
g
|
Fat:
40
g
|
Saturated Fat:
24
g
|
Cholesterol:
140
mg
|
Sodium:
204
mg
|
Potassium:
121
mg
|
Sugar:
2
g
|
Vitamin A:
1595
IU
|
Vitamin C:
1
mg
|
Calcium:
92
mg
|
Iron:
1
mg
I am a believer that you can never have too many cheesecake recipes and variations. Here are some of our favorite cheesecake dessert recipes.

FREE Cookie Cheat Sheet!
Make Five Delicious Low Carb Keto Cookie Recipes from one EASY dough!