My low carb keto zucchini au gratin recipe has sun-dried tomato and feta cheese, which give it a Mediterranean vibe. It is a flavorful and unique side dish to serve any time of the year!
Zucchini is one of my favorite vegetables. It is great roasted, grilled, in egg bakes, raw, as zoodles, stuffed, in soups, zucchini gratin, and much more. It is so versatile. It's fresh and crisp and lends itself to many interpretations and bold flavors.
Whether you grow your own zucchini or you have kind neighbors that are happy to share, it's easy to end up with a TON of it. Because it's so easy to work with and flavorful, I always like to have several favorite zucchini recipes on hand. You should try my Zucchini Salad with Lemon & Feta and my Taco Zucchini Boats.
Everyone who has made this au gratin zucchini says how amazing it is.
Ingredients
This easy and inexpensive zucchini au gratin only calls for a few ingredients. This is what you are going to need to make this delicious gluten free dish.
Fresh zucchini - I used zucchini from my July garden which is why some of the slices are various colors. Any summer squash will work.
Green onions - Thinly sliced scallions give a nice flavor without being overpowering.
Feta cheese - We love the Mediterranean flavor from using feta cheese brings to this keto zucchini au gratin but shredded cheese such as cheddar cheese also works well.
Cottage cheese - Cottage cheese adds protein to this dish but if you prefer you can use softened cream cheese.
Mayo - Mayonaisse works well as a binder and thickener for the sauce since it contains eggs.
Egg - Add an extra egg helps thicken the sauce.
Sundried tomatoes - These have a wonderful flavor but can be very strong so I use a small amount. If you would like to sub in fresh tomatoes you can double or even triple the amount listed.
Garlic - Garlic powder gives a nice flavor without being overpowering.
Oregano - Either dried oregano or fresh oregano will work. Or sub in your favorite herb such as fresh basil or fresh thyme.
Salt & Pepper - You can always season to taste.
How To Make Zucchini au Gratin Keto
First Step: Place zucchini in a bowl and sprinkle with salt. Allow it to sit for 30 minutes and drain the liquid.
Second Step: Heat the oven to 350 degrees. Prepare a baking dish by adding non-stick cooking spray.
Third Step: Mix together the green onions, feta, cottage cheese, mayo, egg, tomatoes, garlic, and oregano in a medium bowl.
Fourth Step: Add in the zucchini slices and spread into a baking dish. Bake for 35-40 minutes. The low carb zucchini gratin recipe will be golden and bubbly when done. Serve hot and enjoy!
Variations
I have several ideas that I wanted to share for you to consider trying out. Naturally, you can eat it as I have written it, but if you like to try new things, here are some keto friendly ideas.
Bacon - add some cooked, crumbled bacon to the zucchini casserole mixture.
Extra Sauce - If you want a thinner cheese sauce you can add ¼ cup heavy cream.
Chicken - make it an all-in-one dish by adding some cooked chopped or shredded chicken. Just don't add in the chicken raw, or it won't cook properly.
Tomatoes - while we are already adding sun-dried tomatoes, you can also add in fresh tomatoes too. Slice them or add in cherry tomatoes. Both are flavorful and will go well with the other flavors in the dish.
Yellow Squash - You can sub in yellow summer squash in place of the zucchini. Or spaghetti squash works as well.
Common Questions
Is Zucchini Healthy?
I don't just love zucchini because of the way it tastes; it's also because it is so good for you too. This low-calorie veggie is known for being filled with potassium, vitamin A, fiber, folate, vitamin B6, vitamin C, magnesium, and more. Plus, you can add some antioxidants to your diet by enjoying some fresh or cooked zucchini. It is perfect for easy keto recipes.
Do I Have To Add Salt to Zucchini?
Yes, adding salt and letting the zucchini rest is vital to giving you a tasty dish. Otherwise, it's going to be extremely watered down and not very good. As the zucchini bakes, the water will naturally release, and this can cause it to water down your dish. The best way to combat this issue is by sprinkling it with salt and letting it rest. The salt actually draws out the water, so this is much less likely to happen as you are cooking it.
Can I Use Shredded Zucchini Instead of Sliced?
Sure, it's whatever your preference is. Again, you will still need to add salt and let it sit before making the casserole. Both methods taste great and will get good in the dish, so it's all about what you like the best.
Can I Use Different Cheese?
You can switch out the feta for your favorite cheese. For a fun crunch, sprinkle some parmesan on top for the last 15 minutes. It will mimic bread crumbs, minus all the carbs!
This is great with cheddar and onions too. It is a unique way to use up garden zucchini at the end of the summer. I also love using raw zucchini noodles in salads.
What do I serve with zucchini au gratin?
This baked zucchini au gratin recipe goes well with roast chicken and a glass of white wine. But, then again, everything goes well with wine.
Keto Stuffed Chicken Breasts are incredible with this zucchini recipe. Or, if you are in the mood for seafood, consider this Keto Salmon. Both will have you smacking your lips.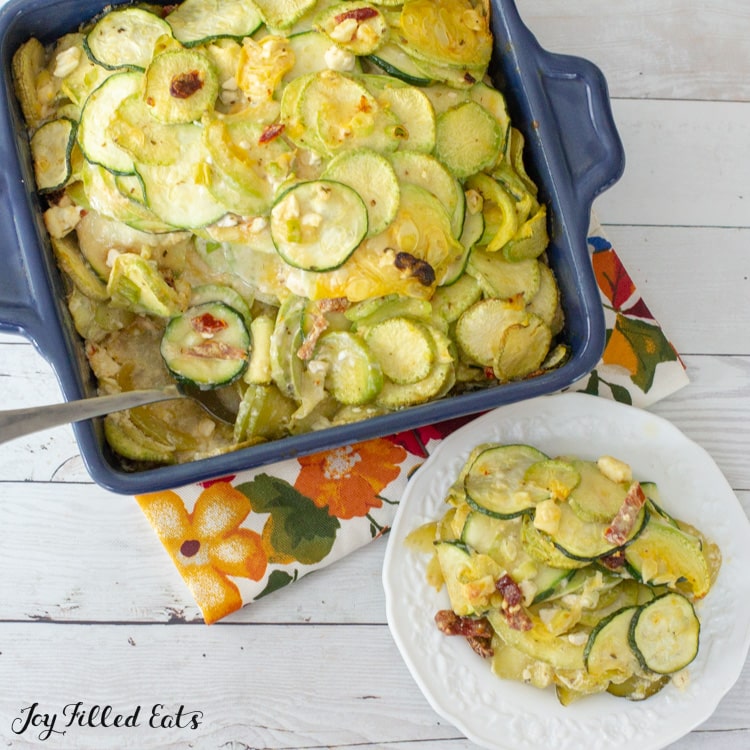 Like what you see? Follow me on Facebook! Love this recipe? Leave a comment & 5-star rating right here! Make sure you don't miss new recipes by getting email updates!
📖 Recipe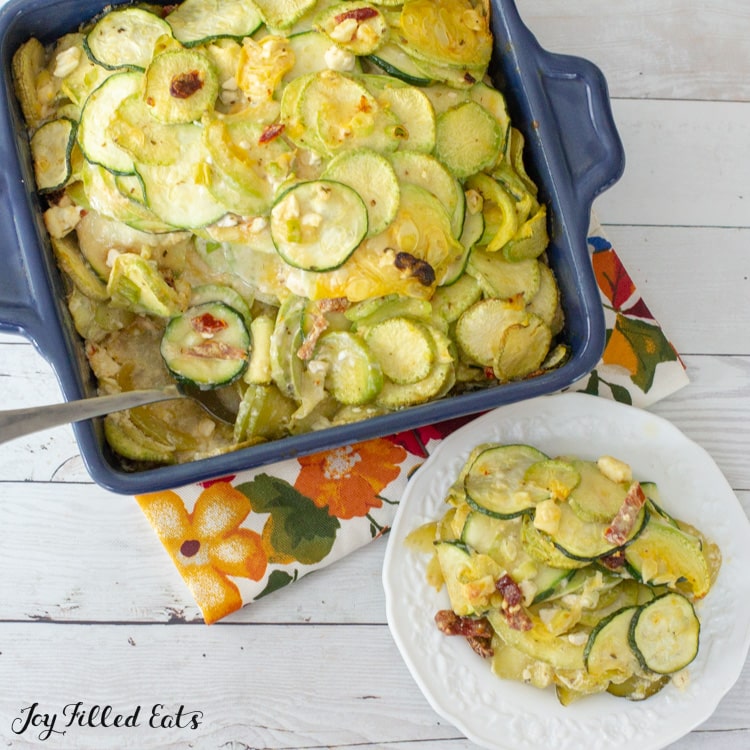 Instructions
Sprinkle sliced zucchini with a little salt and set aside to drain for 30 minutes.

Preheat oven to 350. Spray a baking dish with cooking spray.

Combine all the other ingredients in a bowl and mix well. Add the zucchini. Put in the baking dish and bake for 35-40 minutes until golden and bubbly.
Notes
Nutrition: this recipe has 8 servings. The nutrition facts are for ⅛th of the zucchini gratin.
To Reheat:
warm the oven to 325 degrees and reheat the casserole for 10-15 minutes or until it is all the way hot. You can also warm it in the microwave on a microwave-safe plate for 1 minute or so.
Substitutions:
swap the feta for mozzarella or cheddar cheese. Additionally, parmesan cheese is a nice option as well.
Nutrition
Calories:
122
|
Carbohydrates:
4
g
|
Protein:
4
g
|
Fat:
10
g
|
Saturated Fat:
3
g
|
Trans Fat:
1
g
|
Cholesterol:
34
mg
|
Sodium:
503
mg
|
Potassium:
261
mg
|
Fiber:
1
g
|
Sugar:
3
g
|
Vitamin A:
283
IU
|
Vitamin C:
15
mg
|
Calcium:
77
mg
|
Iron:
1
mg
More Low Carb Summer Recipes:
Originally Published August 25, 2016. Revised and Republished May 17, 2023.