This Sugar Free Apple Crisp is the perfect fall dessert or winter holiday treat. Serve this as a fun twist on the classic apple pie that we all grew up loving to eat. This simple crisp dessert is gluten-free, sugar-free, and Trim Healthy Mama friendly.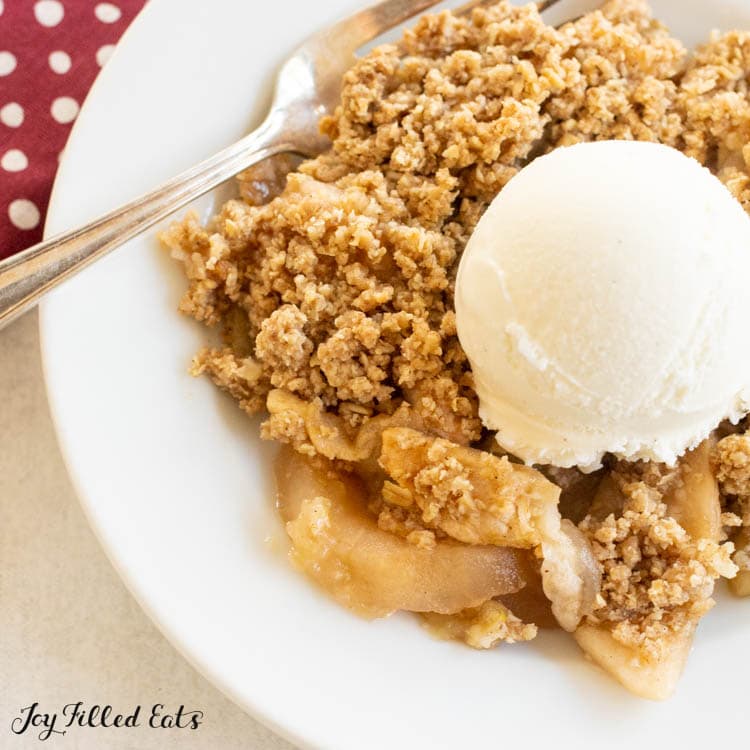 I've been enjoying making crisps for as long as I can remember. What I love about this simple dessert is that it just really saves on time. When you're not in the mood to make a homemade pie crust, this crumble dessert comes to your rescue time and time again. Not only that but every bite is literally loaded with amazing flavor.
There's never a peep from anyone once it's served up to eat. I love varying up the ways that I serve it as well. Some days I top it with a scoop of ice cream, while others days a little bit of whipped cream is just what it needs. (and sometimes, I don't even add anything at all because it really is perfection just as it is!)
If you're a fan of apple desserts, make sure to check out my Apple Cider Donut Cake as well as my Low Carb Apple Pie Ice Cream. In my mind, you can never have too many types of apple desserts and recipes on hand!
Want a Keto Apple Crisp? Don't worry I have one of those too! I use jicama instead of apples.
Ingredients
Apples - I prefer sweeter apples for my apple crisp but you can use tart as well. It's totally up to you and your taste buds. You can also use whatever apples you have at home that need to be used up! Anytime I have an apple that's bruised I pop it into the fruit drawer in the fridge and save it for baking.
Joy Filled Eats Sweetener - My favorite sweetener. Get the recipe here. I use a blend of xylitol, erythritol, and stevia to mimic the taste of sugar while only needing half the amount of other sweeteners. This is all natural with no aftertaste.
Lemon Zest - Clean the outside of the lemon well before zesting. The zest gives a hint of lemon flavor and tartness to the filling that balances the sweetness nicely.
Glucomannan - Gives a boost of fiber to the recipe and thickens the juices from the apples the same way wheat flour or cornstarch would.
Oats - This is the star of the crumble topping! Make sure to use gluten free oats to make this gluten free. You want old-fashioned oats or rolled oats, not quick oats.
Butter - I prefer butter in my crumble topping but for a dairy-free option just sub in coconut oil. I only buy salted butter and use it when baking all my recipes. If you have unsalted butter add a tiny pinch of salt to the topping.
Cinnamon - I love the flavor of cinnamon and try to buy very good quality cinnamon such as Saigon cinnamon or Korintje cinnamon. They have a stronger flavor than the inexpensive cinnamon in the grocery store and it is worth it.
How To Make Sugar Free Apple Crisp
This is such an easy way to make a delicious apple dessert.
Step One: Preheat the oven to 350 degrees. Spray a 9x13 baking dish with cooking spray
Step Two: Stir together the apple filling ingredients right in the baking pan. I use a glass pyrex dish and it works out perfectly.
Step Three: Add the topping ingredients to a food processor. Pulse to combine.
The mixture will resemble the look of sand once combined well.
Step Four: Sprinkle on top of the apples that are in the dish.
Step Five: Bake for 45 minutes. You want to bake it until the juices bubble around the edge and the topping is golden. If the topping looks down before the apples just cover with foil for the last bit of baking time.
Common Questions
Do you have to peel the apples for this healthy apple crisp?
You do. You're going to want to peel and core them and then slice them. Don't slice them too thin because they might get mushy.
What are the tartest apples to use for this easy recipe that tastes like apple pie?
Granny smith apples are fairly tart and would be a fun addition to this recipe. I really like using Honeycrisp or Gala as well.
Fuji apples tend to be fairly popular, too.
You also don't want to cut your apple slices too thick because then they might not cook completely.
And if you're worried about your apple slices turning brown, adding a few drops of lemon juice to your newly sliced apples helps them keep their coloring.
How do you know the apple crisp is done baking in the oven?
The coloring of the gluten-free apple crisp should be golden brown. The apple filling underneath the crumbly top will also be bubbling as well.
What do you serve with sugar free apple crisp?
You can't go wrong with sugar free vanilla ice cream! I also think that whipped cream is wonderful, too. Remember - a topping doesn't have to happen. You'll still get the crumble in every bite!
What other toppings would go well with this golden delicious dessert?
I think that this crisp recipe would taste great with a few crushed pecans added right on top.
I also feel that drizzling on some sugar free caramel sauce would be a fun topping suggestion as well.
How do you store this vegan apple crisp?
You have a few options. You can cover the top of the baking pan with aluminum foil and set it in the fridge.
You can also add it to an airtight container and put it in the fridge. Even though this recipe doesn't have any dairy, I still think it tastes better chilled.
If you want to enjoy it warm, then just warm it up in the microwave right before you eat it.
I have a feeling that you're not going to have a lot of this cobbler recipe left to store! My kids literally race to the table once they hear that this was made. I have to make sure to set myself back some or I won't get any!
Like what you see? Follow me on Facebook! Love this recipe? Leave a comment & 5-star rating right here! Make sure you don't miss new recipes by getting email updates!
📖 Recipe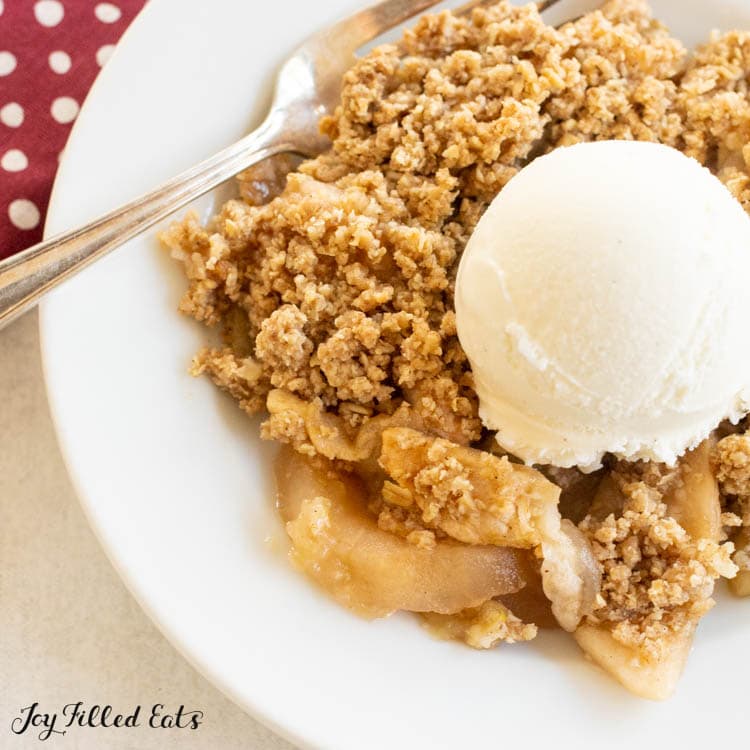 Ingredients
Apple Filling:
6

apples

about 2 lb, peeled, cored, and thinly sliced

1

teaspoon

lemon zest

½

teaspoon

glucomannan
Oat Crumble Topping:
1.5

cups

oats

6

tablespoon

butter

1

teaspoon

cinnamon
Instructions
Preheat oven to 350.

Stir together all the apple filling ingredients in a large bowl until well combined. Dump into the prepared baking dish.

Add the ingredients for the topping to a food processor. Pulse until well combined. Sprinkle on top of the apple filling.

Bake for 45 min until golden brown with the juices thickened and bubbling along the edges.
Notes
Trim Healthy Mama - This recipe is a XO or crossover. A slightly smaller serving could fall into the S Helper range.
Notes on Sweeteners:
Nutrition
Calories:
136.4
|
Carbohydrates:
19.6
g
|
Protein:
1.6
g
|
Fat:
6.5
g
|
Saturated Fat:
3.7
g
|
Polyunsaturated Fat:
0.5
g
|
Monounsaturated Fat:
1.7
g
|
Trans Fat:
0.2
g
|
Cholesterol:
15
mg
|
Sodium:
51.5
mg
|
Potassium:
136.7
mg
|
Fiber:
3.3
g
|
Sugar:
9.6
g
|
Vitamin A:
224.6
IU
|
Vitamin C:
4.4
mg
|
Calcium:
14.3
mg
|
Iron:
0.6
mg

FREE Cookie Cheat Sheet!
Make Five Delicious Low Carb Keto Cookie Recipes from one EASY dough!