Basil Balsamic Vinaigrette is the perfect salad dressing. Not only does it take three simple ingredients, but it's ready to add to any salad in less than 5 minutes.
I'm a huge fan of making my own homemade salad dressing. I love the flavor of homemade so much more than anything storebought, and I love the list of ingredients used as well.
If you've ever stopped and read the list of ingredients on the bottles at the store, you probably gave up about halfway through because the list was so long, or you didn't even know how to pronounce half of the words. I've been there, and this is why I make my own balsamic dressing at home. When it comes to sauces, you just can't beat the fresh herbs that are used.
I've used this to put on salads, but I will say that it pairs really well with chicken dishes, too. Having it as a fun little sauce to dip chicken in adds a ton of flavor really easily.
Having a dressing that you can make when the need arises is what makes this one of the best. I love having it in the fridge chilling before. adding it to the top of my salad.
Speaking of easy flavor, be sure to check out my Dill Pickle Salad Dressing as well. It's a pop of taste, unlike anything you've ever had. This Gorgonzola Vinaigrette is equally unique and delicious.
Ingredients
Fresh basil leaves - Fresh is best and just adds so much flavor. For a dressing like this basil balsamic vinaigrette that really emphasizes the flavor of the basil, you need to use fresh.
Balsamic vinegar - This is a must for adding a pop of flavor to this marinade/dressing.
Avocado oil - The texture of avocado oil is what makes this dressing pour perfectly onto your bed of lettuce or salad greens.
Water - Adding a bit of water helps the dressing to emulsify.
Salt - To taste. For a low-sodium diet just omit the salt.
Pepper - To taste. Black pepper can also be added to your preference.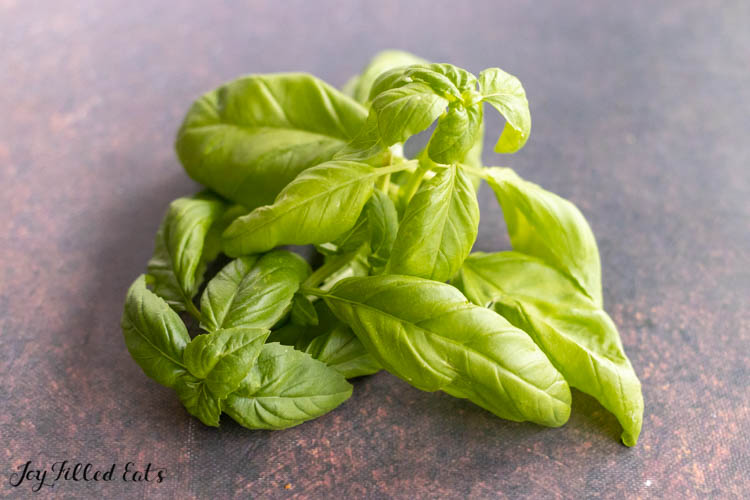 How to make Basil Balsamic Vinaigrette
This dressing is naturally keto, low carb, vegan, paleo, whole30, and dairy-free. You can use it on so many types of salad. I'm sure you will love it.
Step One: Add all of the ingredients into a blender or food processor.
Step Two: Pulse and blend until mixed.
You may need to scrape down the sides with a plastic spatula and then blend again a few times.
There may still be larger pieces of fresh basil, and that is perfectly fine.
Once down, add to a container or pour directly onto your salad.
Variations
Use a different oil - You could use extra-virgin olive oil as a substitute for avocado oil. It will change the taste. Canola oil is another option if you prefer to use that.
Use a different vinegar - White balsamic vinegar and white wine vinegar are my next two choices for basil balsamic vinaigrette.
Add sweetness - If you want a hint of sweetness, adding a little bit of honey or maple syrup is perfectly fine if you aren't on keto.
Creamy - To make this a creamy dressing add ¼ cup of mayo. That is a great way to make a creamy dressing while still keeping it dairy-free.
Use dried basil - Adding dried basil in is a good flavor to have.
Add fresh garlic - Changing the herbs or adding in varieties can be a simple way to make this dressing unique. Fresh garlic cloves are always delicious.
Make sure that whatever variations you add, you put them into the blender so that they can blend up well with the other ingredients. The key to making this salad dressing is that it's all blended together so that it's nice and smooth. You don't want large chunks of fresh garlic, especially, since they can be potent.
Common Questions
What salad ingredients does this dressing recipe pair well with?
Almost anything that you put into a salad bowl is going to pair well. It's great with veggies, and protein, making it very versatile.
I love pairing it with carrots and cucumbers on a bed of lettuce and spinach. You can also dice up bell pepper and onion, and cherry tomatoes.
For a topping, fresh parmesan cheese is delicious, too.
How do I store homemade salad dressing?
To keep it as fresh as possible for as long as possible, it needs to be stored in the fridge in an airtight container or a mason jar with a lid.
You want to keep the air out so that it stays fresh. It's also important to note that you don't want to put any type of utensil inside the jar that has been in a mouth. Some people try a taste test and then put the spoon back into the jar for another taste, but this just adds bacteria and the potential for it to go bad quickly.
For the best use, once the basil balsamic vinaigrette dressing is in the container, pour it out for a taste or to use.
Can I use this as a marinade?
You can. This would be a really fun marinade to use on chicken breast. It will not have a super strong flavor, but marinating it and then cooking it will give some of that delicious balsamic flavor and taste. We also like this Mexican Chicken Marinade and my Keto Chicken Marinade Recipe which is lemon and garlic flavored.
It's fun to use it and try different cooking methods.
Ingredients
¼

cup

fresh basil leaves

¼

cup

balsamic

¼

cup

avocado oil

1

tablespoon

water

½

teaspoon

salt

⅛

teaspoon

pepper
Instructions
Combine ingredients in small blender.
Nutrition
Calories:
145.6
|
Carbohydrates:
7
g
|
Protein:
0.1
g
|
Fat:
13.6
g
|
Saturated Fat:
1.6
g
|
Polyunsaturated Fat:
1.8
g
|
Monounsaturated Fat:
9.6
g
|
Sodium:
290.9
mg
|
Potassium:
5.3
mg
|
Fiber:
0.04
g
|
Sugar:
3
g
|
Vitamin A:
79.5
IU
|
Vitamin C:
0.3
mg
|
Calcium:
3.2
mg
|
Iron:
0.1
mg