Are you ready to treat yourself to some Keto Valentine's Day Cocktails? With two amazing flavors, my Cherry Pomegranate Spritzer and Pink Lemonade Vodka Punch will have you sitting back and sipping with your love. (or cheering and enjoying both yourself!) With one made with champagne and one made with vodka, you have options to choose from!
This is a sponsored post written by me on behalf of Ultima Replenisher. All thoughts and opinions are my own.
Every once in a while, it's nice to sit back and enjoy a drink. Sometimes I do this at the end of a long day or with friends on the weekend, but this Valentine's Day, I'm really looking forward to these drinks.
Not only are they keto-friendly and low in carbs, but they're also really, really good, too. The sweetness of the spritzer and the punch make them smooth and easy to drink. There's nothing worse than getting served a drink and then literally having to chug it down to get through it, right? Trust me on this one...that is NOT the case with these keto cocktails.
Make sure to check out some of my other Keto Cocktails as well to get your low-carb drink menu stocked and ready!
An ideal beverage for fans of fruit drinks.
They're made of real fruit extract.
Gluten-Free, Naturally Keto, and Paleo Approved
It is sweetened with organic stevia leaf, rather than sugar.
Contains electrolytes.
Available in small stick packets or large canisters.
Dissolves easily in cold water.
Since we have two different drink options, let's break it down and show you how simple and easy it is to make both.
How to Make a Pomegranate Spritzer
From this delicious spritzer, minimal ingredients are needed.
Ingredients
Water - Tap or filtered water works great.
Ultima Cherry Pomegranate drink mix - This is such an awesome cherry flavor!
Champagne - Time to whip out that bottle of champagne!
Step One: Add the water to your favorite champagne or fancy glass. Mix in the Ultima drink mix. Pour chilled champagne on top. Cheers!
How to Make a Pink Lemonade Vodka Punch
This cocktail is sweet and delicious with minimal ingredients as well.
Ingredients
Water - Tap or filtered water works great.
Ultima Pink Lemonade drink mix - The perfect sweetness that tastes just like pink lemonade!
Vodka - Choose your favorite brand of vodka and enjoy.
Seltzer - You can keep this chilled in the fridge or cool it with ice.
Step One: Dissolve the powder into the water. Pour into a rocks glass. Add vodka. Pour seltzer into the glass and add in your ice.
Tips For Making Cocktails At Home
Make sure to serve them cold. Drinks are always more refreshing once they're served chilled. Just add some ice or pop them in the fridge before serving.
Stir in the packets well. The great thing about using Ultima electrolyte drink mix packets is that they dissolve with just a little bit of stirring!
Variations
Virgin - Simply leave out the alcohol. You can easily make these kid-friendly, too by leaving out the alcohol and just mixing in a packet for the kids. By topping with seltzer and serving in a fancy glass they seem more special than a typical glass of water or soda.
Other Types of Alcohol - Play around with the type of alcohol you use. Bourbon whiskey would be a great choice paired with cherry pomegranate and I think rum would go well with pink lemonade.
Ultima Flavors - Ultima has a wide variety of flavors to choose from. You aren't limited to cherry pomegranate and pink lemonade. Grape, orange, raspberry, and blue raspberry are fun additions to your cocktails. Ultima even has a trial pack so you can try one of each flavor.
Common Questions
Should you add anything else to these drinks once they're served?
Here's the deal. These keto Valentine's Day cocktails are really, really good. If you wanted to add in some frozen strawberries or raspberries to make it look festive and fun, go for it!
Recipes that are this easy and delicious and are great for your keto diet should be enjoyed just as they are. Adding is some frozen or fresh fruit is a simple way to add a boost of fun and healthy sweet treats as well.
Are there any desserts that pair with these cocktails?
Desserts will pair with anything but remember that they're not always keto friendly. If you want to add some snacks to these cocktails for your date night or to share with your sweetheart, I think that having a bowl of nuts or almonds would be a great idea.
There are low-carb desserts that you can make and have as well like Keto Cheesecake Fluff and Raspberry Panna Cotta. Both of those go well with fruity cocktails and are the perfect colors for your keto Valentine's Day.
(I'm also the type of mom that on special occasions makes something for myself that is in line with my low carb eating and then makes sweets like cupcakes, cakes, or cookies for the kids. Valentine's Day is all about sharing your love language and mine is food! Since I love to cook and bake during all moods, I like to spoil everyone!)
What main course would pair with these delicious cocktails?
Honestly, any type of dish would be great. Cooking up chicken or steak and serving them as a heart-shaped entree would be a super cute touch!
You can also just have a bunch of healthy appetizers as well so that you and your sweetie can relax, graze, fill your tummies, and end the night with a mixture of these two drinks.
As you can see, creating your own drinks at home doesn't have to be difficult. Using Ultima flavored drink packets and combining with a handful of other simple ingredients create restaurant-quality cocktails without even having to leave your home. (and they're so much more affordable as well!)
Like what you see? Follow me on Facebook! Love this recipe? Leave a comment & a 5-star rating right here! Make sure you don't miss new recipes by getting email updates!
📖 Recipe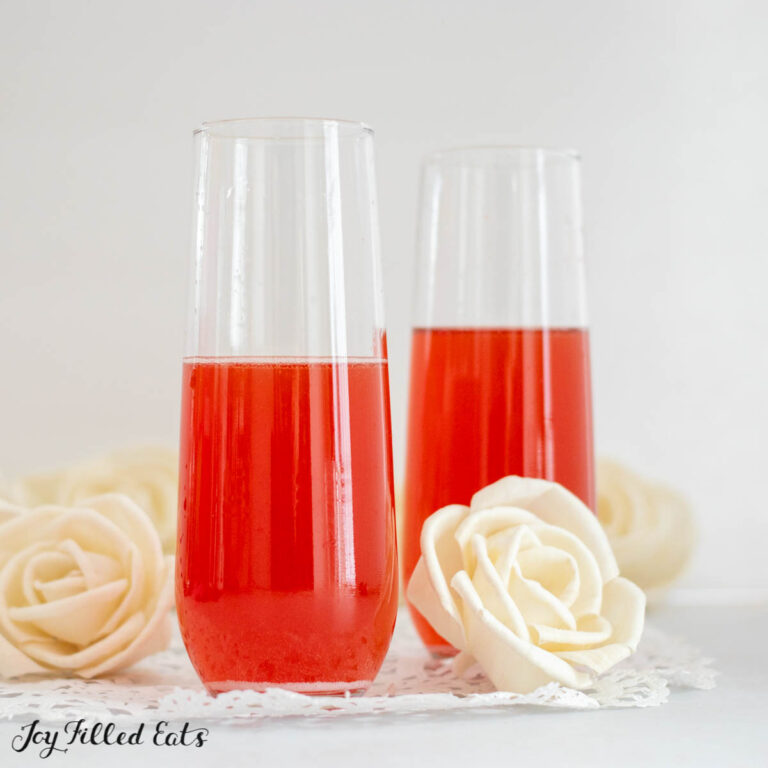 Ingredients
Cherry Pomegranate Spritzer
2

ounce

water

½

teaspoon

Ultima Cherry Pomegranate drink mix

4

ounces

champagne
Pink Lemonade Vodka Punch
1

ounce

water

½

teaspoon

Ultima Pink Lemonade drink mix

1

oz

vodka

4

oz

seltzer
Instructions
Cherry Pomegranate Spritzer
Dissolve drink mix in water. Put into a champagne glass. Pour chilled champagne into the glass.
Pink Lemonade Vodka Punch
Dissolve drink mix in water. Put into a rocks glass. Add vodka. Pour seltzer into the glass and add ice.
Notes
Nutrition: The nutrition facts are for the

Cherry Pomegranate Spritzer. Pink Lemonade Vodka Punch has 65 calories, 0 grams of fat, 0 grams of carbs, and 0 grams of sugar.
Nutrition
Calories:
55.6
|
Carbohydrates:
1.3
g
|
Protein:
0.1
g
|
Sodium:
36
mg
|
Potassium:
102.1
mg
|
Sugar:
1.3
g
|
Calcium:
18.4
mg
|
Iron:
0.5
mg