Add some tantalizing flavor to all of your favorite meals by drizzling this keto teriyaki sauce recipe on them. It tastes great added to vegetables, cauliflower rice, fish, chicken, pork, and beef. My sugar free teriyaki sauce is made with a combination of soy sauce, brown sugar sweetener, garlic, ginger, and apple cider vinegar. Plus, it comes together in under 5 minutes and has 0 net carbs!
As long as I can remember, I have loved teriyaki anything. It's one of those flavors that is stimulating, sophisticated, and tangy all at the same time. Many store-bought versions of teriyaki sauce are loaded with sugar and ingredients that are high in carbs. That's why it was important for me to develop a sugar free teriyaki sauce that tasted great and wasn't filled with sugar. Success in making the sauce has enhanced the flavor of many of our meals.
I love adding it to a batch of roasted veggies or drizzling it on cooked fish, but my favorite is sauteeing it in a pan with chicken thighs. You can bring all the flavors and textures of your favorite restaurant-style stir fry right into your kitchen.
Ingredients
Garlic - You can use fresh or ground. I like to use fresh whenever I can. One tablespoon of fresh garlic is equivalent to ½ teaspoon of garlic powder.
Ginger - Simalarily to my comment on garlic. Fresh ginger is best, but you can use ground ginger in a pinch. Ginger is a root that is used as a spice in cooking. It has a strong, earthy flavor and can be used to add flavor to dishes. Ginger is a versatile spice and can be used in sweet or savory dishes.
Soy Sauce - If you don't have soy sauce, you can also use coconut aminos. Coconut aminos are a great way to add flavor to your dishes while also keeping them healthy. They are a good source of amino acids, which are the building blocks of protein. Coconut aminos also contain enzymes that help your body break down food and absorb nutrients.
Brown Sugar Sweetener - I use a brown sugar flavored sweetener in this such as Lakanto Golden or Swerve Brown. This is my favorite way to make a sweet teriyaki sauce sugar free.
Apple Cider Vinegar - Apple cider vinegar is a type of vinegar made from apple juice or cider and has a pale to medium amber color. The acidity of apple cider vinegar is due to the fermentation of the apple cider by bacteria and yeast.
How To Make Keto Teriyaki Sauce
This incredibly easy low-carb teriyaki sauce recipe only takes a few minutes and five ingredients. Let's take a look at what you need to do to make it.
Step One: Combine the soy sauce or coconut aminos, brown sugar substitute, chopped garlic, fresh ginger, and apple cider vinegar into a bowl and whisk. Once combined, it's ready to use.
Expert Tip: To thicken the sauce simply stir in ½ teaspoon of xanthan gum. With thickeners, a little goes a long way!
So next time you are in the mood for a delicious sauce, don't forget about this recipe. It's genuinely so easy and tasty.
Common Questions
Is regular teriyaki sauce keto?
No. Standard teriyaki sauce ingredients have added sugar.
Do I Have To Cook The Keto Teriyaki Sauce?
No, you don't need to cook it at all. You can simply add the ingredients together and start using it right away. Most recipes that call for teriyaki sauce will ask for the sauce to be warmed up, but you don't need to cook it before adding it to your recipe.
How Long Does Sugar Free Teriyaki Sauce Last?
On average, this homemade teriyaki sauce will last 4-5 days in the fridge. Keep it in an airtight container or jar. Due to the fact that low carb keto teriyaki sauce is not loaded with preservatives like something you would pick up that's pre-packaged, it goes bad quicker than store-bought.
What Can I Use If I Don't Have Soy Sauce?
You can swap the soy sauce for coconut aminos. It's a terrific substitute and gives you a salty flavor that's similar to soy sauce. It's gluten free, grain free, and low carb as well, so you might want to keep some around for other dishes as well.
Can Sugar Free Keto Teriyaki Sauce Be Used As A Marinade?
Yes, absolutely, you can use this sugar-free teriyaki sauce as a marinade. Soak your meat in the sauce for at least 30 minutes before cooking to use it as a marinade. Then grill or saute on the stove. It tastes fabulous as a marinade and will help tenderize many different kinds of meats or fish. Plus, marinating is a great way to give meals a punch of flavor. This keto teryaki sauce is perfect with salmon.
You can also use it as a dip for keto recipes like air fryer wings. Or Hibachi Chicken.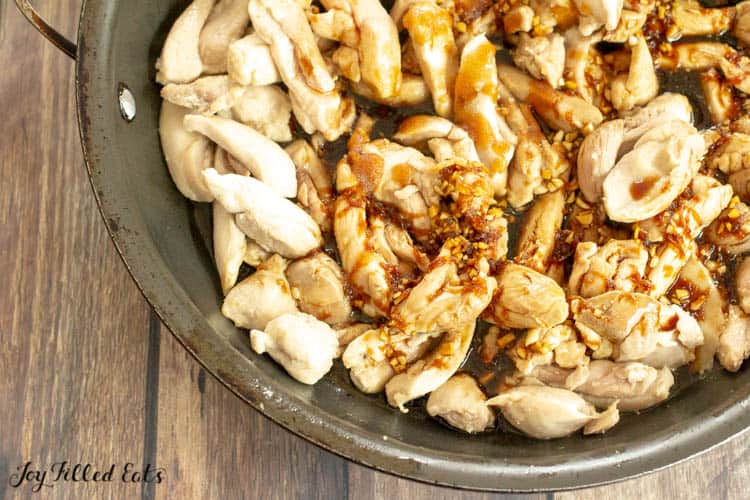 Is Teriyaki Sauce Spicy?
No, this low carb teriyaki sauce isn't spicy. It has a bold, sweet, and smokey flavor, but it's not spicy. If you want to add some heat to it, you can always add in some crushed red pepper flakes or even a dash or two of cayenne pepper.
Can You Freeze Teriyaki Sauce?
Yes, I recommend if you can't use all the sugar free teriyaki sauce within 5 days to go ahead and freeze it. It's best if you pour it into a freezer-safe bag and lay it out flat. Once frozen, you can move the bag to take up less space in your freezer. To defrost the sauce, you can set the frozen keto teriyaki sauce on the countertop until it's thawed or put it in the refrigerator overnight. It will thaw out pretty quickly.
How can I make this a Teriyaki Glaze?
For a sweeter taste, simply simmer the sauce in a small saucepan over medium heat for about 5 minutes or until it reduces in half. You can then use this glaze on noodles, salads, chicken wings,
Like what you see? Follow me on Facebook! Love this recipe? Leave a comment & 5-star rating right here! Make sure you don't miss new recipes by getting email updates!
📖 Recipe
Ingredients
¾

cup

soy sauce

or coconut aminos

¼

cup

brown sugar substitute

such as Golden Lakanto

1

tablespoon

garlic

chopped

1

tablespoon

fresh ginger

peeled and chopped

1

tablespoon

apple cider vinegar
Instructions
Stir together all the ingredients.
Notes
Sweetener: You can use your favorite brown sugar substitute or add a few drops of molasses to a white sweetener. Sodium: Soy sauce is naturally high in sodium. If this is a concern for you use low sodium soy sauce or coconut aminos. Gluten-Free: You can either use a gluten-free soy sauce or coconut aminos. To Store: Keep the keto teriyaki sauce in the fridge in a sealed container for up to 5 days. To Freeze: This sauce can be frozen in a freezer bag or sealed container for up to 2 months. It can also be frozen on meat or veggies. Thaw on the counter for a few minutes or in the fridge the night before.
Nutrition
Calories:
10
|
Carbohydrates:
1
g
|
Protein:
2
g
|
Fat:
1
g
|
Saturated Fat:
1
g
|
Sodium:
810
mg
|
Potassium:
31
mg
|
Fiber:
1
g
|
Sugar:
1
g
|
Vitamin C:
1
mg
|
Calcium:
4
mg
|
Iron:
1
mg
More Keto Asian Recipes
Each of these recipes will have you smacking your lips and your stomach growling while they are cooking.
Originally Published July 29, 2020. Revised and Republished February 16, 2023.