This Blackened Seasoning Spice Mix is the perfect way to start making your own seasoning mixes. Just a minute or two of time is all that is needed to make this homemade blackened seasoning. This adds so much flavor and takes all types of meats and main dishes to the next level.
​When it comes to versatile seasoning, this is one of my favorite recipes. The blend of herbs creates a dark crust that will have everyone loving it from their first bite. You can use this for Cajun cooking and as a great Cajun seasoning to keep year-round in your spice cabinet. Adding this makes the cooking process a delicious breeze.
I'm a big fan of homemade seasonings because I just feel that it brings out more natural flavors and tastes. What I love about using this amazing blackened seasoning mix is that it's the perfect combination of different spices to nail that perfect Cajun cuisine flavor.
Be sure to check out this Italian Seasoning Substitute Recipe as well if you're looking for another new option. I love how this tastes, too!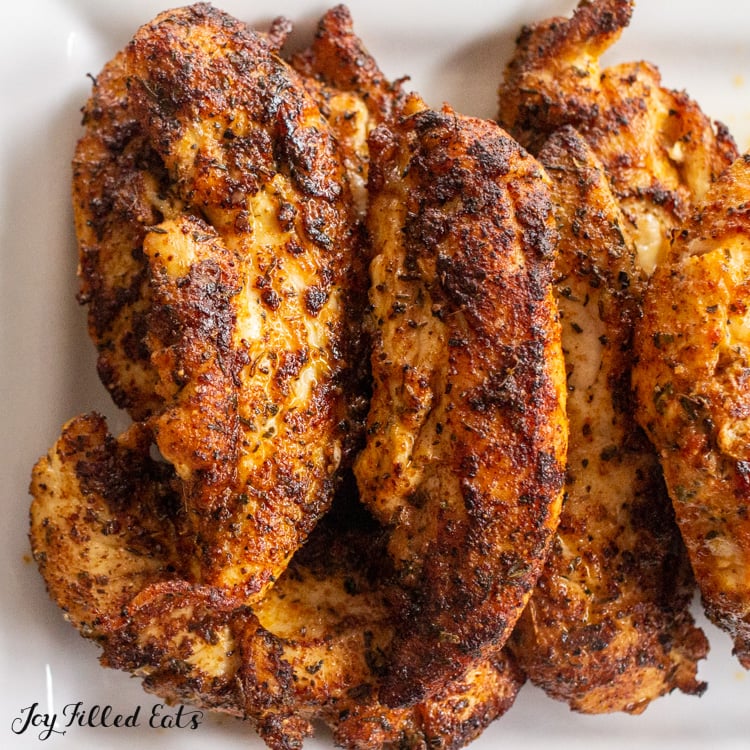 Ingredients
Garlic powder - I love the way that this adds a hint of garlic flavor.
Onion powder - You can use this to bring out a hint of onion flavoring.
Smoked paprika - You can use regular paprika, smoked paprika, or both.
Oregano - This is a great flavor enhancer.
Basil - Adding this creates a delicious flavor.
Thyme - You can easily add this to create a unique taste.
Cayenne pepper - This can be optional if you don't want to have a ton of heat or spice.
Salt - For flavor.
Black pepper - For flavor.
How To Make Blackened Seasoning
Step One: Mix all the spices together in a bowl.
Step Two: Store the seasonings in an airtight container.
Variations
Change the spice levels - The fun part about homemade spice blends is that you can add a bigger kick of heat and change the level of heat easily. The cayenne powder adds quite a quick heat to the taste, but you can easily change the combination of spices to your own preferences.
Add different seasonings - While I think that the combination of these spices makes the best blackened seasoning, that doesn't mean that you can't change it up. Use the key ingredients on the list for a spicy flavor, or add regular paprika to create your own tastes.
Common Questions
What meats can this cajun spice be added to?
You can literally use this blend of spices on your favorite meats. One of the great things about this recipe is that blackening spices are versatile. The bold flavors go well with blackened chicken, salmon, and any other type of meat that you want to give a savory flavor to.
​And if this turns out to be your favorite thing in terms of your own taste buds, you can also add this creole seasoning to vegetables as well. The level of spice and flavor is so good!
What is the best way to use this blackening seasoning recipe?
I use it on my Blackened Swordfish Recipe, Blackened Chicken Thighs, and Blackened Chicken Tenders.
Since this blackened seasoning recipe has such incredible flavor, you can use it any way that you want. I like to add it to meats and veggies that I'm cooking in my cast-iron skillet, and you can also use it in small batches for your favorite chicken recipe, too.
I recommend that you pick your favorite type of meat and use it on that first. That way, you can get the flavor that it is going to bring out, and then adjust the seasonings as needed. This is the best way for you to get to taste all the options, without having it be overwhelmed with other flavors.
You can also start by adding a small amount to the recipe that you're going to use, and then increase it over time. This is an easy way to know if you want to add more or less the next time that you make it.
How do I store homemade seasonings?
The best way to store seasonings is to add the seasoning blend to a small jar and keep it in an airtight container. You can store seasoning at room temperature, as long as you keep it in a place that is not in high heat or in sunlit areas. A dark cabinet is best.
What are other popular homemade seasonings?
In addition to this delicious recipe, I love a good basic Homemade Taco Seasoning. I also have great recipes for Chicken Taco Seasoning, Keto Fajita Seasoning, and Greek Seasoning.
Making your own spice blends is one of the best ways to beef up your spice rack in a simple and affordable way.
Instructions
Store in an airtight container.
Notes
Spice Level: This has some kick. If you want milder chicken cut the amount of cayenne pepper back to ¼-1/2 teaspoon or omit it entirely.
Nutrition
Calories:
209.7
|
Carbohydrates:
0.003
g
|
Protein:
21.9
g
|
Fat:
13.1
g
|
Saturated Fat:
4.1
g
|
Polyunsaturated Fat:
1.8
g
|
Monounsaturated Fat:
5.9
g
|
Trans Fat:
0.2
g
|
Cholesterol:
117.8
mg
|
Sodium:
518.5
mg
|
Potassium:
279
mg
|
Sugar:
0.003
g
|
Vitamin A:
143.8
IU
|
Calcium:
11.6
mg
|
Iron:
0.9
mg