Enjoy some delectable basil balsamic chicken in just under 20 minutes! You only need 5 ingredients, and every bite is the right amount of sweet and savory. Plus, balsamic glazed chicken is perfect for meal prepping too. This easy recipe is low carb, keto, gluten-free, grain-free, sugar-free, and Trim Healthy Mama friendly.
One of my favorite restaurants for date nights is a cute little Italian place that is BYOB and has an amazing balsamic chicken. They warn you when you order it that the balsamic is a strong flavor but I love it! I toned down the intensity a bit for this recipe to make it more kid-friendly but the balsamic vinegar is still the shining flavor.
One thing that I love about basil balsamic chicken is that it is perfectly elegant, but it's kid-friendly too. The aroma in the house is amazing as it cooks, and you'll be super glad it only takes 20 minutes. Because you will be salivating as you smell it, and your stomach will begin to rumble and growl. Everyone in my family says this is one of their favorite main dishes.
When you serve balsamic vinegar chicken to guests, they will think you spent all day working in the kitchen and marinating to make it. It's our little secret that it's truly effortless, and you spent the day taking a nap or reading a book instead of cooking!
Ingredients
Chicken Tenders - I prefer to use chicken tenderloins in this recipe. Alternatively, you can use boneless skinless chicken breasts or even boneless skinless chicken thighs.
Balsamic Vinegar - Use a rich flavored balsamic for the best results.
Sundried Tomatoes - Sun dried tomatoes have a deep umami flavor that pairs perfectly with the vinegar.
Fresh Basil - Using fresh basil is a must for the best flavor. Stack up a pile of basil leaves and roll it into a cylinder. Then use a sharp knife to slice it into strips.
Olive oil, salt, and pepper - Just a bit of oil to grease the pan and then you can season to taste with salt and black pepper.
How To Make Basil Balsamic Chicken
You only need one pan when you make balsamic chicken, and they is minimal prep time, so you'll be happy to have fewer dishes to wash too! Imagine a great meal with a little cleanup, and it happens to taste amazing too.
First Step: Heat a large skillet over medium heat and add the oil. Next, add the chicken tenders. Sprinkle some salt and pepper on them.
Second Step: Cook the chicken for around 4 minutes on each side and transfer them to a platter when they reach 160 degrees F.
Third Step: Add the balsamic vinegar and sundried tomatoes and cook on medium-high heat until it's reduced by half.
Place the chicken back in the pan and coat well.
Fourth Step: Serve on a platter with some fresh basil sprinkled on top and enjoy hot!
Variations
Everything about this juicy, tender chicken is perfect, but if you want to add some extra toppings, go ahead! It won't hurt anything to add even more yummy flavors. Try some of these ideas to get you started:
Bacon - Crumble some cooked bacon and sprinkle on top of the balsamic chicken. The combination of bacon and chicken is lovely.
Parmesan Cheese - As long as you aren't dairy-free, add some parmesan cheese on top. It adds even more flavor and looks pretty too.
Chopped Tomatoes - Use some cherry tomatoes and chop them up and put them on the chicken. Tomatoes and balsamic go together amazingly well.
Garlic - I think that garlic goes with almost everything, so it makes sense to add some to this dish. Sautee it and add it to the sauce for a yummy surprise.
Marinated - I don't normally use marinated chicken in this recipe but if you want you can marinate chicken in some oil and vinegar before starting. Sometimes, I'll use this as a base recipe but make balsamic marinated chicken thighs and grill them.
Italian Seasoning - If you love Italian seasoning you can add a pinch along with the vinegar to the one pan balsamic chicken.
Salad - Serve this on salad with my Basil Balsamic Vinaigrette to maximize flavor.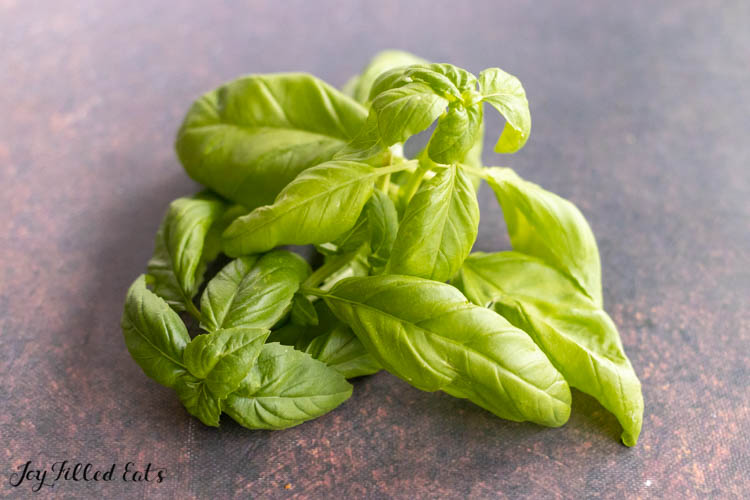 Common Questions
Is Balsamic Vinegar Keto Friendly
Yes. In small quantities. You certainly don't want to drink a bottle of balsamic but there is so much flavor in even a small amount. Balsamic vinegar has 2.7 grams of carbs in one tablespoon. If you only use a little bit that can be used in a keto diet.
Can I use another type of chicken for balsamic glazed chicken?
Sure! Sliced chicken breasts or another type of skinless chicken like boneless thighs will also work with this balsamic basil chicken recipe.
How Do You Know When Chicken Is Done?
It's important to cook chicken properly, so it's not overdone or underdone. The first step in checking your chicken is always testing the temperature. If you remove it at 160 degrees F., it will finish cooking as it rests to 165 degrees F.
When you pierce the chicken, you should see that the juices are clear and not brown or bloody. If you notice anything but clear liquid, it needs to cook a little longer.
The chicken should also have a white center and not be red or bright pink. Sometimes the centers will have a slight pink tint to them, and that's okay as long as it's been heated to the proper temperature.
Can I Use Balsamic Glaze On Other Foods Too?
Absolutely! You can easily use this delicious recipe for the balsamic glaze and put it on other foods you enjoy. Brussel sprouts, roasted carrots, green beans, and the list goes on. Try it on everything because it's that good!
How Do You Store Balsamic Chicken?
It's always best to let the balsamic vinegar chicken cool down before storing it. After it's cooled, put the chicken in a storage container. Make sure the lid fits well, and it's airtight. The leftover balsamic chicken will last around 4 days in the refrigerator.
If you are planning on meal prepping, you can place the balsamic chicken in individual serving containers with lids. It can be warmed up in the microwave for a couple of minutes.
Can You Freeze Balsamic Chicken?
Yes, you can freeze this balsamic chicken recipe. I prefer it made fresh but for meal prep it can work. Make sure that it's wrapped up tightly with plastic wrap or aluminum foil and placed in a freezer-safe container. You can even put the balsamic chicken in freezer bags if you want to. It will last 4-6 months in the freezer.
Make sure to thaw the chicken out in the refrigerator ahead of time. It will make it so much easier to reheat if it's been defrosted. Then microwave it, heat it in the oven, or heat it in a skillet with some oil until it's hot.
How Can You Tell If Chicken Is Bad?
When chicken goes bad, it's fairly obvious. The odor is the first sign that something isn't right. Never eat it if it smells strange or bad. You may notice that's it's dried out or has mold — both indicating that it's begun spoiling.
Like what you see? Follow me on Facebook! Love this recipe? Leave a comment & 5-star rating right here! Make sure you don't miss new recipes by getting email updates!
📖 Recipe
Ingredients
1

tablespoon

olive oil

2

lbs

chicken tenders

or chicken breasts cut into strips

1

teaspoon

salt

½

teaspoon

pepper

⅓

cup

balsamic vinegar

2

sundried tomato halves

cut into thin strips

8

basil leaves

chopped
Instructions
Heat the olive oil in a large frying pan. Add the chicken tenders to the hot pan and sprinkle with the salt and pepper. Cook for about 4 minutes on each side until they are 160 on a meat thermometer. Transfer to a serving platter.

Turn the heat to medium-high and add the balsamic vinegar and sundried tomatoes. Cook until reduced by half. Add the chicken back to the pan and coat with the balsamic glaze. Transfer back to the serving platter and top with basil.
Nutrition
Serving:
3
chicken tenders, approximately (¼th of the recipe)
|
Calories:
311
|
Carbohydrates:
4
g
|
Protein:
48
g
|
Fat:
9
g
|
Saturated Fat:
1
g
|
Cholesterol:
145
mg
|
Sodium:
851
mg
|
Potassium:
897
mg
|
Fiber:
0
g
|
Sugar:
3
g
|
Vitamin A:
130
IU
|
Vitamin C:
3.9
mg
|
Calcium:
17
mg
|
Iron:
1.1
mg
Looking for more chicken ideas? Check these out:
Originally Published December 4, 2019. Revised and Republished March 13, 2023.