If you are tired of dried-out pork at dinner time you need to try my Sous Vide Pork Tenderloin recipe. It is one of the easiest preparation methods for pork tenderloin and it comes out moist, tender and perfect every time!
My entire family loves pork tenderloin for dinner but I always forget how long it takes to cook. One of our tried and true methods is to sear it and then finish it in the oven. But even that takes 45 minutes and trying to get into the kitchen right at 5:15 to sear the meat can be challenging.
During the school year that is homework time and during the summer we like to go to the pool. Being able to sous vide the pork means that I can get it started earlier in the day and then give it a quick sear right before serving. Sous vide pork tenderloin only takes a few minutes of hands-on time so I can spend more time with my family.
This pork tenderloin sous vide recipe is also the moistest most flavorful pork ever! Cooking sous vide enables the pork to cook thoroughly without having the concern that you will over cook it. Cook sous vide like a pro in no time.
How to Make Sous-Vide Pork Tenderloin
It's very easy to sous-vide pork. You just put it in a vacuum seal bag with seasonings of your choice and cook in a water bath with your sous vide machine.
Step One: Add the seasonings of your choice to the sous vide bag or gallon plastic storage bag.
Step Two: Add the pork tenderloin and the mustard. Mix it all around so the pork is covered. Seal the bag with a vacuum sealer or press as much air as possible out before sealing it tightly.
Step Three: Cook in the water bath at 145 degrees for 4 hours.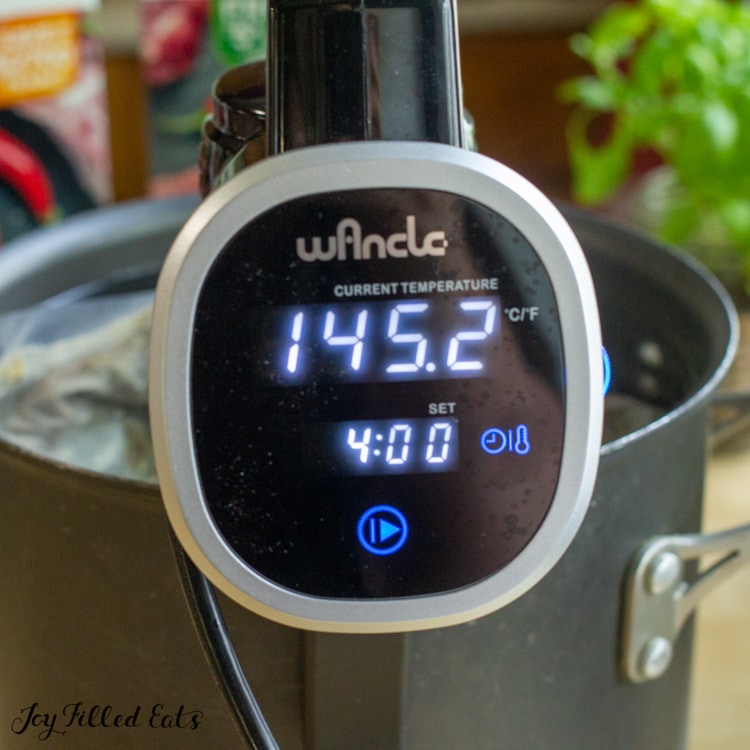 Step Four: Sear the pork. Remove it from the sous vide and take it out of the bag. Pat it dry with paper towels. If you don't remove this extra moisture, you will steam the pork and overcook it. The best way to sear is with a heavy skillet. I like to use a cast iron skillet to get a good sear. Put the skillet over high heat and add a little oil. Once you have a hot pan, add the pork and cook just until browned on each side. This will not take too long. We aren't trying to cook it anymore, just add a nice sear to add some flavor and texture to the meat.
Step Five: Once it is seared, let it rest before serving it. Cut it into 1 inch slices and spoon some of the pan juices over it as you serve. Enjoy!
Variations
I generally only add a bit of whole grain mustard, rosemary, and salt to this pork sous vide recipe. That is all it needs. Sometimes, my husband likes to crack on some freshly ground black pepper right before serving. Here are some other options to change up the flavor of your pork:
Herb Rub - Many times I go to my little window boxes of herbs to see what might work best. There is something about using sprigs of fresh herbs that help to elevate a dish. One of my favorite herb rubs is fresh thyme, garlic, olive oil, kosher salt, and pepper.
Hot Aromatic Rub - If I have a little time, I will sautee some of my favorite seasonings together and then apply a hot rub to the pork before I sous vide. Mince shallots, garlic cloves, rosemary, and olive oil. Well season the pork with salt and pepper and then apply this rub.
Dry Season Rub - Oregano, garlic powder, dried basil, salt, and pepper make a quick and easy rub if you are pressed on time. You can also use a premixed Italian herb blend or any of your other favorite premixed seasonings. Pick a flavor that will go with whatever else is on your menu that night.
Common Questions
What are the best bags to use to cook sous vide?
If you have a food sealer, those vacuum seal bags will work the best. The key is to have an air and water-tight seal. If you have air in the bag, it will float, and keep part of your meat out of the water bath. If you don't have a food sealer, that is fine. You will use the water displacement method. Simply put the pork into a gallon-size zipper lock back and slowly submerge it into a pot of water. As the water pressure pushes against the pork in the bag, it will push the air up and out of the bag. Be careful not to allow the water to enter the bag. As you are submerging the bag and you get to the top where the zipper seal is, slowly zip it shut so as to keep all the air out and not let any water it.
Can I sous vide Frozen Pork Tenderloin?
You can make this with frozen pork tenderloin. You will just need to add about 30 or 60 minutes to the cooking time since the water bath needs to thaw the meat before it begins to cook.
Do I need to sear the pork?
See how great that pork looks already? If you are short on time you can skip the searing step and just serve it right after you remove it from the sous-vide bag. Still delicious!
I do like the golden crust you get from quickly searing it. And the pan sauce is excellent on top of keto mashed cauliflower!
Serving Suggestions
I will generally serve this with a green vegetable such as a garden salad, Brussels sprouts, or green beans. And with a replacement for the standard starchy sides (potatoes) normally served with meat such as keto fries, keto cauliflower au gratin, or cheesy cauliflower rice.
Can I use this Method for Sous Vide Pork Chops?
Absolutely! You really cannot overcook meat in sous vide because it regulates the temperature so well. You can even use this technique for a pork loin roast. This is the beauty of sous vide cooking, it gives you the ability to perfectly cook pork, beef, chicken, or anything else to it's juicy potential without risking overcooking. You will never miss that goal of having a perfect medium rare final temperature again.
Sous vide works perfectly with all cuts of meat. If you want sous vide pork loin roast, this exact recipe will work for it as well. Enjoy using your sous vide!
Here is another of my other favorite Sous Vide recipes: Sous Vide Pork Chops
Want to use your air fryer? Here ya go: Air Fryer Pork Roast
📖 Recipe
Ingredients
2

lb

pork tenderloins

2

tablespoon

whole grain dijon mustard

1

tablespoon

rosemary

1

tablespoon

salt

2

tablespoon

olive oil
Instructions
Preheat the sous vide water bath to 145.

Put the pork tenderloins, mustard, rosemary, and salt into a gallon sized sous vide bag. Mix around the pork and the seasonings until they are coated evenly. Seal the bag using the vacuum sealer.

Add the vacuum sealed pork tenderloins to the water bath. Cook for 4 hours.

Preheat a large skillet to medium-high heat and add the olive oil. Remove the sous-vide bag from the water bath. Cut open the sous-vide bag and add the pork to the hot skillet. Save the cooking liquid. Sear the pork, turning every few minutes, until browned. Remove from the skillet and let rest for 5 minutes.

Add the cooking liquid to the skillet. Deglaze the pan and simmer until the sauce is reduced by half. Serve the pan sauce with the pork.
Nutrition
Calories:
170.4
|
Carbohydrates:
0.4
g
|
Protein:
23.6
g
|
Fat:
7.7
g
|
Saturated Fat:
1.9
g
|
Polyunsaturated Fat:
1
g
|
Monounsaturated Fat:
4.2
g
|
Trans Fat:
0.1
g
|
Cholesterol:
73.7
mg
|
Sodium:
973.8
mg
|
Potassium:
453.4
mg
|
Fiber:
0.2
g
|
Sugar:
0.1
g
|
Vitamin A:
12.8
IU
|
Vitamin C:
0.2
mg
|
Calcium:
12.8
mg
|
Iron:
1.3
mg
Originally Published