I love pecan pie. It is so rich and indulgent I used to only make it once a year for Thanksgiving. But now that I have a sugar free, low carb, keto recipe, I plan on making Sugar Free Pecan Pie Tarts much, much more often.
Pecans are my favorite nut. I also love pine nuts and cashews, but pecans are number one. This is probably obvious due to the plethora of pecan recipes I already have: Pecan Praline Brownies, Toffee Pecan Turtles, Pecan Pralines, Caramel Pecan Sticky Buns, Pecan Cup Cookies, Gorilla Bread, and Candied Pecans.
Pecans definitely win the nut contest. They taste great and meet all my dietary needs without making me feel deprived.
If you haven't been eating a keto diet for too long, it's normal in the beginning to feel like you are missing out. That's what I am here for! I will help you find the best recipes that taste as close to the regular thing as possible but in a much healthier way. These pecan pie tarts are the prime example!
How to serve Sugar Free Pecan Pie Tarts
These are amazing paired with my Cinnamon Roll Ice Cream or Vanilla Ice Cream. You can serve them at room temperature or warm them up. They are one of my favorite breakfasts warmed up for 30 seconds in the microwave and paired with a fresh cup of coffee.
How to Make an Almond Flour Crust
You only need four ingredients to make the crust for these tarts:
Almond Flour
Coconut Flour
Cold Butter
Cold Water
Toss those into the food processor and hit the button! Just make sure to process long enough that the dough forms a ball. It will look dry and crumbly at first but comes together as the food processor breaks down the almond flour releasing the natural oils.
Does The Butter Really Need To Be Cold?
Yes, it does. In order to make the crust flaky and tender, you have to use cold butter. Trust me; you will appreciate how it turns out when you take that first bite.
Low Carb Pecan Pie Filling
Softened Salted Butter - the salted butter helps balance the sweetness.
Sweetener - I use a blend of xylitol, erythritol, and stevia in my recipes.
Vanilla - maple extract is also delicious in these!
Molasses - I use molasses the same way you use an extract, for flavor, not for sweetness.
Heavy Cream - coconut cream or half and half should work in please of the heavy whipping cream.
Egg - necessary to hold the pies together.
Pecans - I like using half chopped and half whole for a variety of textures.
How To Make Sugar Free Pecan Pie Tarts
Step One: Heat the oven to 350 degrees, then prepare a muffin tin by greasing 8 holes with butter or shortening. Prepare the crust dough and divide it into 8 sections and press it into the muffin tin cups.
Expert Tip: After recipe testing, I found that I didn't need to pre-bake the crust for these at all! It can bake on the bottom rack in the oven at the same time as the filling and turn a lovely golden brown.
Step Two: Beat the butter and sweetener together in a bowl, using an electric mixer. Once smooth, add in the molasses, vanilla, egg, and heavy cream. Fold in the chopped pecans and divide among the baked crusts. Top with the whole pecans. Bake for 20 minutes or until the centers are no longer jiggly and they become golden brown.
Step Three: Let the pecan pie tarts cool completely. Then take a knife and run it along the edges to loosen up the edges. Pop them out of the muffin tin and enjoy!
Can You Eat Molasses On Keto?
While you shouldn't eat tons and tons of molasses, the very small amount in these pecan pie tarts is acceptable. It's fine to leave out the molasses if you don't feel comfortable adding it. However, you only need 1 teaspoon, and that is divided among the 8 tarts. I prefer the flavor that the molasses adds to the mini pecan pies.
Is It Okay To Freeze Sugar Free Pecan Pie Tarts?
Yep! Freezing them is a wonderful way to preserve them, so you have them on hand and ready to go whenever you need a treat. The important thing to do is to wrap them well with plastic wrap before putting them in an airtight container. This keeps them fresh longer and tasting their very best.
Don't forget to thaw them in the fridge before serving, then enjoy! They will last around 2-3 months in the freezer.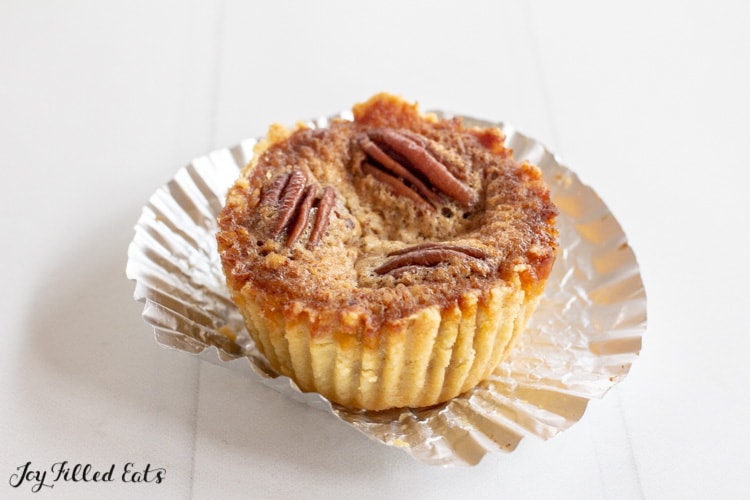 Do I Have to Use Aluminum Liners?
No, but I highly recommend it. This is the best way to ensure the crust stays intact. It's a lot harder to pop these out of the cupcake tin without liners.
Can I Swap The Pecans?
The key ingredient is truly the pecans, but if you would rather use another kind of nut, there is nothing wrong with that. Almonds would be heavenly! Consider using walnuts or hazelnuts too. Be sure to let us know what you liked best and how it turned out if you swap the pecans.
Prefer a full-sized keto pecan pie? Here ya go! --------> Keto Pecan Pie and Low Carb Chocolate Pecan Pie
What are your favorite nuts? And your favorite nut recipe? I'd love to hear about them in the comments!
Like what you see? Follow me on Facebook! Love this recipe? Leave a comment & 5-star rating right here! Make sure you don't miss new recipes by getting email updates!
Ingredients
Filling:
6

tablespoon

softened butter

1

teaspoon

vanilla

1

teaspoon

molasses

***

1

oz

heavy cream

1

egg

1

cup

pecans

divided
Instructions
Preheat oven to 350. Line 8 holes of a regular sized muffin tin with aluminum liners and spray with nonstick cooking spray.

Put the almond flour, coconut flour, and butter in a food processor and pulse until crumbs form. Add the water and pulse until it comes together in a dough. This can take 2-3 minutes on high power. Just keep processing until it comes together. Divide the dough into 8 pieces. Press into the bottom and halfway up the sides of the prepared muffin tin cups.

Set aside 24 whole pecan halves to top the tarts. Coarsely chop the rest of the pecans.

Meanwhile, in a medium bowl combine the 6 tablespoon butter and sweetener. Beat with an electric mixer until smooth. Add the vanilla, molasses, heavy cream, and egg. Beat until combined. Stir in the chopped pecans. Divide between the crust shells. Top each with 3 pecan halves.

Bake on the bottom rack of the oven for 20 minutes until no longer jiggly and golden brown. Cool completely.

I prefer to make these a couple of days ahead of time. The flavor improves after being in the fridge for a bit. I rewarm them in the microwave for 20-30 seconds (remove the aluminum liner before microwaving).
Notes
Nutrition: each cupcake-sized sugar free pecan pie tart has 4 NET carbs.
To Store:
keep in an airtight container for up to 4 days. Place in the fridge for best results.
To Freeze:
wrap in plastic wrap, then put in a container. Freeze for up to 3 months. Defrost in the fridge before serving.
Substitutions:
you are welcome to swap the pecans for your favorite nut.
Notes on Sweeteners:
*** NOTES about Molasses. One teaspoon of molasses has 5 carbs. This recipe makes 8 tarts so each has about .6 carbs from the molasses. It is used for flavor, not sweetness, in this recipe. But you can just leave it out if you prefer.
Nutrition
Serving:
1
pecan pie tart
|
Calories:
320
|
Carbohydrates:
7
g
|
Protein:
6
g
|
Fat:
31
g
|
Saturated Fat:
9
g
|
Cholesterol:
55
mg
|
Sodium:
112
mg
|
Potassium:
71
mg
|
Fiber:
3
g
|
Sugar:
1
g
|
Vitamin A:
445
IU
|
Vitamin C:
0.2
mg
|
Calcium:
58
mg
|
Iron:
1.2
mg
Originally Published June 11, 2016. Revised and Republished December 13, 2020.

FREE Cookie Cheat Sheet!
Make Five Delicious Low Carb Keto Cookie Recipes from one EASY dough!