In the mood for something indulgent, sweet, and delicious that is low carb and sugar-free? This easy Keto Strawberry Mousse is a show stopper and is the perfect after-dinner treat. Great for dinner parties too! It's an incredible gluten-free, grain-free, and keto dessert.
Is there anything better than strawberry-flavored desserts? Okay, maybe chocolate, but strawberries are a close second. They are naturally sweet and are indulgent, healthy, and much lower in carbs than many fruits.
My 12-year-old daughter is taking a French Patisserie class over zoom on Outschool and one of the desserts she made was a strawberry mousse in chocolate cups. Delicious but it called for sugar, flavored powdered gelatin, and cool whip.
I really wanted a version of that I could also enjoy. So, I figured why not create a rich, velvety smooth mousse based on my Keto Cheesecake Fluff that is centered around fresh strawberries. It was a HUGE hit, and everyone loved it. That's why I am here sharing it with you because I am certain you will enjoy it as well.
Oh, and the best part is that this low carb strawberry mousse recipe only has 5 ingredients, takes about 5 minutes, and the odds are you already have the ingredients on hand. So, the next time you sign up to bring dessert at the next potluck or want something luscious for dessert when you have friends over for dinner, think of this low carb keto strawberry mousse.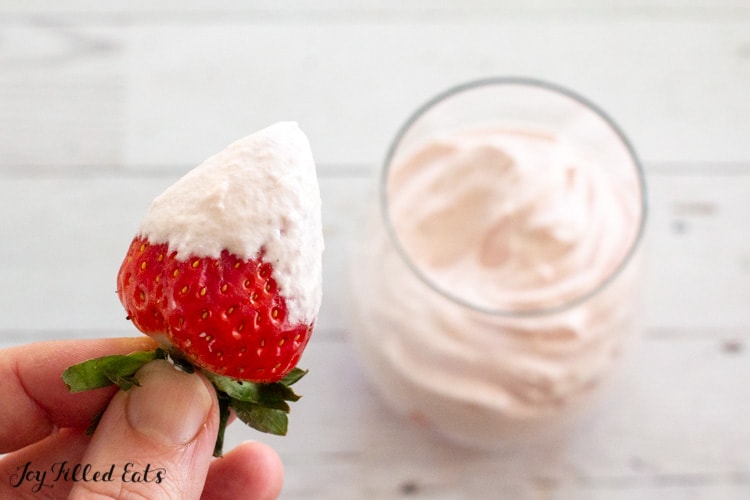 Ingredients Needed
You aren't going to break the bank when making this incredible treat. Plus, it's easy enough that you can prepare it frequently.
Cream Cheese

- To have a creamy base, you are going to want to use cream cheese. Its rich flavor gives it an almost cheesecake taste.

Heavy Whipping Cream

- Paired with the cream cheese, the heavy cream will give it the perfect texture and consistency, so it's not too thick.

Strawberry Puree

- It takes no time at all to prepare homemade strawberry puree, and it gives the mousse the "wow" factor.

Powdered Erythritol

- The sweetness in this comes from using powdered erythritol.

Vanilla Extract

- A dash of vanilla goes a long way and makes it even better.
To Make Strawberry Puree: Add one heaping cup of fresh strawberries in a small blender or food processor. Mix until it's pureed. Be sure to remove stems and hulls before you begin.
How To Make Keto Strawberry Mousse
Step One: In a bowl with an electric mixer, whip the heavy cream until stiff peaks form. Then transfer to a separate bowl.
Expert Tip: You can stop right here and have a delicious strawberry cheesecake fruit dip!
Step Two: Whip together the cream cheese and sweetener until it becomes light and fluffy. Pour in the strawberry puree and vanilla. Mix until combined well.
Step Three: Slowly add in the rest of the whipped cream. Then spoon or pipe the mousse into small serving bowls.
Can I Use Different Fruits?
Yep! I was in the mood for strawberries, but you could certainly use any low carb berries to make the mousse. Simply replace the strawberries with blueberries, raspberries, or blackberries. They are all tasty options and will give you different results. Each one is going to provide you with a different color, so if you are hosting a more significant event, you could even prepare a variety of them with the different berries.
Is It Okay To Use Frozen Strawberries?
While I prefer fresh berries, you could use frozen ones too. Thaw them first. And then make sure you use a high-quality food processor or blender, so it purees them all the way. Otherwise, you may end up with some chunks of strawberries instead of a smooth consistency.
To Make a Firm Keto Strawberry Mousse
I chose to make a soft mousse without gelatin. If you want your mousse to be on the firmer side simply bloom a teaspoon of gelatin over a tablespoon of cold water. Then, dissolve in 2 tablespoons of hot water. Add this to the cream cheese mixture before folding in the whipped cream.
How Long Does The Mousse Last?
You can store leftover strawberry mousse in the refrigerator, and it will last 3-4 days. You'll need to give it a quick stir before eating if you notice any separating. It needs to be kept cold and airtight when you aren't serving it. If you plan to let it sit out very long for a party or event, it's best to keep it on ice.
Do I Have To Chill The Keto Strawberry Mousse Before Eating?
You can actually eat the keto mousse right away once it's prepared! How amazing is that? No waiting, and you can indulge right away. If I am not in a hurry, I will often place it in the fridge for an hour or two before eating, but it's not required by any means.
📖 Recipe
Instructions
Whip the heavy cream until stiff peaks form. Transfer to a separate bowl.

Whip the cream cheese and sweetener until light and fluffy. Add the strawberry puree and vanilla.

Slowly fold the whipped cream. Spoon or pipe into small serving bowls.
Notes
Nutrition: The nutrition facts are for one serving. This recipe makes 4 servings, with 6.1 NET carbs per serving.
Substitutions:
swap the strawberries for blueberries, raspberries, or blackberries.
Prep Time:
the mousse can be prepared 3-4 days ahead of time. Don't layer it with additional berries until ready to serve.
To Store:
you'll need to keep the mousse refrigerated until it's time to eat it. It will last 3-4 days and should be kept in an airtight container.
To Freeze:
place in an airtight freezer container and place in the freezer for up to 3 months. It is going to change the texture to more like ice cream than mousse if you do this.
Nutrition
Calories:
403.9
|
Carbohydrates:
6.8
g
|
Protein:
4.8
g
|
Fat:
40.5
g
|
Saturated Fat:
24
g
|
Cholesterol:
140
mg
|
Sodium:
204
mg
|
Potassium:
177.3
mg
|
Fiber:
0.7
g
|
Sugar:
3.8
g
|
Vitamin A:
1599.3
IU
|
Vitamin C:
21.5
mg
|
Calcium:
98.3
mg
|
Iron:
0.4
mg

FREE Cookie Cheat Sheet!
Make Five Delicious Low Carb Keto Cookie Recipes from one EASY dough!