This Dirty Cauliflower Rice recipe is a keto spin on the classic Creole dish. Simple, quick, easy and so delicious, this low carb, one pan keto cauliflower rice recipe can be on the table in less than 30 minutes! This is one meal the whole family will be begging for again and again!
Hello all….it's Emilie again from Tales of a Texas Granola Girl! I'm so excited to share this dish with you today because it's one that my entire family…even my husband, the Cowboy…goes nuts over! As you may know, I live in a Ranch in the middle of Texas and one of my passions is cooking wild game! I've been cooking with venison and wild game for over 20 years, so if you're looking for new and fresh venison recipes to use up that meat in the freezer, come over and take a look around!
This time of year is so busy around the Ranch...shredding, planting, trimming, tending to babies. So, when I can pull an amazing, one pan dinner together in under 30 minutes that all four of us love, I'm all over it! Dirty Cauliflower Rice for the win!
Living out on the ranch, we have a freezer full of venison and game, so I am always trying to come up with fresh and modern ways to use it up! Yes, there are so many other options for venison than just the chili or frying it! Ground venison or venison hamburger is a common venison "cut" in many freezers and this Dirty Cauliflower Rice recipe is a delicious way to use it up!
Then try this Sausage Pepper Cauliflower Rice Skillet. You can also use venison in these Paleo Stuffed Peppers.
What is Dirty Rice?
We love spicy, earthy Cajun and Creole flavors and the classic dish "Dirty Rice" has always been a family favorite but traditionally it's full of white rice...so we swapped it out for cauliflower rice to make it low carb and keto friendly! Dirty rice also has onions, peppers, celery, and seasonings.
This updated keto cauliflower rice recipe is also made with venison and is so simple you will be amazed how incredible it tastes!
This easy, one pan meal starts by browning up some venison! I love to use my cast iron skillet for this because it's heavy and does a great job at caramelizing the meat and that's so important for developing flavor in this cauliflower rice recipe!
Can I use another type of ground meat?
Don't have venison? No problem…you can easily sub in ground beef, turkey, pork, chicken or any other wild game! You can also switch things up and try using venison instead of the ground meat in this Easy Taco Casserole Recipe or this Ground Turkey Meatloaf Recipe.
Ingredients in Dirty Rice
The classic "trinity" of bell pepper, onion and celery is used to create a flavorful base to the Dirty Keto Cauliflower Rice Recipe. The addition of oregano, thyme, cayenne, garlic, and paprika come together to bring home classic Creole flair in this spiced up dish!
How to cook frozen cauliflower rice
With a little help from the frozen cauliflower rice, and by deglazing the pan with a little liquid, all the flavor concentrated in the bottom of the pan creates the "dirty" look of the cauliflower rice and creates incredible flavor in the dish!
As a testament to the addictive, crazy good flavor of this Dirty Keto Cauliflower Rice recipe…as I was photographing the dish…the Cowboy was eating it…and he's not even keto or low carb! He just kept saying how great it was…and finished with "now, I'd eat that!" …MIC DROP.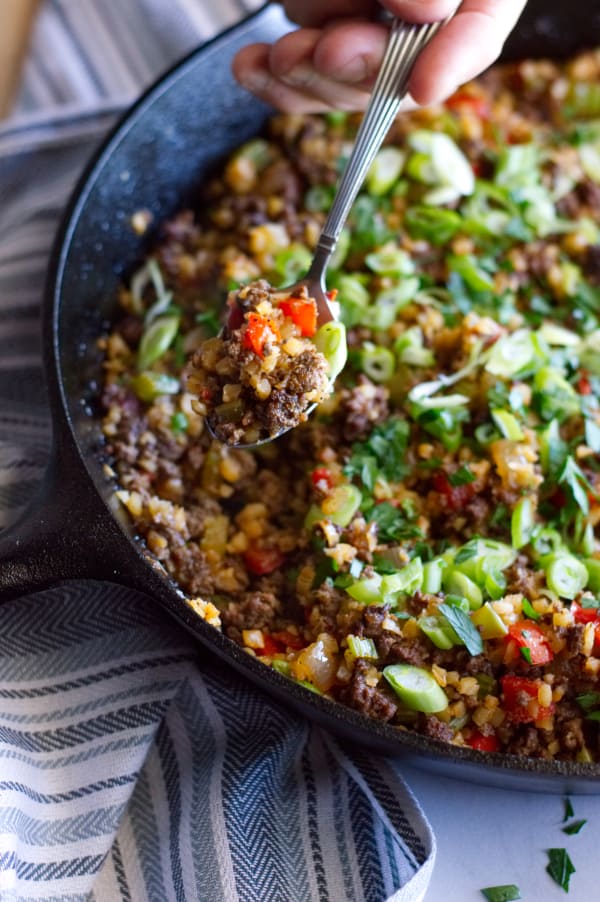 If you love Cajun or Creole flavors, this Dirty Cauliflower Rice recipe is a must try! Let me know what you think! And if you're in need of fresh, modern ideas to transform that freezer full of venison or wild game into amazing keto and low carb dishes, check out these:
Venison Recipes
Blackened Venison Tenderloin with Cajun Cream Sauce
Asian Inspired Venison Lettuce Wraps
Bacon Wrapped Jalapenos with Venison
Low Carb Cornbread Casserole with Venison
📖 Recipe
Ingredients
3

tablespoon

bacon drippings or avocado oil

1

pound

ground venison or your ground meat of choice

4

ribs celery

diced

1

cup

diced bell pepper

½

cup

diced onion

3

cloves

garlic

finely minced

¾

teaspoon

paprika

¼

teaspoon

dried oregano

¼

teaspoon

dried thyme

¼

teaspoon

cayenne pepper

1½

teaspoon

salt

divided

1

teaspoon

garlic powder. divided

¼

teaspoon

black pepper

¼

cup

chicken stock or water

12

oz

frozen cauliflower rice

Sliced Green Onions and Chopped Parsley
Instructions
Preheat a heavy bottomed or cast iron skillet over medium-high heat. Add the oil or bacon drippings and the ground meat and season with 1 tsp. salt, ¼ tsp. pepper and ½ tsp. garlic powder. Brown ground meat, breaking it apart with a spoon or spatula until it begins to caramelize. If it sticks to the bottom of the pan, that's ok.

After the meat begins to caramelize, reduce the heat to medium and add the onion, pepper, and celery and continue to cook for about 5 minutes or until the veggies are tender and the onions are translucent. Add the garlic and the next four ingredients and cook for another minute.

Add the frozen cauliflower rice, stock or water and season with the remaining ½ tsp. salt and ½ tsp. garlic powder. Stir to combine and use the liquid to loosen the bits stuck to the bottom of the pan. This will give the cauliflower rice its "dirty" color! Continue to cook, stirring often, until the cauliflower rice is tender and there is no liquid left in the pan. Taste and adjust seasoning as desired. Garnish with sliced onion and chopped parsley and serve!
Nutrition
Calories:
327
|
Carbohydrates:
10
g
|
Protein:
27
g
|
Fat:
19
g
|
Saturated Fat:
8
g
|
Cholesterol:
101
mg
|
Sodium:
851
mg
|
Potassium:
778
mg
|
Fiber:
3
g
|
Sugar:
3
g
|
Vitamin A:
660
IU
|
Vitamin C:
73.1
mg
|
Calcium:
54
mg
|
Iron:
4.6
mg