With creamy vanilla custard and ripe pears, this Pear Custard Pie is worth every bite. With just a few minutes of prep, this easy pear pie is amazingly rich, flavorful, and delicious. It is also gluten-free and low carb.
One of my girlfriends from college, Kris, is famous for her Pear Vanilla Custard Pie. She has made it many times for our girls' nights and has passed out the recipe among our group. I've made it 4 or 5 times over the last few years but it was not gluten or sugar-free. When I had a few very ripe pears in the fruit basket that I needed to use I decided it was time to adapt her recipe.
Without a crust it is as easy as peeling and sliced the pears, mixing the ingredients in a blender and pouring them over the pears. It takes about 10 minutes to prep. Even with the pears, this is still only 9 net carbs per serving. For my Trim Healthy Mama friends, this would be an S Helper since it has a non-S fruit. I think it's worth the splurge of a few extra carbs.
Ingredients
Pears - You want VERY ripe pears for this pie. They don't soften much while baking so if you use unripe pears they will be flavorless and too firm. Bosc pears or bartlett pears are good varieties to use.
Eggs - Eggs are the base of the custard, what makes it creamy, and what helps it set and thicken. I do not recommend an egg substitute in this recipe.
Butter - I use salted butter when baking. If you are using unsalted butter make sure to add a pinch of kosher salt to bring out the other flavors.
Sweetener - I use a blend of xylitol, erythritol, and stevia. It tastes similar to sugar while being twice as sweet as most sweeteners so you need less.
Pure Vanilla Extract - Vanilla is the primary flavor in this besides the ripe pears.
Almond Flour - Using a bit of almond flour helps thicken the custard. For a nut-free option you can use a tablespoon of coconut flour instead of the almond flour.
How to Make Pear Custard Pie
Step One: Put the peeled, sliced, ripe pears into a deep-dish pie plate or pie dish greased with cooking spray. You can also use a casserole dish if you prefer.
Step Two: Blend together the remaining ingredients to form a custard. It will be thick and creamy.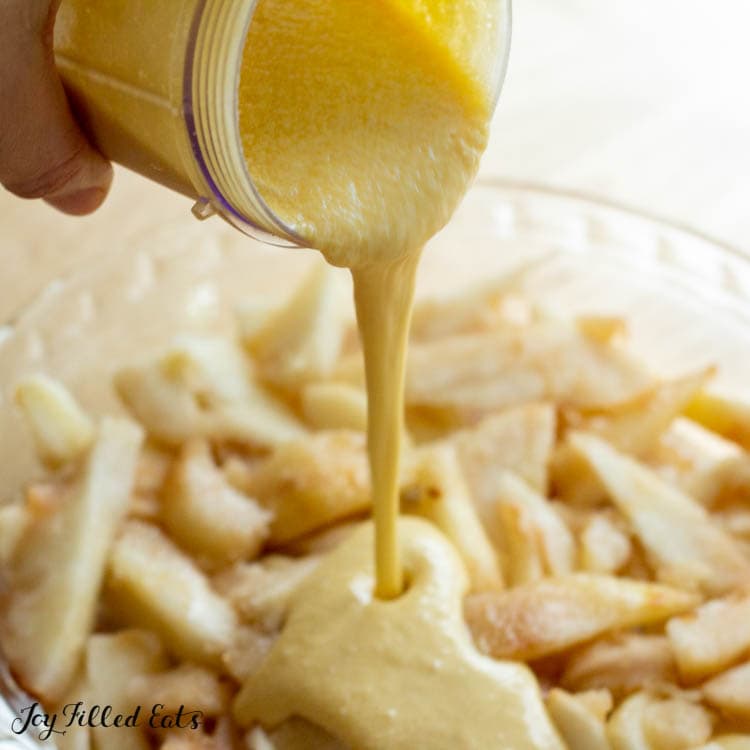 Step Three: Pour the custard mixture over the pears. Bake the pie until the custard is golden and only jiggles slightly when gently shaken.
Variations
Spices - My favorite spice to use with pears is definitely ginger. But cinnamon, nutmeg, and cloves are also good choices.
Fruit - You can use almost any fruit in this pie. If it is a fruit that does not soften easily (such as firm apples) I suggest baking it alone first before adding the custard.
Crust - Feel free to add a crust if you'd like! My variation of this, Keto Blackberry Pie, does have a crust.
Common Questions
What should I serve with pear custard pie?
This is wonderful on its own but I never turn down a dollop of whipped cream or a scoop of vanilla ice cream with it either. Dusting with a sprinkle of powdered sweetener is another nice choice for serving.
Can I add a crust?
I kept this pie crustless but it is delicious with a crust as well. I've made it both ways. If you want to use a pie crust here is the recipe I use a lot. It is a press-in crust. Just press it into the pan, poke it with a fork, and bake for 10 minutes. Then add the pears and custard and bake again using the instructions for this recipe.
How can I make this keto?
If you want to reduce the carbs to make this suitable for a keto diet just sub in raspberries, blueberries, sliced strawberries, or blackberries instead.
📖 Recipe
Ingredients
3

very ripe pears

peeled and sliced

3

eggs

4

tablespoon

butter

softened

1

tablespoon

vanilla

¼

cup

almond flour
Instructions
Preheat oven to 350.

Grease a pie plate. Put the peeled and sliced pears in the bottom.

Combine the rest of the ingredients in a blender and blend until smooth. Pour the custard over the pears.

Bake for 35-45 minutes until the center isn't jiggly and the pie is golden brown. Cool completely and then chill in the fridge for a few hours before serving.
Notes
Nutrition: This pie has 8 servings. There are 8.8 net carbs per piece.
Notes on Sweeteners:
Nutrition
Calories:
136.3
|
Carbohydrates:
11.2
g
|
Protein:
3.1
g
|
Fat:
9.1
g
|
Saturated Fat:
4.3
g
|
Polyunsaturated Fat:
0.6
g
|
Monounsaturated Fat:
2.1
g
|
Trans Fat:
0.2
g
|
Cholesterol:
76.4
mg
|
Sodium:
69.3
mg
|
Potassium:
104.3
mg
|
Fiber:
2.4
g
|
Sugar:
6.9
g
|
Vitamin A:
280.7
IU
|
Vitamin C:
2.9
mg
|
Calcium:
24.5
mg
|
Iron:
0.5
mg
Originally Published June 15, 2016. Revised and Republished April 13, 2022.

FREE Cookie Cheat Sheet!
Make Five Delicious Low Carb Keto Cookie Recipes from one EASY dough!