If you are looking for a keto pie crust recipe that can be either rolled or pressed into a pie plate you can stop right here. This easy Low Carb Pie Crust has only 3 ingredients, takes about 5 minutes, and works well for both and for sweet or savory recipes on a keto meal plan. Low carb pumpkin pie, pecan pie, cheesecakes, pudding pie, custard pies, tarts, tartlets, and even empanadas come out perfectly with this as the base.
It's kind of funny that I chose a rolling pin for my blog header image since I'm not really a fan of rolling out dough. The rolling pin mentioned was my grandmother's and whenever I use it I think of her.
I do, however, prefer not to use it.
I like to press out dough with my fingers much better than having to roll it out. But the best part of this keto crust is you can use it with either method! And this easy crust recipe is also gluten-free, grain-free, sugar-free, and Trim Healthy Mama friendly.
How to Make Low Carb Pie Crust
The absolute most important part of making this keto pie crust is processing the dough long enough in the food processor.
When you first start it looks like sand. After a minute or two of processing, it starts to come together in a ball. The food processor breaks down the almond flour further releasing the naturals oils from the almonds. This helps the pie crust dough stick together.
I'm going to repeat myself here. "The absolute most important part of making this low carb pie crust is processing the dough long enough in the food processor." Over the years I've had several of my readers say that the dough was too crumbly. After troubleshooting with them the same conclusion has happened every time. The dough needs to be processed longer.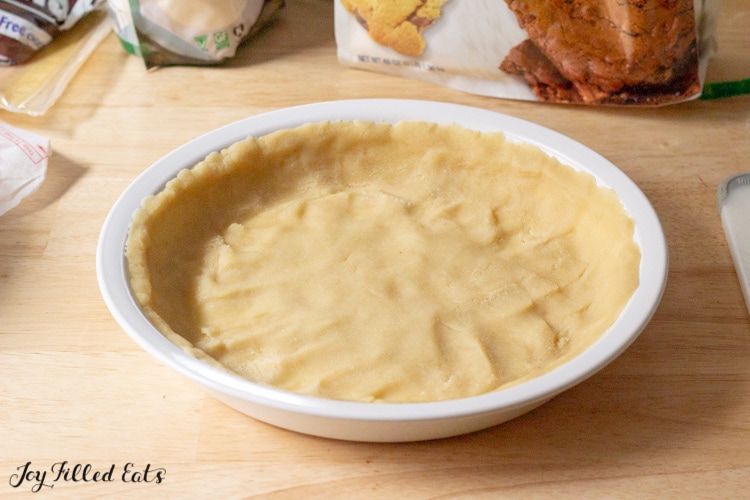 Ingredients in Keto Pie Crust
Blanched Almond Flour - I've come to enjoy almond flour in baked goods. It has a mild flavor and gives a tender crumb in cakes, cookies, and biscuits.
Coconut Flour - Just a little bit of coconut flour goes a long way. Coconut flour helps to balance the oiliness of almond flour since it is naturally drier and absorbs more liquid than other alternative flours.
Butter - I use the store brand regular salted butter most of the time. I know that coconut oil can work too. I recommend using butter-flavored or refined coconut oil.
and a little water - that's it!
Can I Make This Ahead Of Time?
Yes, you can easily make this almond flour crust ahead of time. Just prepare it as directed. It works best if you can put the crust in a freezer-safe pie pan. This will make it much easier when it's time to bake the crust. Those aluminum pie pans are a great option; then, you can cover them well and freeze. To make sure they are airtight, it's a good idea to wrap them with aluminum foil and then place them inside a large freezer bag.
To cook the frozen pie crust, remove it from the freezer. Then let it sit on the counter for 15-20 minutes so the pie crust can thaw out a little bit. Then go ahead and pre bake as directed and finish up by using it in your favorite pie recipe or by simply adding your favorite pie filling.
Can I Make Mini Pie Crusts?
Yes, if you are making some individual pies, this pie crust is a fantastic option. It's super versatile and makes the best pies! Use mini pie pans, ramekins, or even a muffin tin to put the crust in. The biggest thing to look for is how quickly they bake. Because they will be so much smaller, you will find that the crust bakes faster. Start checking it at around 8 minutes instead of 12 minutes.
Does Almond Flour Pie Crust Taste Like Almonds?
The main ingredient in the pie crust is almond flour. You will notice that there is a sweet and nutty flavor that almond flavor does have in low carb recipes. It's not overwhelming, and you would immediately know that it's almonds. The naturally sweet flavor is amazing when combined with sweet ingredients like fruit. However, when you add in savory ingredients, the sweetness and almond flavor doesn't tend to stand out as much.
Expert Tips
I honestly don't think I have ever made an easier pie crust than this 3-ingredient crust. However, in case you haven't baked a lot of pies, I wanted to point out a few things.
Use cold butter. This is the second most important thing after making sure to process the dough until it forms a ball.

So many recipes call for room temperature butter, and it's almost second nature to set the butter on the counter before baking. However, when it comes to crust, it's vital to use cold butter, so it mixes properly.

Don't overbake the pie crust.

If you do, it will obviously burn or be too dark to enjoy. If the filling needs to bake a little longer than normal, you can always cover the edges of the crust with aluminum foil, so it doesn't get too dark.

Before serving the pie, allow it to cool down properly, so it's easier to slice.

If you get in a hurry and cut it too early, it may break apart some. Some pies are intended to be eaten hot, so follow whatever the directions say.
Ways to Use Keto Pie Crust
I first used this pie crust for my Mini Lime Tartlets. Since then I've used the same low carb crust in Blackberry Custard Pie, Pecan Pie Tarts, Keto Pecan Pie, and Fudge Brownie Pie. I've used it as both a press in and roll out pie crust and it works equally well for both.
This is enough for one regular bottom crust. I think it would work to double it to have enough for a top crust but I haven't tried it yet.
And here is the same dough used for a savory recipe. Taco Empanadas! For this one, I roll out the dough, cut circles, and then fill those, seal them, and bake on parchment paper.
Like what you see? Follow me on Facebook! Love this recipe? Leave a comment & 5-star rating right here! Make sure you don't miss new recipes by getting email updates!
Instructions
Mix the ingredients in a food processor until the dough comes together. Roll out or press into a pie plate. For a pre-baked crust bake for 12-14 minutes at 350 degrees until golden brown. Cool completely.

Or fill as desired and bake with the filling.
Notes
Nutrition: this crust has 2 NET carbs per piece for 8 slices of pie. This does not include whatever pie fillings you use.
To Store:
keep the pie stored in an airtight container in the fridge. Depending on the ingredients, most of the time, the pies will last up to 4 days in the fridge.
To Freeze:
put the pie crust in a freezer-safe container and make sure it's in a sealed container. It will last up to 6 months.
Nutrition
Serving:
1
slice
|
Calories:
134
|
Carbohydrates:
4
g
|
Protein:
4
g
|
Fat:
12
g
|
Saturated Fat:
2
g
|
Cholesterol:
7
mg
|
Sodium:
27
mg
|
Fiber:
2
g
|
Vitamin A:
90
IU
|
Calcium:
39
mg
|
Iron:
0.7
mg
Want another low carb pie crust recipe? Check out these pie crust recipes from some of my friends:
This no bake crust from Mrs. Criddle's Kitchen is excellent in ice cream pies and tarts, like my Berries & Cream Ice Cream Pie.
A no bake chocolate crust from Wonderfully Made and Dearly Loved
An easy three ingredient crust from Nana's Little Kitchen
This cream cheese pie crust works for weaving the top crust!
Originally Published October 12, 2016. Revised and Republished June 22, 2020.

FREE Cookie Cheat Sheet!
Make Five Delicious Low Carb Keto Cookie Recipes from one EASY dough!