With just Five Ingredients and Five Minutes of prep time, these baked Garlic Parmesan Chicken Tenders will be your new easy dinner. This is our favorite easy Chicken Tenders Recipe.
Five Minute Prep to perfect chicken! Low Carb, Keto, Gluten-Free.
It can be difficult to make simple staples taste good quickly. MyBaked Garlic Parmesan Chicken Tenders Recipe does just that. With a five minute prep time, you can pop them in the oven and help kids with homework, get a couple of chores done, or just sit back and put your tired feet up.
These healthy baked chicken tenders are also a great kid-friendly option! Or if you want some heat in a chicken tenderloin recipe try my Blackened Chicken Tenders!
How To Make Garlic Parmesan Chicken Tenders
Making this parmesan garlic chicken is super simple and really doesn't take much effort at all. It's great for serving to a crowd of hungry guests or kids! Everyone will eat every last bite in record time. Take a look at the video at the top of this post to see simple it is:
First Step: Preheat the oven to 400 degrees F. Line a baking sheet with parchment paper.
Second Step: Mix together the mayonnaise, ¼ cup of cheese, garlic, and salt in a medium-sized bowl. Place the chicken in the bowl and stir, so it's all coated. Lay the pieces of chicken on the baking sheet.
Third Step: Add the rest of the cheese on top of the chicken.
Fourth Step: Bake the garlic parmesan breaded chicken for 25-30 minutes until the chicken is all the way cooked.
Fifth Step: If you want the chicken to be golden brown, broil it for 2-3 minutes. This will brown up the cheese.
Expert Tip: If you decide to broil the chicken, it's important not to cook it too long and keep a close watch. It can burn really quickly in the broiler. Plus, if it cooks too long, it can dry out some.
Mayo? Do I have to use Mayonnaise in Garlic Parmesan Chicken?
Mayo is my favorite condiment ever. It takes almost any savory dish and kicks it up a notch. It is my go-to for making anything dairy-free creamy. That delicious emulsified oil can replace cream in many recipes.
You cannot taste it in this recipe. Really. But if you are adamantly opposed to using mayonnaise I've had readers use yogurt or sour cream successfully.
Can I Sub in Chicken Breasts?
Chicken tenderloins are my favorite meat for quick dinners. They cook fast and don't require cutting or trimming first. Since chicken doesn't have a ton of flavor on its own you can incorporate them in hundreds of ways.
I'm able to get them for about .50 more per pound than chicken breasts. Since they are a better cut of poultry this price difference is worth it to me. But if you prefer to use chicken breasts you can. Just cut them into strips and proceed with the rest of the garlic parmesan chicken recipe.
If you prefer you can also use boneless skinless chicken thighs.
What Temperature Do Chicken Tenderloins Need to Cook to?
Chicken should be 160 degrees F. before it's consumed. As the chicken bakes, once it reaches 158 degrees, you can remove it from the oven and let it rest for around 5 minutes. This gives it time to finish raising the temperature to 160 degrees F as it sits.
When it comes to chicken (or any meat really), you don't want to overcook it. I know it sounds like a good idea to cook it until it's hotter in theory, but you will end up with a dry and flavorless meal if you do. As long as it's prepared to 160 degrees F., it's safe to consume, and you don't need to worry.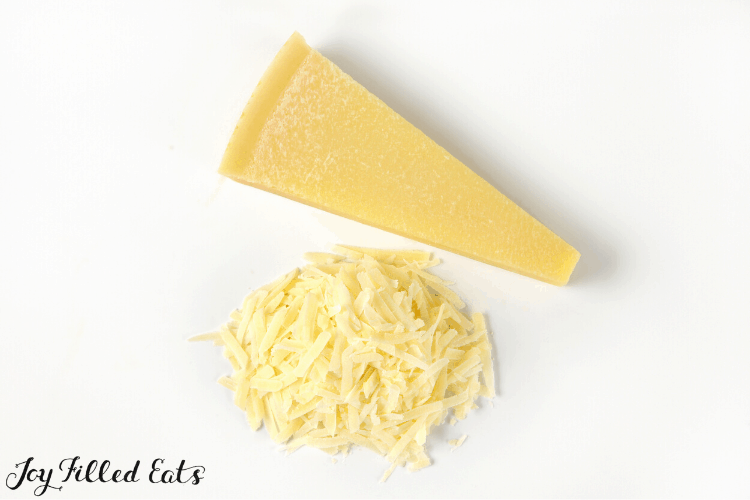 Can cooked chicken be pink?
Yes, sometimes chicken that's fully cooked will have a slight pink color in the center. As long as it's not raw and you are positive that it reads the correct temperature, it's okay to eat. Undercooked chicken can make you very ill, so it's always a good idea to check the temperatures when making any type of chicken dish.
How many servings does this make?
These keto chicken tenders make 8 servings. Typically, you will end up with around 3 maybe 4 tenderloins per person. So if you are feeding a large crowd, you may need to make a double or even triple batch. Additionally, you can easily half the ingredients if you don't need to make as much. It's an easy recipe to adjust as needed.
What should I serve with this?
This is one of those recipes that goes with almost anything. Serve it with some roasted veggies like garlic broccoli, oven-roasted green beans, or cauliflower. You could also pair it with some mashed cauliflower, cucumber tomato salad, or some keto garlic bread.
This garlic parmesan chicken also goes excellent with zucchini fries, onion rings, and other side items like that as well. You could even serve it with a Caesar salad and some fresh fruit too. You can't go wrong with pretty much anything you decide to make with this chicken dinner idea.
How do you store garlic parmesan chicken tenders?
Let the chicken cool down after cooking it, then place the chicken tenderloins in a container with a tight-fitting lid and place it in the fridge. This garlic chicken will last 3-4 days, and it's incredible for leftovers.
You can also freeze the chicken too. I like to flash freeze it on a baking dish for around 2 hours, then take the pieces and put them in a freezer bag. Then they won't stick together, and you can just grab out the pieces that you want.
How do you reheat keto garlic parmesan chicken?
You can quickly reheat the keto chicken tenders in the microwave by putting it in a microwave-safe container and heating it for a couple of minutes. I recommend heating it in 1-minute intervals because it warms up pretty quickly when you are just heating a few.
You can also lay the chicken tenders on a baking sheet at heating them in the oven at 350 degrees for 10-15 minutes. Once they are warm all the way, you can eat them.
Can I use the sauce in other ways?
This recipe has the same topping I use on my Garlic Parmesan Zucchini. It is a family favorite and I knew it would also be great on chicken. My kids gobbled this up.
Like what you see? Follow me on Facebook! Love this recipe? Leave a comment & 5-star rating right here! Make sure you don't miss new recipes by getting email updates!
Instructions
Preheat oven to 400.

Combine the mayo, ¼ cup of the cheese, garlic, and salt in a medium bowl. Add the chicken and stir to coat. Put the chicken on a large baking sheet. I put parchment on mine to save on the cleanup.

Sprinkle on the rest of the cheese.

Bake for 20-25 minutes until the chicken is cooked through. It should read 160 on a meat thermometer. I try to take it out at about 158 and let it rest for a few minutes.

Optional: Broil for 2-3 minutes to brown the cheese. Watch the chicken closely if you are broiling so it doesn't burn.
Notes
Watch the video in this blog post to see how easy these are to make!
Cooking Time - depending on the size of your chicken tenderloins they can cook in as little as 12-15 minutes. The most important thing is to remove them from the oven as soon as they are 158-160 on a meat thermometer.
Nutrition
Serving:
3
pieces (approx)
|
Calories:
342
|
Carbohydrates:
0.5
g
|
Protein:
33
g
|
Fat:
21
g
|
Saturated Fat:
4
g
|
Cholesterol:
105
mg
|
Sodium:
593
mg
|
Potassium:
537
mg
|
Fiber:
0
g
|
Sugar:
0
g
|
Vitamin A:
130
IU
|
Vitamin C:
1.7
mg
|
Calcium:
120
mg
|
Iron:
0.6
mg
Here are a few of my other favorite Keto Chicken Tenders Recipes:
Bacon Wrapped Chicken Tenders with Ranch Dip
Cumin Rubbed Chicken with Black Bean & Corn Salsa
Greek Chicken with Feta and Dill
Creamy Tomato Chicken & Spaghetti Squash Casserole
Ham & Cheddar Chicken Skillet Dinner
Originally published on 11/3/2017. Revised and republished on 2/6/2020.