You are going to want to keep this Blackened Chicken Tenders recipe handy! It's a breeze to cook, and your whole family is going to want to eat it time and time again. With just 3 ingredients + seasonings, it's pretty much fuss-free to make. Plus, these blackened chicken tenderloins are keto, low-carb, gluten-free, and grain-free too.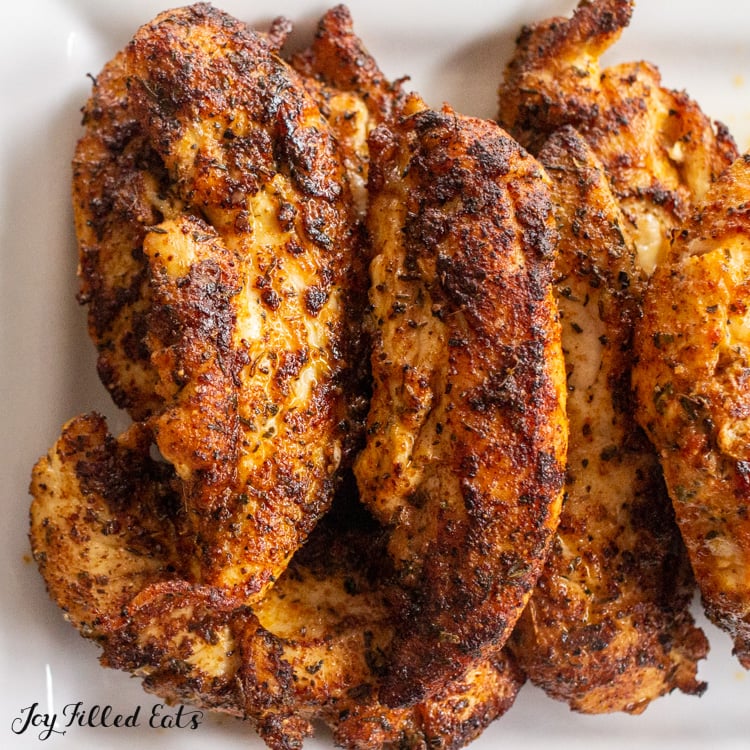 These chicken tenders are seasoned perfectly, and when you take that first bite, you get an explosion of flavors. If you happen to have picky eaters in your house, you might be surprised to see them devour this chicken.
You can even make these blackened chicken tenders for a crowd or when you have friends over for dinner. I love this meal because you can throw it together at the last minute and don't need much for prep. And it comes together in under 20 minutes, so even on the nights when you dread cooking, it is easy.
Ingredients Needed
Most of what you will need are the seasonings, but you probably have them around already.
Chicken Tenders - You can buy chicken tenderloins already cut, or purchase boneless skinless breasts and cut them into strips.
Seasonings - You'll need a combination of garlic powder, onion powder, smoked paprika, oregano, basil, thyme, cayenne, salt, and pepper.
Avocado Oil - Using avocado oil is excellent for this chicken because it has such a high smoke point. You could swap it for olive oil or coconut oil, but it will for sure smoke more as you are blackening the chicken.
Butter - Adding butter will help give the chicken strips a deep blackened appearance and flavor.
How To make Blackened Chicken Tenders
Step One: First, combine all of the seasonings in a medium-sized bowl. Coat all of the chicken strips with the herbs.
Step Two: Heat the butter and oil in a skillet with medium-high heat. Place the chicken tenders in the skillet and cook for 2-3 minutes or until a black crust has formed.
Carefully flip each piece of chicken and cook the second side. Once both sides have blackened, the chicken should be done. If not, you can place it in the oven at 350 degrees F. for an additional 2-3 minutes or until it's done.
Tips For Making Blackened Chicken Tenders
Make sure that the chicken tenderloins are pretty uniform in size. This will let them cook more evenly. So, you may need to trim some of the larger ones down if they are large strips.
To coat the chicken, you could add the seasonings to a plastic ziplock bag, then toss in the chicken. Shake the bag until the chicken is coated. Kids love to help with this!
It's essential that the butter is hot and melted before you add the chicken to the pan. This gives it a great sizzle, and the blackened chicken tenderloins will turn out much better.
Why Did My Chicken Tenders Turn Out Dry?
If you end up with dry chicken tenders, it's most likely due to being overcooked. Many of us tend to overcook chicken, but this leads to a dry and unappetizing meal. So, for best results, use a meat thermometer and remove the chicken from the pan when it gets to 160 degrees. Then let the strips rest for 5 minutes or so. This will allow them to finish cooking outside of the pan, so they reach 165 degrees, but they don't dry out.
Can I Freeze Leftovers?
Yep, and they make fabulous leftovers. Keep them in an airtight container and reheat the defrosted chicken tenders in the microwave or the oven. They will just take about a minute or so in the microwave and around 10 minutes in the oven at 350 degrees.
What Goes With Blackened Chicken Tenders?
There are tons of foods that will pair nicely with this chicken recipe. Here are a few of our favorites.
Top your veggie salad with some hot blackened chicken tenderloins. It makes the salad even more satisfying, and it makes a great lunch or dinner.
Serve with comfort food. Some of our favorite comfort food recipes are

Cheesy Cauliflower Rice

,

Keto Creamed Spinach

, or

Broccoli Nuggets

.

Add some roasted veggies to complete the meal. Any of your favorite roasted vegetables will work! We especially enjoy Keto Green Beans.
Use these as part of taco night! We think they pair super well with keto salsa and keto guacamole.
📖 Recipe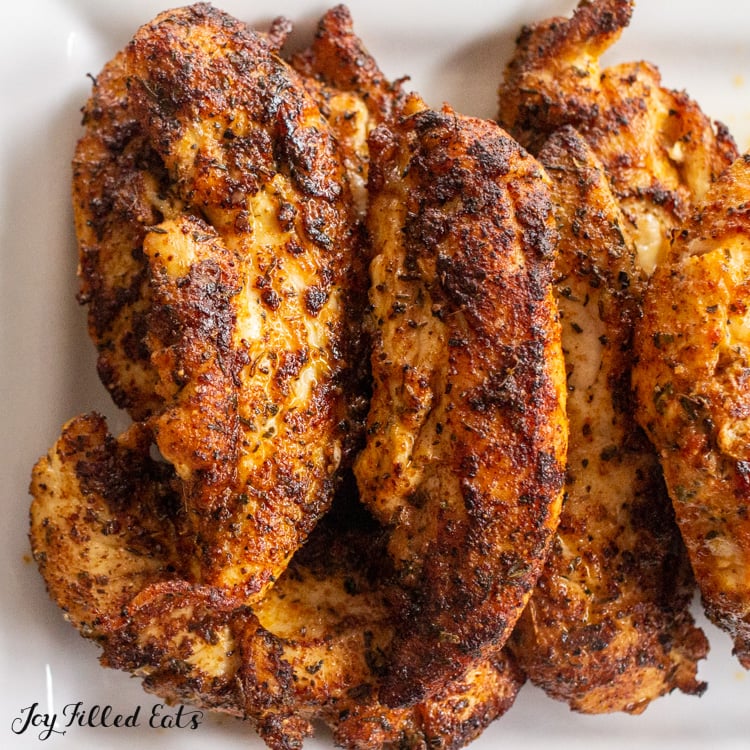 Ingredients
1.5

lb

chicken tenders

2

tablespoon

avocado oil

2

tablespoon

butter

or additional oil
Blackening Seasoning
1

teaspoon

each: garlic powder, onion powder, smoked paprika, oregano, basil, thyme, cayenne, salt, pepper
Instructions
Combine the seasonings. Use to coat the chicken.

Heat the butter and oil in a large skillet over medium high.

When the butter has completely melted and the oil is hot, add the chicken.

Let cook for 2-3 minutes until a nice black crust forms. Flip the chicken. Cook on the second side. At this point the chicken should be fully cooked. If it is not you can transfer to the oven and cook at 350 for an additional 2-3 minutes.

You may need to cook the chicken in 2 batches. If you overcrowd the pan the chicken will not blacken.
Notes
Nutrition: the nutrition facts are for ¼th of this recipe. That is approximately 3 chicken tenderloins. Substitutions: it's fine to use chicken breasts cut into thin strips instead of pre-cut chicken tenders. To Reheat: warm the chicken in the microwave for a minute or two until they are hot. They heat up quickly, so keep a close watch. Additionally, they can be placed on a baking sheet and put in the oven at 350 degrees for 10 minutes or until hot. To Freeze: flash freeze the chicken strips by placing them on a baking sheet. Freeze for 2 hours or until they are fairly solid. Then place in an airtight container, and they will last for several months. Defrost before reheating.
Nutrition
Calories:
310.9
|
Carbohydrates:
1.1
g
|
Protein:
36.4
g
|
Fat:
17.1
g
|
Saturated Fat:
5.4
g
|
Trans Fat:
0.3
g
|
Cholesterol:
123.9
mg
|
Sodium:
248.2
mg
|
Potassium:
648.9
mg
|
Fiber:
0.1
g
|
Sugar:
0.1
g
|
Vitamin A:
226
IU
|
Vitamin C:
2.1
mg
|
Calcium:
11.4
mg
|
Iron:
0.7
mg