Chicken Parmesan is one of the dishes at every Italian restaurant in the US. I know why: it's delicious! My low carb keto chicken parmesan recipe is fast, grain free, gluten-free, & and kid-approved!
Chicken Parmesan is one of those dishes on the menu at every Italian restaurant across America. It is a classic and there is a good reason, it's delicious! But... it can be very labor-intensive to make it at home.
I'll never forget one Saturday when we first got married that we invited over some friends for dinner and decided to make chicken parm at the last minute. Not the brightest idea. I was still breading and pan-frying the chicken when the company arrived. And then it needed to bake for 45 minutes. I think we finally ate dinner after 8. Oops!
I promise this baked low carb gluten free chicken parmesan is much easier. It is a perfect easy keto diet dinner and a favorite chicken recipe among my whole family.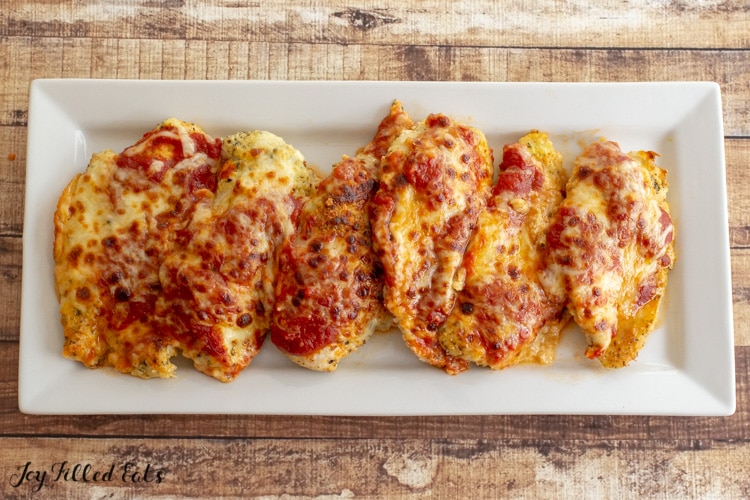 Ingredients
Chicken breasts - If they are very large cut in half into thinner chicken cutlets.
Egg - Egg binds the topping to the chicken.
Grated parmesan cheese - Parmesan replaces the bread crumbs in the traditional recipe.
Dried minced garlic & onion - Feel free to substitute very finely minced fresh garlic and onion or garlic powder and onion powder.
Dried oregano, basil, & parsley - You can substitute an Italian seasoning blend instead of the individual herbs but I prefer to add the ones we like separately.
Freshly ground black pepper & salt - Enhances the other flavors of the chicken.
Marinara sauce - Make your own or check store-bought for added sugar.
Shredded mozzarella - Sliced works too!
Want to try a chicken breaded with ground pork rinds? Try my Keto Breaded Chicken Breast.
How to Make Keto Chicken Parmesan
The lazy way to make chicken parm is to just bread it and then bake it in the oven. Since the coating is flourless you can just bake it without pan-frying it first. That cuts the prep down to about 10 minutes. As much as I enjoy being in the kitchen I also love easy prep meals.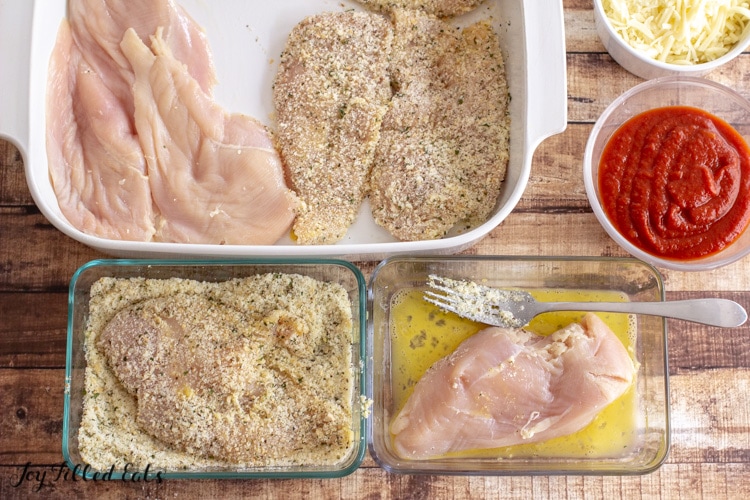 First Step: Dip a chicken breast into the beaten egg mixture. Coat in the parmesan cheese mixture. Place in a greased casserole dish. I normally just drizzle some olive oil in the bottom of my baking dish. Repeat.
Second Step: Bake the chicken at 400 for 30 minutes.
Expert Tip: This time is for using whole medium-large chicken breasts. If you are making this with thin cutlets or chicken tenderloins only bake for 15 minutes before adding the sauce and cheese. If your chicken breasts are gigantic cut them in half first.
Third Step: After par-cooking the chicken top with marinara sauce and mozzarella cheese.
Fourth Step: Bake for an additional 10-20 minutes until the chicken reaches 160 degrees on a meat thermometer and the cheese is melted.
Expert Tip: Broil for 2-3 minutes, watching constantly, to get a nice golden brown look on the cheese.
Keto Chicken Parm Tips
Do not overcook the keto parmesan chicken. Please buy a digital meat thermometer if you do not own one. This is the key to enjoying tender and juicy chicken. Only cook it until it is 158-160 degrees and then let it rest.
Use a delicious marinara sauce. Marinara sauce is not all the same. In a simple dish like this, you can really taste the difference between homemade and store-bought and between cheap store-bought tomato sauce and quality sauce. Watch for added sugar in jarred sauces when buying them for keto recipes. Since you only need a little bit this is a time to splurge on the good stuff.
If you want to give this a kick mix some red pepper flakes into your pasta sauce before adding it.
Common Questions
Is Chicken Parmesan Keto?
Traditional chicken parmesan is coated with flour, egg, and bread crumbs. It is not keto because of the flour and bread crumbs. But it is very easy to swap out those ingredients for keto friendly parmesan cheese in the breading.
How to make Chicken Parmesan without Bread Crumbs
I simply use a combination of parmesan cheese and herbs instead of traditional bread crumb breading in my keto chicken parmigiana. Coconut flour or almond flour will not give the same result. Crushed pork rinds work a bit better than the low carb flours.
Can I use chicken thighs?
Yes, if you want to. I prefer the milder flavor of boneless skinless chicken breasts in this low carb chicken parmesan recipe but boneless skinless chicken thighs will work fine.
Can I make this in the air fryer?
Sure. Just grease the air fryer basket and add the chicken in a single layer. When it is 80% cooked add the sauce and cheese.
What to serve with Baked Chicken Parmesan
Our favorite side dish for keto chicken parmesan is my homemade caesar salad.
Other great side dish options are roasted green beans, garlic broccoli, balsamic mushrooms, cauliflower rice, or zucchini noodles!
Or for a vegetarian version sub the chicken for cauliflower and try my Cauliflower Parmesan.
I hope your whole family loves this lazy baked keto chicken parmesan!
Like what you see? Follow me on Facebook! Love this recipe? Leave a comment & 5-star rating right here! Make sure you don't miss new recipes by getting email updates!
Instructions
Preheat oven to 400. Line a large baking sheet with foil and spray with cooking spray.

Beat egg in one small wide bowl. In a second bowl combine the parmesan cheese with all the spices and mix.

Dip each piece of chicken in the egg and then the cheese, coating both sides. Place on the prepared baking sheet. Bake for 20-30 min. You want to chicken to be about 145-150 degrees before you add the sauce and the cheese.

Top each piece with sauce and then shredded mozzarella. Bake for another 5-10 min until the chicken is 160 degrees when checked with a meat thermometer and the cheese is melted and bubbly. You can broil for a minute or two at the end to brown the cheese.
Notes
Check out the video for my Keto Chicken Parmesan in the post above!
Chicken Breasts: The recipe was created using 6 large chicken breasts totally 2.5-3 pounds. If you use smaller pieces of chicken you will need to adjust the cooking time.
Internal Temperature: You are looking for the chicken to be about 158-160 when removed from the oven. The temperature will rise a few more degrees as it rests during serving. If you cook it to 160 and let it rest for a few minutes, the bacteria will indeed be killed, and the chicken will be moist. For further research, you can reference the chart on page 18 here.
Nutrition
Calories:
398.2
|
Carbohydrates:
6.5
g
|
Protein:
53.1
g
|
Fat:
16.8
g
|
Saturated Fat:
7.7
g
|
Polyunsaturated Fat:
1.4
g
|
Monounsaturated Fat:
4.7
g
|
Trans Fat:
0.03
g
|
Cholesterol:
185.1
mg
|
Sodium:
894.6
mg
|
Potassium:
918.4
mg
|
Fiber:
1.2
g
|
Sugar:
1.9
g
|
Vitamin A:
623.1
IU
|
Vitamin C:
5.5
mg
|
Calcium:
329.7
mg
|
Iron:
2
mg
For more Italian-inspired Keto Dinner Recipes try these:
Originally Published March 7, 2016. Revised and Republished with October 13, 2023.